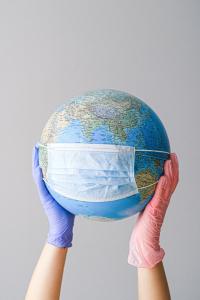 Honestly, we're not done with this pandemic.  We're not done and we're so tired and so eager to be done, we are ready to just dismiss any new information that says "We're not done yet."   Our desire to endure any more quarantine, any more shut downs, any more precautions has reached the beyond saturation point.
However…the disease does not care that we have fatigue born of enduring Covid lock downs.  In the past year, when we've opened up, I've come to know more people hospitalized or worse as a result of Covid than from all of 2020.  We need to virtually hold each other's hands and recognize that not a single one of us is unchanged by what we've endured over the past two years.  The trials of March 13, 2020 to present left us with some wants and needs.   We need to name them.
We'd like to be mask free, to hold parties without worry, to not flinch when someone coughs, and to never have to use a virtual meeting place again.   We'd also like to telework when possible, still have snow days when it is a snow day, and not view everything not always 100% as it always has been, as a loss or a failure.    The schools taught as best they could.  The students learned many things, most of them about the importance of community, the necessity of friends, and the isolation that spending all of one's time online brings, is a poor substitute for presence.   This does not mean students learned to stay away from their phones or get off screens.  It means they felt the keen sting of being an island, but thought simply proximity would bring about the cure.   We need to illustrate as a community to the individuals in the community, whether church, workplace, school or neighborhood, the more that all of us still long for even if we've not put it into words.
We need to project joy, and thus begin "The Joy Project."  It can be donuts or a chili cook off. It can be a silly game on Fridays or a movie.  It can be once a month theme day for attire, or a day at the park, but we need to be deliberately organizing and orchestrating an encounter with joy, with more than the ordinary.  Overcoming suffering requires we start to feel like we can weather it, which only comes from either seeing an end of the tunnel –when this is over, finding meaning in the process itself –a value/lesson from the suffering, or offering it as a gift/prayer for others.  Each of these is a Catholic response –one is the road of hope, another the road of wisdom, and the third, the road of grace.
Giving others a lift is part of helping all of us to psychologically being to unclench from the jarring hunker down mentality we've adopted as a result of all the variants of Covid and their effects.   It is helping others to soldier on, by being an army of Simons who help with the carrying of crosses.  We cannot eliminate the cross, but we can lighten something of the cross itself.
How?  There are as many ways as there are individuals, but they all start with tangible things.   We need to write letters and make phone calls, rather than email.  We need to make meals rather than order them.  We need to give to others physical reminders of our friendship and our presence in their lives.   Tangible actions, tangible events that bring the pleasure of being thought of, of being cared for as opposed to moved along, will result in students, parents, families, faculties, work places, broader communities beginning to grow again, to act as communities should, with care for each and for all.
We're not done yet, but if we embrace the reality of creating "joy projects" for others, we will project joy, and people won't spend all their energy waiting for the end of the pandemic, because they'll be focused on the joys to come instead.