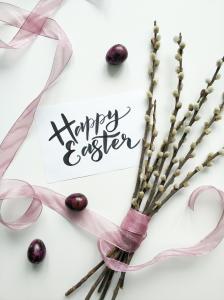 Most of us get Advent and we get Lent and we get the big wind up to Easter…but we don't really know what to do with these fifty days until Pentecost.
In Lent, we fast, pray and give alms –or are supposed to, and recognize that we are dust, and to dust we will return, that all this time is to help us discover how attached we are to sin and not Christ.   However a lot of us spend time up in the upper room after His crucifixion thinking, "Now what?' after the news, "He is risen!" arrives.   Some of us try to go back to  our ordinary lives like Peter.  "I'm going fishing." or the followers of Jesus on the road to Emmaus after the events of Good Friday through Easter.
Disciple One: "That was wild, crazy, impossible, confusing."
Disciple Two: "Yes it was.  What do we do now?"
Disciple One: "I guess we go back home."
Disciple Two: "Sounds better than staying holed up in that upper room."
Jesus, "Hi.  Mind if I walk with you?"
Disciples One and Two, "Suit yourself."
Jesus, "Where are you going?"
That's the real question after proclaiming the reality of our faith, the central tenet of our faith, the reason for our hope, for our joy, for bothering with any of this.   Where are we going after this news? What are we doing?
As Church historian Jaroslav Pelikan said, "if Christ is risen, nothing else matters. And if Christ is not risen—nothing else matters." which is a nice pithy paraphrasing of Saint Paul in 1 Corinthians 15:14.  "and if Christ has not been raised, then our proclamation has been in vain and your faith has been in vain."
So if we're to live this reality, that Christ is risen, death defeated, and follow Him, how do we go about the business of  doing this?  I sat pondering it and decided I needed help.  I went to adoration and begged, "Give me a disciple's heart."  because I know I start many projects with great enthusiasm, but don't always follow through.   I left still feeling, I didn't have a clue.  So I turned on a favorite podcast to listen:  https://stanastasia.libsyn.com/alpha-201session-1-the-purpose-of-life where the priest talked about needing to have a plan if we want to be saints.  I admitted I didn't have a plan for dinner let alone the rest of life for that sort of goal. I admitted, "God, I don't have a clue of a plan."  and having uttered that prayer in my head, the phone rang.
I almost thought it spam.  Picking up, I learned the visiting Blessed Mother ministry wanted to bring Mary to my home that evening.   I had to laugh at God's sense of humor and that Jesus' mom makes house calls.
I wanted to put a picture of Our Lady here, but the internet refused to cooperate, so I'm putting a song by Andrea Bocelli from the movie Fatima, since it includes the Hail Mary. Sometimes, being an Easter people means being more stubborn than the world; my personal specialty.