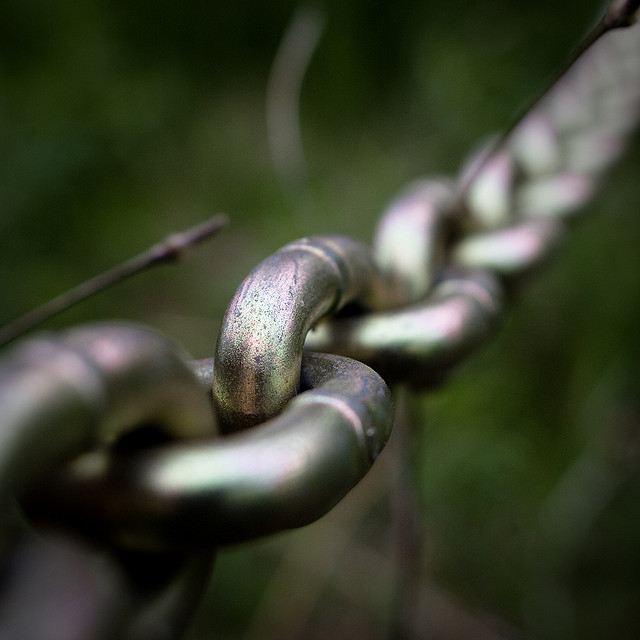 Image Source: Chain Chain Chains by Rick Harris; CC 2.0
If my heart were given to the fullness of its lusts, the intensity of its rage, the breadth of its deceit, the entirety of its envy, and given the satiation of its proclivity to idolatry, I would be in my natural, unbridled state. It is terribly frightening to know the Spirit restrains evil (2 Thessalonians 2:6-7), not because He is doing so, but to the effect that even the genocide of Hitler, the cannibalism and rape of Dahmer, and the spurge of ISIS, is restrained. We don't think in these terms. We don't truly perceive how wicked and vile humanity is – and how much more so we could be if we were left without this restraint.
It is even more disturbing when personalized – for I know only a fraction of how sinful I can be, being blind to my own blindness. Is this not what the psalmist echoes when he asks forgiveness for hidden sins, and even presumptuous sins knowingly and willfully committed against God's commandments (Psalm 19:12-13)? David makes a bold assumption, being convinced he not only commits sins he is unaware of, but knowingly disregards the Law. Hence, he petitions the Lord not only to forgive him – but keep him from these deeds, so that he will be blameless.
Again, David asks, "Search me, O God, and know my heart; try me and know my anxious thoughts; and see if there be any hurtful way in me, and lead me in the everlasting way" (Psalm 139:23). He asks this, knowing that he is sinful from conception (Psalm 51:5), those born of women cannot be righteous (Job 15:14), and from birth mankind is continually wayward (Psalm 58:3).
Christ also exposes the nature of man in saying, "truly I tell you, everyone who sins is a slave to sin" (John 8:34). Paul ushers forth a similar, universal edict in Romans 6:16, proclaiming that we are "slaves to the one whom you obey, whether you are slaves to sin, which leads to death, or to obedience, which leads to righteousness." Peter displays this principle equally vividly, speaking of the false prophets who entice others away from the faith with fleshly desires, sensuality, and blasphemies, promising freedom while they themselves are slaves to corruption; for by what a man is overcome, by this he is enslaved (2 Peter 2:19).
Perhaps we see this the most clearly when Paul quotes Isaiah in saying, "There is none righteous, not even one; there is none who understands, there is none who seeks for God; all have turned aside, together they have become useless; there is none who does good, there is not even one" (Romans 3:10-12).
In lieu of this, being sinful is not simply a matter of what we do – it is a positional stance; it is a declarative statement on our very nature. We are sinful and every aspect of our being is tainted. This positional stance was imputed to us by the sin of Adam (Romans 5:12-21), bringing about the due penalty of death and condemnation for those apart from Christ. Again, this is a universal edict, for all have sinned and fall short of the glory of God (Romans 3:23). As James also indicates for those feeling particularly righteous: whoever keeps the whole law and yet stumbles in one point has become guilty of all (James 2:10).
Yet this inherited sinful nature is contrasted with the positional nature of those justified by faith, namely, demonstrating they are no longer bound to live according to the flesh. Indeed, those who were once alienated from God are brought to a new, positional stance in Christ as slaves of righteousness (Romans 6:18). Notice the juxtaposition is displayed through the crucifixion of the old self (v. 6) and new life in Christ (v. 10). Thus, Paul is describing two different natures of man, rather than actions; men are either slave to sin or slave to God. The subsequent actions of the differing slaves are evidenced by their positional stance.
Read Ephesians 2:1-4 to grasp the fullness of this.
1. We were dead in our sins (v.1)
2. We walked in accordance with Satan, who blinded us even further than we presently were in our own unbelief (v.2).
3. We lived in accordance with the lusts of our flesh, which is at enmity with God (v.3)
4. We were by nature children of wrath (v.3)
All of this speaks to the utter hopelessness of those without Christ – for they are without the ability, as slaves to unrighteousness, to be positionally located in Him and obey the commands of God. Obedience then, is predicated upon conversion, as conversion marks the new locus of the believer in Christ, enabling them to walk contrary to the ways of the flesh. This is particularly why you can never have a "moral" pagan.
One is either a slave to righteousness through faith in Christ Jesus, or they are a slave to sin, incapable of producing any acceptable works in the eyes of the Father – for that which does not proceed from faith, is sin.