What does the Bible say about the rapture?  Are there signs that it could be near?  What Scriptures give us insight about the rapture?
The Word Rapture
The word rapture is not actually in the Bible but neither is the word Trinity, even though we know God is Three Persons.  So where did this word come from?  The word rapture comes from a translation of the words "caught up" found in 1 Thessalonians 4:17.   The Latin word for this is rapturo.  The Greek word for "caught up" is harpazo.   Let's read the context of First Thessalonians 4:16-17, "For the Lord Himself will descend from heaven with a shout, with the voice of an archangel, and with the trumpet of God.  And the dead in Christ will rise first. Then we who are alive and remain shall be caught up together with them in the clouds to meet the Lord in the air. And thus we shall always be with the Lord."  Some theologians believe this is the coming of the Lord for His saints while others believe this is the rapture that occurs just before or in the middle of the Great Tribulation.  The wording of "caught up" has the force of being kidnapped or taken by force.  This doesn't mean it is against their will for anyone who trusts in Christ willingly wants to be with the Lord and today all believers look forward to the second coming of Jesus Christ.
Paul's Context of 1 Thessalonians 4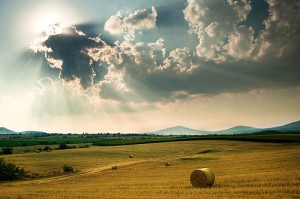 The context of Paul's writing in 1 Thessalonians chapter 4 is that some in Thessalonica were worried that those who had already died would miss the return of Christ.  They somehow thought that since they had already died, they would not be saved at Christ's return.  Paul reassured them saying that, "I do not want you to be ignorant, brethren, concerning those who have fallen asleep, lest you sorrow as others who have no hope. For if we believe that Jesus died and rose again, even so God will bring with Him those who sleep in Jesus" (1 Thess 4:13-14). That is when he said that "the dead in Christ will rise first" but "we who are alive and remain shall be caught up together with them in the clouds to meet the Lord in the air. And thus we shall always be with the Lord."  Paul is not so much stressing a rapture here as much as he is trying to comfort those who have had family and friends already die in the faith.  He was trying to comfort them with the fact that they would be with the Lord and "shall always be" with Him.

How Near the End?
Jesus was asked by His disciples about when the end would come but Jesus rebuked them that this was none of their business (Acts 1:7).  The important thing is that they are to be ready at all times.  The time of Jesus' return is not known by any human and by experience, we have seen time and again many predict a date for His return only to be wrong.  I believe it would not be good for us to know because knowing human nature, we would tend to relax and then repent at the last moment.  And if the Bible is silent on the time of Christ's return, then we too must be silent in trying to guess when it will be.  World events do seem to indicate that it might be close but we can not even try to guess nor is it wise to do so.  We must not be like the virgins who ran out of oil in their lamps when the Lord returned and as such, had no time to fill their lamps again (Matt 25).  The oil may be representative of the Holy Spirit.  For those who are the children of God they already have the Holy Spirit living within them and their lamps are full.  For those who have not yet trusted in Christ, their lamps are empty and they will face the wrath of God at His return.  The door of the kingdom will be shut in their faces.
Jesus gives us some clues as to when the end comes in the Olivet Prophecy in Matthew 24.  There will be many claiming to be Christ (v. 4), there will be widespread war (v 5), famines and earthquakes will abound (v 7), there will be increasing persecution and martyrdom (v 9), there will be a great falling away (v 10), an increase of false prophets (v 11), cold-heartedness will grow (v 12), and the gospel will be effectively preached to the whole world in general (v 14).  These signs are happening even today and increasing on a daily basis.  It is not as important to know when He returns as it is to know that He will return.  It is foolish to set dates or guess for only God knows this day and hour and it apparently will come when people least expect it (Matt 24:44),
"Therefore keep watch, because you do not know on what day your Lord will come"
(Matt 24:42) and so we must
"Be always on the watch, and pray that you may be able to escape all that is about to happen, and that you may be able to stand before the Son of Man"
(Luke 21:36)
Conclusion
Not everyone believes in the rapture and that's okay.  It is not an essential doctrine that determines whether a person is saved or not.  Jesus could come at any time and we should be ready now and not concerned with when or if the rapture occurs.  Jesus told us to "keep watch, because you do not know the day or the hour" (Matt 25:13). He did not tell us to just relax and wait for the rapture.  Now is the time of salvation for tomorrow may be too late (2 Cor 6:2).  Some day I pray you will hear these words: "Well done, good and faithful servant! You have been faithful with a few things; I will put you in charge of many things.  Come and share your master's happiness" (Matt 25:21)!  If you have not repented, confessed your sins, and put your trust in Christ, then these words will be the ones that will be terrifyingly coming off of Christ's lips to you: "Depart from me, you who are cursed, into the eternal fire prepared for the devil and his angels" (Matt 25:41).  I pray it is the former that you hear.  Trust in Him today…while it is still today.
Article by Pastor Jack Wellman

Jack Wellman is Senior Writer at What Christians Want to Know whose mission is to equip, encourage, and energize Christians and to address questions about the believer's daily walk with God and the Bible.
Sources: photo credit: Nick-K (Nikos Koutoulas) via photopin cc  The Holy Bible, New International Version