What does the Bible say about our thoughts? Can we control them or are there other influences which affect our thoughts?
Our Nature
We do not live in a neutral world. Our minds are held captive by something…or better yet, someone. They are held captive by someone we might not even believe in, but the Bible tells us who it is behind our thought life. When Jesus was speaking about adultery, He said that it's not only the physical act that is sinful, but in our minds we can sin too. The Lord said "that everyone who looks at a woman with lustful intent has already committed adultery with her in his heart" (Matt 5:28). To be sure, sin begins in the mind before it's ever manifested in the flesh. We think about it…ponder it, and then act on it. The fruit the human heart naturally produces evil works, so whatever starts in the mind can end up being "sexual immorality, impurity, sensuality, idolatry, sorcery, enmity, strife, jealousy, fits of anger, rivalries, dissensions, divisions, envy, drunkenness, orgies, and things like these" (Gal 5:19-21a), and the bad news about those who bear such fruit is that "those who do such things will not inherit the kingdom of God" (Gal 5:21b). The fruit reveals the root, and until we've received the Holy Spirit, we cannot possible bear righteous fruit like "love, joy, peace, patience, kindness, goodness, faithfulness, gentleness, self-control" (Gal 5:22-23).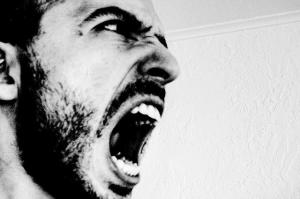 Overcoming our Thoughts
Since we cannot bear righteous fruit without God's Spirit, how can we take captive these thoughts that are unwholesome, to say the least? The Apostle Paul said "We demolish arguments and every pretension that sets itself up against the knowledge of God, and we take captive every thought to make it obedient to Christ" (2 Cor 10:5). So how do we demolish such thoughts when they enter our mind? Again, without God's Spirit, we have no hope of reforming our own thoughts. Paul has said that "The god of this age has blinded the minds of unbelievers, so that they cannot see the light of the gospel that displays the glory of Christ, who is the image of God" (2 Cor 4:4), so until we're set free from the clutch of Satan and his minions, we remain blind, even though we think we can see. Only trusting in Christ allows us to resist the Devil, and only then will he flee from us. David had a way of resisting evil thoughts and then having those thoughts bear sin. He wrote, "I have stored up your word in my heart, that I might not sin against you" (Psalm 119:11), so along with the Spirit of God we have the Word of God to help us avoid such evil thoughts, and only then are we able to "not sin against" God.
Transformed
One way to eliminate something is to replace it with something, and in the case of our thoughts, replace them with something much better. For example, we can dwell on "whatever is true, whatever is honorable, whatever is just, whatever is pure, whatever is lovely, whatever is commendable, if there is any excellence, if there is anything worthy of praise, think about these things" (Phil 4:8), instead of dwelling on whatever is sinful, lustful, or pleases the flesh. By allowing the Spirit of God to renew our minds, we will "not be conformed to this world, but be transformed by the renewal of your mind, that by testing you may discern what is the will of God, what is good and acceptable and perfect" (Rom 12:2). With the Spirit of God and the Word of God, we can renew our minds. The Word of God allows us to walk in safety since the "word is a lamp to my feet and a light to my path" (Psalm 119:105). His Word shows me the path in order that I might stay on the path and avoid leaving the path. That's the power of God's Word.
Sanctification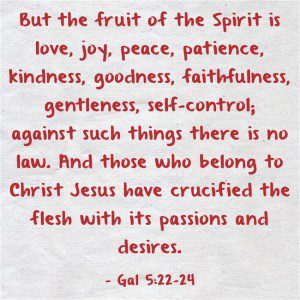 Before conversion, our thoughts gravitate toward whatever pleases us, with little or no regard for those around us. If we are fulfilling the desires of the flesh, we could care less about the fruits of the Spirit. Our minds will be held captive until we repent of our sins and put our trust in Christ. Only then can we have God's supernatural power; the power of the Holy Spirit. The Spirit of God takes the Word of God and changes the child of God into being more like the Son of God. I don't mean we'll be sinless, but we should sin less over time. Sanctification takes time…in fact, it takes a lifetime, and only until we enter the kingdom will our minds be completely free of evil thoughts, desires, and intentions.
Conclusion
You cannot take captive any thoughts you have but only for a moment or only temporarily. Eventually, our minds will gravitate to unholy things, that is unless we are in the Word of God daily and have the Spirit of God in us. When we're saved, we receive a new nature…the nature of God, and even though it falls infinitely short of God's mind, we strive to have it renewed daily by prayer, by the Word, and by His Spirit, so we can receive help from God in overcoming our thought life, particularly our thoughts on things of the world and of the flesh. Paul asked the Corinthians, "For who has understood the mind of the Lord so as to instruct him?" But we have the mind of Christ" (1 Cor 2:16). Paul admonishes us to "Have this mind among yourselves, which is yours in Christ Jesus, who, though he was in the form of God, did not count equality with God a thing to be grasped, but emptied himself, by taking the form of a servant, being born in the likeness of men" (Phil 2:5-7). When we focus on serving others in humility, there is no room for selfish thoughts to satisfy the flesh. Instead of it being all about us, the mind of Christ makes it all about others. We cannot control our thoughts but the Spirit of God can. The Spirit of God allows us to "Do nothing from selfish ambition or conceit, but in humility count others more significant than yourselves" (Phil 2:3).
Article by Jack Wellman
Jack Wellman is an ordained elder of the Brethren Church and a Pastor and Prison Minister in the State of Kansas, but also a writer at Christian Quotes and What Christians Want to Know which address questions about the Bible. He also plants ministries like nursing home ministries, Outreach for the poor, and other evangelistic activities, and check out his book Teaching Children the Gospel available on Amazon.