God is seeking those who will worship Him in spirit and in truth (John 4:24), but He's also seeking godly fathers after His own heart.
A Protective Father
Scripture is clear about God and His nature as a protective Father. The Bible says that He is "Father of the fatherless and protector of widows is God in his holy habitation" (Psalm 68:5). God also knows how to answer our prayers; it can be yes, no, or not now. It might even be, "I've got something better for you," or "No, you'll hurt yourself. All we need to do is to "Ask, and it will be given to you; seek, and you will find; knock, and it will be opened to you. For everyone who asks receives, and the one who seeks finds, and to the one who knocks it will be opened. Or which one of you, if his son asks him for bread, will give him a stone? Or if he asks for a fish, will give him a serpent" (Matt 7:7-10)?  Verse ten points out that God will not give us something that will hurt us. We can ask, seek, and knock, and He still won't give us a scorpion. A stone and bread may have looked similar in Jesus' day, so we may not always recognize if something we're praying for is really good for us. God always knows. Human fathers are protective fathers, but none approach God as a Father, so "Blessed be the God and Father of our Lord Jesus Christ! According to his great mercy, he has caused us to be born again to a living hope through the resurrection of Jesus Christ from the dead" (1 Pet 1:3).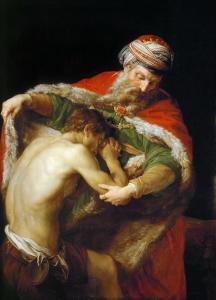 A Forgiving Father
In the Parable of the Prodigal Son, it's easy to overlook the fact that the father was waiting and watching for his son to return…knowing that in time, he'd come. Jesus says that the prodigal finally "arose and came to his father. But while he was still a long way off, his father saw him and felt compassion, and ran and embraced him and kissed him" (Luke 15:10). Rather undignified in the day to have a father running out to meet a returning prodigal. Instead, fathers would be waiting to give the boy a lecture and the dreaded, "I told you so," but not so with a forgiving father, as God the Father is. The Apostle John writes, "But to all who did receive him, who believed in his name, he gave the right to become children of God" (John 1:12). It's not hard to find places in Scripture where it shows "what kind of love the Father has given to us, that we should be called children of God; and so we are. The reason why the world does not know us is that it did not know him" (1 John 3:1). Earthly fathers are forgiving, but not in the way that God the Father is.
A Blessing Father
God blesses us beyond measure in Jesus Christ, so we must rightly say, "Blessed be the God and Father of our Lord Jesus Christ, who has blessed us in Christ with every spiritual blessing in the heavenly places" (Eph 1:3). Believers understand that "Every good gift and every perfect gift is from above, coming down from the Father of lights with whom there is no variation or shadow due to change" (James 1:17). The Apostle Peter writes, "Blessed be the God and Father of our Lord Jesus Christ! According to his great mercy, he has caused us to be born again to a living hope through the resurrection of Jesus Christ from the dead" (1 Pet 1:3). If we just look around us, we can see that God as He cares for His creatures. A simple example is to take a "Look at the birds of the air: they neither sow nor reap nor gather into barns, and yet your heavenly Father feeds them. Are you not of more value than they" (Matt 6:26)? Of course you are.
A Disciplining Father
Love and discipline go hand in hand. That's why we're told to "not despise the LORD's discipline or be weary of his reproof, for the LORD reproves him whom he loves, as a father the son in whom he delights" (Prov 3:11-12). Rather than despise God's discipline, we should recognize that "Blessed is the man whom you discipline, O LORD, and whom you teach out of your law" (Psalm 94:12). The Book of Proverbs is rich in the study of discipline and love, but so is the New Testament. You often see one with the other, like in Hebrews 12:6 which says, "My son, do not despise the LORD's discipline or be weary of his reproof" (Heb 12:6). At times, it might feel like "The Lord has disciplined me severely" (Psalm 118:18a), but in reality we know that "he has not given me over to death" (Psalm 118:18b). The fact is, "the Lord disciplines the one he loves, and chastises every son whom he receives" (Prov 3:11).
A Comforting Father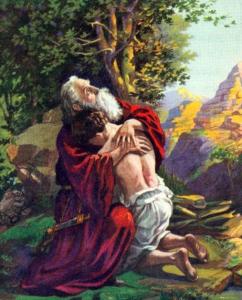 I hope you had a comforting father. If not, we know that God the Father is comforting. He was thinking of us by sending His Son as a ransom for many (Mark 10:45), so God is a comforter. The Bible says that it is "the God and Father of our Lord Jesus Christ, the Father of mercies and God of all comfort, who comforts us in all our affliction, so that we may be able to comfort those who are in any affliction, with the comfort with which we ourselves are comforted by God" (2 Cor 1:3-4). God comforts us in our afflictions, but He uses others as a means to do so. He may also use us to comfort others in the same way we received comfort when we needed it. Just as a human "father shows compassion to his children, so the LORD shows compassion to those who fear him" (Psalm 103:13). We can also take comfort in the fact that "God has not destined us for wrath, but to obtain salvation through our Lord Jesus Christ" (1 Thess 5:9).
Conclusion
God made mankind radically different from the rest of His creation. The Triune God said, "Let us make man in our image, after our likeness. And let them have dominion over the fish of the sea and over the birds of the heavens and over the livestock and over all the earth and over every creeping thing that creeps on the earth" (Gen 1:26). God's relationship with mankind is infinitely different than animals. We can know God through Jesus Christ. The Apostle Paul quotes the Old Testament prophet Hosea (1:10), writing, "And I will be a father to you, and you shall be sons and daughters to me, says the Lord Almighty" (2 Cor 6:18). Still not sure about what the Father is like? Jesus says "Whoever has seen me has seen the Father. How can you say, 'Show us the Father'" (John 14:9b). When we read about Jesus, we read about the Father. He is a protective Father; a forgiving Father; a blessing Father; a disciplining Father; and a comforting Father…and abundantly, a Father of love (1 John 4:8, 16).
Article by Jack Wellman
Jack Wellman is an ordained elder of the Brethren Church and a Pastor and Prison Minister in the State of Kansas, but also a writer at Christian Quotes and What Christians Want to Know which address questions about the Bible, and a published author of four books. He also plants ministries like nursing home ministries, Outreach for the poor, and other evangelistic activities, and check out his book Teaching Children the Gospel available on Amazon.