What are 7 Christian family activities that the whole family would enjoy?  What are those things that would build joyous memories?  What entertainment activities could you include as one?
Movie Night
There may not be an abundance of family-friendly movies available but there are many.  There is nothing like sitting together as a family and making a big bowl of popcorn to watch a good, clean movie.  Movies bring up a lot of situations that are teachable moments for parents and opportunities for children to ask questions about what they should do in certain situations.
Game Night/Wii Game Night
I believe that the family that plays together stays together.  I also know that the family that prays together also stays together but there are fewer ways that a family can stay together than to pick one night a week or at least once a month, to play board games.  Boardwalk never seems to go out of style.  We also love the board game of Life.  No matter what you choose, choose a night, at least once in a while, for board games because board games are something that all ages can understand and participate in. Even Bingo is great fun and we made up our own using beans and called it "Bean-Go." I know it sounds corny, but it is so much fun and even better when you can create your own games.
There are also dozens of family-friendly games that are available from the Wii gaming system.  Wii offers such a variety of games that nearly every member in the family can enjoy.  Ask the children what they want to play.  We love the bowling, tennis, soccer and the golf but there are many others as well.  Some include carnival games.  We prefer to stay way from the violent video games in our home.  The best games are those that have a lower difficulty level like the bowling and the Wii board games.
Family Picnic
Who doesn't remember having or hearing about a family picnic?  The weather is the biggest hurdle for the hot summer and cold winters, but when the weathers nice, a picnic in a park or in an outdoor camping area are great fun.  There are always a few surprises when a family has a picnic and what a great opportunity to bring the family closer together. Bring your binoculars and do some bird watching too.  We asked the children what they wanted to bring to the picnic. Don't assume that you know what they want.  We had our picnics in the city park and so when they were finished eating, they had opportunity to have fun on the playground equipment.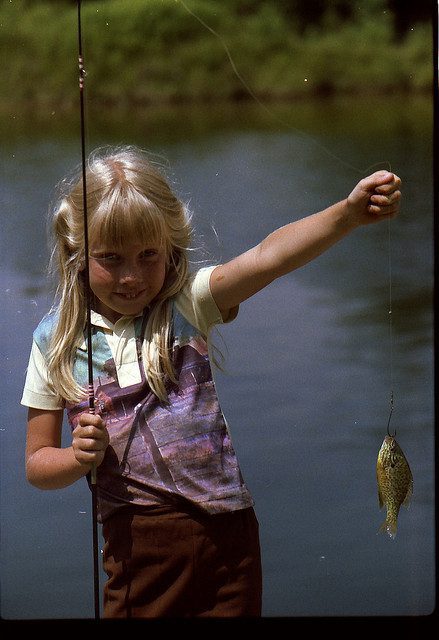 Fishing
There is something special about getting outside and more so when the whole family is involved.  There are many areas that have fish that are regularly stocked and the youngest children don't care if it's only a pint-sized fish.  As long as they love it, that's all that matters.  I can remember the first fish my son caught. It was a little Sun Perch.  It wasn't very big but my son was so excited and he still has fond memories of that first catch.  It's not the size of the catch but the size of the moment.
Camping Out
Camping out or "roughing it" is a great way to build family relations.  Maybe you can also take a nature hike with the family.  The natural beauty of nature presents opportunity for parents to talk about the creation of God as well as the Creator Himself.  I remember having a few nights where we built a campfire and roasted hotdogs and also had smores.  The starry nights and the warm days were conducive to just sitting down to talk.  As a father, I learned that it was more important to listen than it was to talk.
Car Wash or Wash the Dog
You might be thinking…."Washing the car or dog for a Christian family activity?  No way!"  Let me explain.  When the entire family pitches in to wash the dog or to wash the car, somebody is going to get wet so put your swimming suits on.  One time we were washing the car and we got more soaked than the car ever did.  We ended up having a water balloon fight and then we set out the sprinkler for the children to run into and used plastic trash bags as sliders.  What fun they had.  They had no trouble falling asleep that night either.  The good thing is, the hotter the weather, the more fun washing the dog and the car is.
Family Photo Album Night
We just love looking over old photograph albums.  We have a large selection that have hundreds of pictures in scrapbooks.  These are so much fun to look back on and see just how much many of the family members have changed.  It is a great moment for the children to connect to their family in a much broader sense too since they can see their family roots and where they came from.  This builds a sense of purpose and the importance of the family in a much broader context.
Conclusion
What is your favorite family activity that you can add to our list? Please help us out by adding your favorite activity and memory that goes with it.  There is no doubt that a family that has regular activities done together is a closer knit family and these types of activities build happy memories for a lifetime.  Children who participate in these kinds of activities are more likely to repeat these activities with their own families.
A Christian family is made even stronger when the Lord our God is part of the family unit. This is what I believe Ecclesiastes 4:9-12 is all about as it says, "Two are better than one, because they have a good return for their labor: If either of them falls down, one can help the other up. But pity anyone who falls and has no one to help them up. Also, if two lie down together, they will keep warm. But how can one keep warm alone?  Though one may be overpowered, two can defend themselves. A cord of three strands is not quickly broken."
Article by Pastor Jack Wellman
Jack Wellman is Senior Writer at What Christians Want to Know whose mission is to equip, encourage, and energize Christians and to address questions about the believer's daily walk with God and the Bible.
Resources: photo credit: sydandsaskia via photopin cc