Teresa of Calcutta was known as Mother Teresa and lived from August 26th of 1910 through September 5 of 1997. She devoted her life to helping others and won the Noble Peace Prize in 1979. Her legacy still lives today and her quotes are some of the most used and read. She had a gift for putting things simply and yet profoundly. Here are my ten favorite Mother Teresa Quotes. Add your favorite sayings from her in the comments!
# 10 "If you judge people, you have no time to love them."
Wow. This one hits home. We  all too often (me included) would prefer to pick apart why we can't help someone rather than treat them with unconditional love and kindness.
#9  "Life is an opportunity, benefit from it.
Life is beauty, admire it.
Life is a dream, realize it.
Life is a challenge, meet it.
Life is a duty, complete it.
Life is a game, play it.
Life is a promise, fulfill it.
Life is sorrow, overcome it.
Life is a song, sing it.
Life is a struggle, accept it.
Life is a tragedy, confront it.
Life is an adventure, dare it.
Life is luck, make it.
Life is too precious, do not destroy it.
Life is life, fight for it."
This is a quote to print out and put next to your computer for a daily reminder on how to live each day of your life.
#8 "Not all of us can do great things. But we can do small things with great love."
Sometimes the smallest things that often go unnoticed make the biggest impact. Tell your co-worker good morning, kiss your wife, complement your child, hug a parent, or pay for the person that is behind you in the drive thru at McDonalds.
#7 "I know God won't give me anything I can't handle. I just wish he didn't trust me so much."
1 Corinthians 10:13 says, "No temptation has overtaken you except such as is common to man; but God is faithful, who will not allow you to be tempted beyond what you are able, but with the temptation will also make the way of escape, that you may be able to bear it."  Mother Teresa was referring to this verse with the quote.  What a great sense of humor!
#6 "Every time you smile at someone, it is an action of love, a gift to that person, a beautiful thing."
This is one you can put into action today!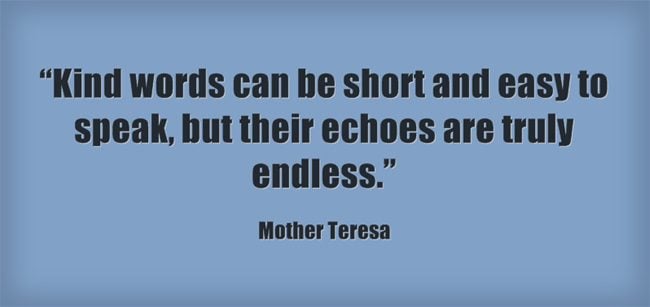 #5 "Kind words can be short and easy to speak, but their echoes are truly endless."
Sometimes one of the hardest things to do is to share these kind words daily with family members. Positive words can influence your household and teach your children and family members how to use kind words to impact the world.
#4 "God doesn't require us to succeed, he only requires that you try."
Colossians 3:23  Whatever you do, work heartily, as for the Lord and not for men,
Work hard today and do it for the glory of God!
#3 "Live simply so others may simply live."
Live within in your means and give the excess that God has blessed you with to help the less fortunate. You can put this quote into action by putting a budget and giving plan in place.
#2 "Prayer is not asking. Prayer is putting oneself in the hands of God, at His disposition, and listening to His voice in the depth of our hearts."
Too often we pray for how we want God to answer something rather than surrender to God and His will. Remember when praying today to do it in complete surrender.
#1 "I can do things you cannot, you can do things I cannot; together we can do great things."
We are each part of the body of Christ and gifted in different areas. Act on the gifts that God has given you and start today.
I hope these quotes by Mother Teresa will spark something inside of you today and cause you to act.  Let me know which quote stood out most to you.
For more quotes by Mother Teresa you can check out one of these articles:
http://www.whatchristianswanttoknow.com/mother-teresa-quotes-21-thoughtful-sayings/
http://www.goodreads.com/author/quotes/838305.Mother_Teresa
Article by Josh Wiley
Josh Wiley is a Christian blogger who loves to share the truth found in the Bible with others. Josh currently runs the website What Christians Want To Know.  Josh is blessed with a caring and wonderful wife Karen and four great kids.
Resource: The Holy Bible, English Standard Version (ESV)