God created marriage He also created the family but today the family is under siege.  What top Bible verses in the Bible can we read about family in the hopes of strengthening them?
Exodus 20:12 "Honor your father and mother so that you may live long in the land the Lord your God is giving you."
The 5th Commandment is the first commandment that relates to humans.  The first four are vertical and are toward God but the next six are vertical and directed toward others.  Family is the foundation of any nation and people and when the institution of the family starts to crumble, so does the foundation of the nation.  The 5th Commandment is the only one with a promise…the promise of a long life for the children that honor their father and their mother.  Exodus 20:12 says "Honor your father and mother so that you may live long in the land the Lord your God is giving you." God doesn't say honor your parents if they are good parents, if they are always right or if they are always obedient to God.  There are no conditions given by which you are to not honor your parents.  God simply says to honor them. God knows that they are not perfect but neither are children.  This commandment also doesn't give a time limit to which it expires and so this means to honor them when you are grown and you have a family of your own.  Honor them when they are frail and feeble.  Honor them if they have to move into an assisted living center.  There is no time limit for honoring them and so even after they are dead, when we speak evil of them, we are not honoring our parents and by doing so, God will not hold to His promise that "you may live long."  That's something to think about.
Get this great daily devotional for women written by Crystal McDowell in your email → Daughters Of The Creator
Joshua 24:15 "Choose for yourselves this day whom you will serve, whether the gods your ancestors served beyond the Euphrates, or the gods of the Amorites, in whose land you are living. But as for me and my household, we will serve the Lord."
Joshua made a statement to Israel after Moses was gone.  He also made a statement about his family that for his household they "will serve the LORD."  When a family determines to serve the Lord, the Lord is determined to be a part of that family.  Families are stronger when the Lord is being considered before making decisions.  This includes what movies to watch, what's on TV, the Internet, in magazines, and whatever other media infiltrates the home.  When the Lord is honored things will go well with that family.  Like Ecclesiastes 4:12 says, "And though a man might prevail against one who is alone, two will withstand him—a threefold cord is not quickly broken."  When that third cord is God, then families are stronger and can withstand many of the storms of life.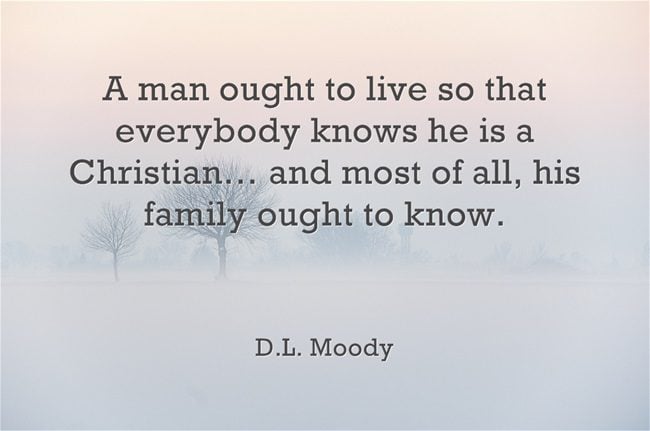 Psalm 103:17-18 "But the lovingkindness of the LORD is from everlasting to everlasting on those who fear Him, And His righteousness to children's children, to those who keep his covenant and remember to do his commandments."
How can God's own righteousness be extended to children's children (that means grandchildren and great grandchildren)?  It is not by only remembering His commandments but in fearing Him.  Fear means a reverential, holy respect for Who God is.  When families are obedient to God, His righteousness can be extended into the 3rd and 4th generations and beyond.   This way "mercy extends to those who fear him, from generation to generation" (Luke 1:50) and "showing love to a thousand generations of those who love me and keep my commandments" (Duet 5:10). This is because "He remembers his covenant forever, the promise he made, for a thousand generations" (Psalm 105:8).
Proverbs 1:8-9 "Hear, my son, your father's instruction, and forsake not your mother's teaching, for they are a graceful garland for your head and pendants for your neck."
This is given to sons and we can assume to daughters also.  Again, there is no time restriction given.  Solomon doesn't say to hear your father's instruction and don't' forsake your mother's teaching while you are at home…but even after children leave their homes to begin new families.  This doesn't mean that husbands and wives must do what their parents or in-laws say but at least listen to them out of respect and as honoring them as given in the 5th Commandment.  Sometimes they can interfere but this is not what these verses are talking about.  Parents have experience and wisdom and are concerned about preventing you from making the same mistakes that they made but these Scriptures are also intended for those children still living at home.  If they do listen to their father and mother, it will be like a graceful garland (lovely essence) and pendants (displaying honor from not forsaking their instruction and teachings).
First Timothy 5:8 "But if anyone does not provide for his relatives, and especially for members of his household, he has denied the faith and is worse than an unbeliever."
This may not seem very encouraging but it is a frequently quoted verse when fathers are not providing for their families.  It may sound like its talking only about food, shelter, and money but there is more than these to life (Matt 6:25).  A father is like the priest of the family and when he is spiritually and morally bankrupt, the family truly suffers.  If a father doesn't provide all these things for his family, God says that he is worse than an unbeliever.  How can he be worse than an unbeliever?  Because many unbelievers at least do provide for their family and a man that professes faith in Christ should know better than to leave his family unattended and not supported.  This makes them  worse than an unbeliever because the unbeliever doesn't have access to biblical principles on how to raise children, care for their family, and love their spouse.  This man that doesn't provide for his family has denied the faith in the sense that he has no evidence of being a Christian.  It is almost like denying Christ Himself.
Proverbs 22:6 "Train up a child in the way he should go; even when he is old he will not depart from it."
This doesn't mean that the child will never depart from the trainings after they leave home.  It does mean that when the child has grown old, what the child learned at home will not depart from their minds.  It doesn't mean that they will implement the trainings but that they are still in the grown child's mind and in many cases it takes a few years for them to realize that their parents were right.  They might later realize that they should have listened and avoided many of the mistakes that they had to learn the hard way.  Good families train their children and they start when they are very young and consistently do so until they leave the home.
Ephesians 6:1-4 "Children, obey your parents in the Lord, for this is right.  "Honor your father and mother" (this is the first commandment with a promise), "that it may go well with you and that you may live long in the land."  Fathers, do not provoke your children to anger, but bring them up in the discipline and instruction of the Lord."
Here the instructions for families is for children to obey their parents and refers back to the 5th Commandment that was "the first commandment with a promise."  That promise was for a long life if children obey their parents and honor them.  This is also an important reminder to fathers to not provoke the children to anger.  This provoking is done by unrealistic expectations, never having the child be "good enough" or "do good enough" to ever satisfy the parent.  When fathers are never pleased, even if the child does their best, a child can be provoked to anger and frustration.  That severely damages a child's self-esteem and makes them believe that they can do nothing right or they can never live up to their father's expectations.  Fathers must not provoke their children to anger but they must also must bring them up with discipline as well as instruction of the Lord.  This discipline or instruction should never be done in anger but in love.
Ephesians 5:22 -25, 28 "Wives, submit to your own husbands, as to the Lord.  For the husband is the head of the wife even as Christ is the head of the church, his body, and is himself its Savior. Now as the church submits to Christ, so also wives should submit in everything to their husbands… Husbands, love your wives, as Christ loved the church and gave himself up for her…  In the same way husbands should love their wives as their own bodies. He who loves his wife loves himself."
When husbands love their wives and wives respect their husbands, that family is strong.  Submission is not just for women. It is for husbands too as they should submit to Christ.  Husbands are commanded to love their wives just as or equal to the same love that Christ has for the church.  That really raises the bar.  That means that husbands should love their wives to the max in a life-giving, self-sacrificing love.  It doesn't necessarily mean that he has to die for her but that he has to die to self in order to love her and put her interests above his own interests as Christ did for us.  When wives submit to husbands I don't know a Christian man that has had trouble loving his wife and when a wife respects her husband, it is rare that she is not cherished and deeply loved by her husband.  And guess what? Children notice that!  Don't think they aren't looking. They will likely treat their spouse the way they have seen you treat yours!
Psalm 127:3-5 "Behold, children are a heritage from the Lord, the fruit of the womb a reward. Like arrows in the hand of a warrior are the children of one's youth. Blessed is the man who fills his quiver with them! He shall not be put to shame when he speaks with his enemies in the gate."
At first glance, these Scriptures didn't seem like they were about family at all but then I started breaking them down by sentences.  We should acknowledge and tell children that they are a gift…a heritage from the Lord Himself.  They are not ours but the Lord's.  These children are like arrows that we must direct, aim, and release to the best of our ability toward the mark of true success.  Success is only found when they serve the Lord and parents won't have to be ashamed when they grow into mature, responsible, godly adults.  This happens only by carefully directing these arrows (children).  The directions are part of their training and admonition in the Lord.  While we are doing this, we are aiming high.  We want them to go far.  We are encouraging them and when this "aiming" and "directing" is complete, we must release them. That is let them make their own decisions.  Let go!  When we release an arrow, we don't hold on to it once it's released or it will go nowhere or badly miss the mark. We must let go and let God.
Mark 10:6-9 "But from the beginning of creation, 'God made them male and female.' Therefore a man shall leave his father and mother and hold fast to his wife, and the two shall become one flesh.' So they are no longer two but one flesh.  What therefore God has joined together, let not man separate."
This maybe should have been mentioned first because the family's only chance for survival is that they not separate because God has "joined together" both husband and wife and "the two" became one flesh or one new family unit.  Divorce is the single greatest threat to the family.  There is no more harm that is done to families than that which comes from divorce.  Children of divorced parents are three times more likely to divorce when they get married.  The man is told to "leave his father and mother" and "hold fast to his wife."  This is very important. This means that a new family unit is created and the family from which husband and wife came from must not be part of their old family but must form a new family of their very own.  Interference from parents or in-laws does so much harm to the new family and has frequently been the cause of divorce.  The man is to leave and cleave.  The word for joined is like the same word for glue or epoxy.  It means that they are literally bound by the skin to one other and if another leaves, they take part of the other with them because what became one flesh cannot be torn apart without damaging them both!  God joined them together and no one, including the husband or wife, is to separate them.  Ongoing, unrepentant adultery is the only exception for divorce and if physical violence occurs, the injured party should separate for their own safety but ordinarily, what God Himself has joined together no one should ever try to tear apart or separate.
Looking for more verses about Family from the Bible? Check this article out:
http://www.whatchristianswanttoknow.com/bible-verses-about-family-20-uplifting-scripture-quotes/
Article by Pastor Jack Wellman
Jack Wellman is Senior Writer at What Christians Want to Know whose mission is to equip, encourage, and energize Christians and to address questions about the believer's daily walk with God and the Bible. You can follow Jack on Google Plus or check out his book Blind Chance or Intelligent Design
Resources: The Holy Bible (NIV Version)