Clearly, trusting in Jesus Christ is the one and only way that God can save us, and to establish that truth, read these 7 Bible verses.
John 14:6 Jesus said to him, I am the way, and the truth, and the life. No one comes to the Father except through me.
Jesus makes it abundantly clear that there is no other possible way to the Father than through Him. He is the one and only way. He alone is the truth, and not one of many truths. He is the one and only way to be saved, and not one of many ways. If there is more than one path to God, it is to the Great White Throne judgment seat where Christ will judge all who have rejected Him (Rev 20:12-15), but that's a path no one should take, and they need not take it. Put your trust in Him.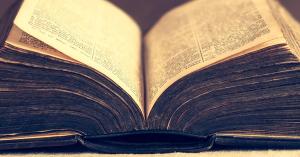 John 6:44 No one can come to me unless the Father who sent me draws him. And I will raise him up on the last day.
This verse gives no room for a human interpretation or rationalization. It is what it says. No man and no woman can come to the Father unless it is through Jesus Christ our Lord, and that person must be being drawn to Him. Only then will the Lord "raise him up on the last day." If you choose to reject the one and only way to the Father (through Jesus Christ), then you will be forever separated from God by your sins, and instead of having Christ atone for your sins, you will have to pay for them yourselves (Rev 21:8).
Acts 4:12 And there is salvation in no one else, for there is no other name under heaven given among men by which we must be saved.
No other name is given to us whereby we can be or must be saved. Choose any religious leader you can think of. They're not the way. Their name can't save you. It is only in Christ that we can be saved, for truly, "there is salvation in no one else." This conflicts with most of the world's religions because most are works-based. This view of salvation looks like; our works + Jesus = salvation, when nothing could be further from the truth (Eph 2:8-9). God alone saves and it is only through the name of Jesus Christ. There is absolutely no other way. So says me? No, so say Scripture! The jailer asked the right question: "Sirs, what must I do to be saved" (Acts 16:30)? The answer of course is, "Believe in the Lord Jesus, and you will be saved, you and your household" (Acts 16:31).
First Timothy 2:5 For there is one God, and there is one mediator between God and men, the man Christ Jesus.
There are no humans on earth that can mediate between us and God. It takes a High Priest, and Jesus Christ Himself is our High Priest and Mediator because only He can enter into heavenly sanctuary and into the presence of God the Father. Only He and the Spirit have access to the Father, so that's why we pray through Jesus' name, so "Let us then with confidence draw near to the throne of grace, that we may receive mercy and find grace to help in time of need" (Heb 4:16). Jesus' open access to the Father gives us access to the Father. Not just any mediator will do. It must necessarily be Jesus Christ.
John 10:7-9 Truly, truly, I say to you, I am the door of the sheep. All who came before me are thieves and robbers, but the sheep did not listen to them. I am the door. If anyone enters by me, he will be saved and will go in and out and find pasture.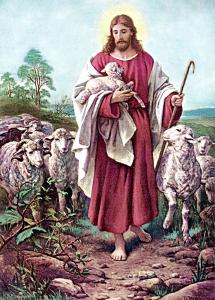 When you're invited to a wedding, you're normally given an invitation, so without the invitation, you can't attend. In a similar fashion, Jesus is the one and only way into the kingdom. He is not only our access to the Father; He is the door by which we must pass through to enter into the kingdom. You must enter the kingdom through the King of that Kingdom. If you hear His voice and He knows you by name, then you are in the sheepfold. Many say they know Christ, but your eternity depends upon whether Jesus knows you! His knowing you is more critical than you knowing Him, because a lot of people will claim to know Him, but Jesus will say to those "many" (Matt 7:21), "Depart from Me, for I never knew you" (Mat 7:23).
John 3:16-17 For God so loved the world, that he gave his only Son, that whoever believes in him should not perish but have eternal life. For God did not send his Son into the world to condemn the world, but in order that the world might be saved through him.
God gave His Son so that we might receive eternal life, and all will receive it if they have repented and put their trust in Christ. Jesus' atonement is efficient for all to be saved and sufficient for all the world to be saved, but they must believe in Him. To believe in Him doesn't simply mean having head knowledge about Him, but having a personal relationship with Christ…being in His Word and in prayer through His name. Eternal life comes to all who believe. The Scriptures say, "God shows his love for us in that while we were still sinners, Christ died for us" (Rom 5:8), and that was necessary because "the wages of sin is death, but the free gift of God is eternal life in Christ Jesus our Lord" (Rom 6:23).
Acts 2:38 And Peter said to them, Repent and be baptized every one of you in the name of Jesus Christ for the forgiveness of your sins, and you will receive the gift of the Holy Spirit.
A person who repents and trusts in Christ will be saved, but it is actually God Who grants repentance (Acts 5:31, 11:18; 2 Tim 2:24-26). Once a person has been granted repentance by God, then they "receive the gift of the Holy Spirit," and with that, "the forgiveness of…sins." That's when the believer should be baptized. All who believe are told to be baptized. If you've trusted in Christ, and repented of your sins, but haven't been baptized, why not? It is a command of Christ!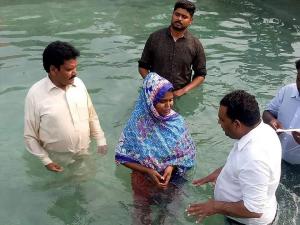 Conclusion
The Bible is clear: None but God can save, and that means whoever believes in Jesus Christ will be saved, so please share these Bible verses with someone that conclusively prove that only God can save, and rather than see Christianity as being a narrow path to God (which it is), be thankful that there is even a path at all.  If there was only one way out of a burning building, you'd not be worried about the narrowness of the way, so rather than bemoaning the fact that Jesus is the only way to be saved, be thankful that God has provided any way for us to be saved.
Article by Jack Wellman
Jack Wellman is a Pastor and Prison Minister in the State of Kansas. Jack is also a writer at Christian Quotes and Senior Writer at What Christians Want To Know whose mission is to equip, encourage, and energize Christians and to address questions about the believer's daily walk with God and the Bible. You can follow Jack on Google Plus or check out his book Teaching Children the Gospel available on Amazon..