What do Quakers believe about God and the Bible?  Do they believe differently about Jesus than mainstream Christianity does?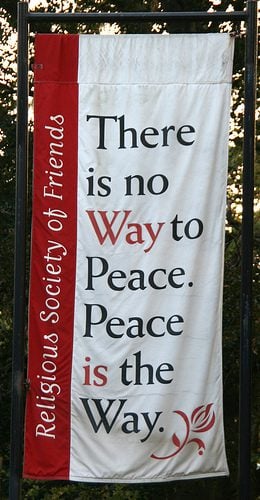 How the Quakers Got their Name
The Quakers were founded in the 1600's by George Fox and according to his biography, he was brought before England's magistrates Nathaniel Barton and Gervase Bennet on charges of religious heresy.  One of those magistrates, Gervase Bennet, is responsible for the name Quakers. The Quakers call themselves Quakers but also "Friends" because Fox " bad them [to] trembled at the Word of God" and the name stuck. [1]   Fox may have been referring to Isaiah 66:2b which says "this is the one to whom I will look: he who is humble and contrite in spirit and trembles at my word."  The name Quaker, at first a name of ridicule, was later to be embraced by the Quakers and today 89% of them still refer to themselves as Quakers.  The Quakers are Protestants who believe in the same Jesus but their orthodoxy is different from most Christian churches as we will read about later in this article.
The Quakers were born of dissent and dissatisfaction about the Church of England which had become too ritualistic and hypocritical.  Even though their popularity caused their numbers to swell to 60,000 by the late seventeenth-century, they immigrated to America in search of greater religious freedom and better economic opportunities.  They eventually migrated to the Northeastern region of America and today primarily reside in New England.   Besides being called Quakers, they refer to themselves as "Friends" or "Friends of the Truth."
What Quakers Believe
Quakers rely on revelation from the Holy Spirit but clearly they uphold all of the Bible as perfect and without error and so in this way they reflect most of the Protestant, evangelical churches. Any personal revelation from God must be placed against the Word of God and if a person's revelation from God differs from what the Bible says, they fully reject it.  Most Quakers do believe in heaven and hell but feel it is more up to their personal interpretation of it and even the afterlife is left to speculation and up to each individual to interpret.  They see the Kingdom of God as being already presently on earth and not just some future hope.  Baptism in not as much an outward submersion in water but an inward conversion of the soul.
Quakers differ in that they see mankind as basically good and that even those who are not saved are the children of God.  This conflicts with what the Bible teaches that "All have turned aside; together they have become worthless; no one does good, not even one" (Rom 3:1) and that "There is no one righteous, not even one" (Rom 3:10). When Jesus told the disciples how to pray in what is commonly called "The Lord's Prayer" He opened it with "Our Father Who art in Heaven" (Matt 6:9).  Jesus does not see those who are lost as being children of God but as being the children of the Devil.  Jesus said to those who did not believe in Him that "If God were your Father, you would love me, for I came from God and I am here. I came not of my own accord, but he sent me.  Why do you not understand what I say? It is because you cannot bear to hear my word.  You are of your father the devil, and your will is to do your father's desires. He was a murderer from the beginning, and does not stand in the truth, because there is no truth in him. When he lies, he speaks out of his own character, for he is a liar and the father of lies" (John 8:42-44) so Jesus disagrees with Quaker doctrine that those who are not saved are still God's children.  Quakers do not believe in the Sacraments like baptism or the Lord's Supper (or Communion) but believe that belief in Jesus is itself a Sacrament.  The Quakers do not have a creed or a set of doctrinal beliefs but instead believe in meditating and having communion with God as their doctrine.   Their traditional testimonies are that of "pacifism, social equality, integrity, and simplicity." [2]
Conclusion
Quakers are not that different from Christians in that they believe in the Bible, they believe in Jesus Christ and that He lived a sinless life and became for us the sacrifice that was necessary to restore fallen mankind to a right relationship with God and that a person can be saved based upon their belief in Jesus Christ as Lord and Savior.  Whether you are a Quaker, Catholic, or Protestant, you have the hope of an eternal home with the Lord and you are one of the children of God.  For those who have not repented, confessed their sin, pleaded to God for the forgiveness of their sins, and then trusted in Christ, God the Father is not their Father but their Judge and they are of their father the Devil.  Without repentance, confession, and trust in Christ, their future is hopeless because they don't have the peace of God (Rom 5:1) and the Father doesn't see them as having Christ's righteousness (2 Cor 5:21) so their future is a bleak as possible (Rev 20:11-15) but for those who tremble at His Word and are of a contrite, broken spirit, He will be near to them (Psalm 51:17; Isaiah 66:2).  God leaves that decision up to you and you will live with that choice for all eternity with no opportunity to change it.
Article by Jack Wellman
Jack Wellman is Senior Writer at www.WhatChristiansWantToKnow.com whose mission is to equip, encourage, and energize Christians and to address questions about the believer's daily walk with God and the Bible. You can follow Jack on Google Plus or check out his book Blind Chance or Intelligent Design
Resources
1.  "Quakers." Wikipedia.  (Last updated January 11th, 2014). http://en.wikipedia.org/wiki/Religious_Society_of_Friends  (accessed January 11, 2014).
2. "A Gateway to Quakerism."  Quaker Info.  http://quakerinfo.org/index (accessed January 11, 2014).