God is love but what Bible verses stand out about His love?  What are your favorite Bible verses?  Here are mine followed by a personal commentary.
God is Love
God is love and that is so clear, from Genesis 1:1 to Revelation 22:21.  Let me show you why God's loves is displayed in His Word, the Holy Bible and what this love of God means to me.
Romans 5:6-10 "For while we were still weak, at the right time Christ died for the ungodly.  For one will scarcely die for a righteous person—though perhaps for a good person one would dare even to die—but God shows his love for us in that while we were still sinners, Christ died for us.  Since, therefore, we have now been justified by his blood, much more shall we be saved by him from the wrath of God.  For if while we were enemies we were reconciled to God by the death of his Son, much more, now that we are reconciled, shall we be saved by his life."
These verses are so rich in love.  God's love is no better displayed than on the cross because Jesus died for us while we were still sinners and enemies of His.  Certainly I would die for my family but for someone who was my enemy?  That is exactly what Jesus did for us.  The wrath of God we deserved was placed on Him Who didn't deserve it so that we would get what we didn't deserve (grace).  This proves that love is not a feeling or an emotion but it is active in His blood shed for us.  Love is a verb and it's what you do, not what you say or what you feel.  That is the consummate action of God's love.
First Corinthians 13:4-7 "Love is patient and kind; love does not envy or boast; it is not arrogant or rude. It does not insist on its own way; it is not irritable or resentful; it does not rejoice at wrongdoing, but rejoices with the truth.  Love bears all things, believes all things, hopes all things, endures all things."
If you think you can love like this, forget it!  It takes the power of God through the Holy Spirit to love the unlovable.  That is what God did.  He loved us first when we were unlovable.  When Paul uses the word "is" this word is like the mathematical use of the equal sign.  So think of this; love is equal to patience.  Love is equal to kindness.  Love is equal to humility (in not boasting or envying others).  Love is not acting in arrogance or rudeness.  It's not irritable or resentful, even though I am at times.   It doesn't rejoice in sinful activities but rejoices in the truth.  Finally, love bears all things (puts up with people), believers all things (gives people the benefit of the doubt), hopes all things (expects the best in all situations) and endures all things (like when people are rude to you, irritate you, resent you, brag to you, or envy you.).  Even though these are things that we should be emulating, these are impossible in our own strength and their source is God, therefore they reflect the love of God and God is their source.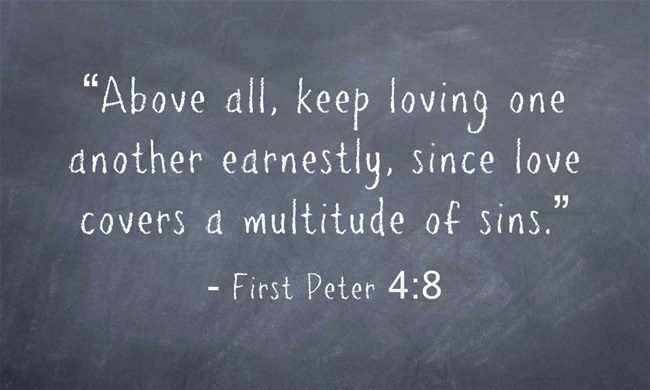 First Peter 4:8 "Above all, keep loving one another earnestly, since love covers a multitude of sins."
In the fourth chapter of 1 Peter, he ranks the desired attributes of a believer but here in this verse, he puts at the very top ("Above all") what should be the greatest attribute of a Christian;  love.  Not just to love but a command top keep on "loving one another" so it is an ongoing love that is without end.  It must be a love that is "earnest" which in the Greek is the word "ektenes" which literally means "stretched out" which reminds me of Jesus' arms on the cross which were stretched out in the greatest display of love for all time.  His arms are still stretched out in welcoming sinners to Himself. This love also does something that is God-like. It "covers a multitude of sins" or is ready to overlook a lot of sins done against us.  That is just what God does for us in Christ (2 Cor 5:21).
First John 4:7 "Beloved, let us love one another, for love is from God, and whoever loves has been born of God and knows God."
This verse shows us the source of love…the source of all love!  It is God.  God is not only love but "love is from (or originated) God."  John chapter four is one of those chapters where I often hold against a person that professes to be a Christian but doesn't act loving at all.  John flatly says that if a person has that love, then that person shows that they have been born again and that born again person, by displaying such love, obviously knows God however "anyone who does not love does not know God" (1 John 4:8a).  If someone says they are born again and that they know God but hates their brother or sister, then he or she is a liar because it's not hard or really, really hard, it's impossible to claim to know God and love God and hate your brother (1 John 4:20).  John says that person does not have eternal life in them (1 John 3:15).
First John 3:16-18 "By this we know love, that he laid down his life for us, and we ought to lay down our lives for the brothers.  But if anyone has the world's goods and sees his brother in need, yet closes his heart against him, how does God's love abide in him?  Little children, let us not love in word or talk but in deed and in truth."
John is showing us proof, just as solid of a proof as admissible evidence that can be used in a court of law to reach a verdict;  we know this is love because He laid down His life for us and that means that we "ought to lay down or lives for the brothers."  Here is how you lay down your life for others.  If a brother or sister has earthly, worldly goods but then sees a brother or sister in need and "yet closes his heart against" them, then how is it possible for "God's love [to] abide in Him?"  The answer is it doesn't.  John is pleading with us to love in deed (by action) and truth (by giving) and not just talking.  Talk is cheap but action proves our love is genuine.  We should not just say "Well brother, I will pray for you about that" and not give them what they might be in desperate need of (goods).
Luke 6:35 "But love your enemies, and do good, and lend, expecting nothing in return, and your reward will be great, and you will be sons of the Most High, for he is kind to the ungrateful and the evil."
Finally, and in conclusion, let me say that the most God-like love is to love your enemies.  Not only to love your enemies but to do good to them and then lend to them and not expect to be paid back.  That paying back will come at Christ's return and you will receive a hundred fold for what you give (Matt 19:29).  There can be no greater privilege than to be the sons and daughters of the Most High God.  So God's love is like this: He loved His enemies first (us) and then did good to them (us, by Jesus' death) and lends to us all that we have (with no requirements to pay back) because "He is kind to the" ingrates like me and like you and even kind to "the evil," which means all human beings.   God is love in ways that I cannot even describe.   He loves you and wants to save you but you must repent and confess your sins and then believe in Him by trusting in Jesus (Rom 10:9-13).  Do this and you too will be a son or daughter of the Most High God.

Article by Jack Wellman
Jack Wellman is Pastor of the Mulvane Brethren church in Mulvane Kansas. Jack is also the Senior Writer at What Christians Want To Know whose mission is to equip, encourage, and energize Christians and to address questions about the believer's daily walk with God and the Bible. You can follow Jack on Google Plus or check out his book  Blind Chance or Intelligent Design available on Amazon