God made a covenant with David.  What was the Davidic Covenant?  What does it have to do with Christians?
The Cutting of a Covenant
What is a covenant?  It is an agreement by which two parties agree on as pertaining to one fulfilling the obligation of their part.  It involves a solemn, binding agreement or promises that is normally under a seal of both parties to which particular promises are guaranteed.  Marriage is a covenant in the same way that both parties agree to certain stipulations like remaining faithful to one another, to remain together for life, and which is mutually exclusive with one another.  A covenant is also a "coming together" by two or more, so it can involve more than two parties.  Since we are speaking about the covenant between God and David, let's examine the Hebrew word that is used for the word covenant which is "bĕriyth" and literally means a "cutting" or a pledge or agreement.   Many theologians prefer to see it as a bond and once again, marriage seems to be a good example of a covenant as the two become one flesh and are bonded together as one.  This is the idea in Genesis 2:24 where it is written "Therefore a man shall leave his father and his mother and hold fast to his wife, and they shall become one flesh."  When it was written that the two become of one flesh the Hebrew word for "hold fast" (some have it as "cleave") is "dabaq" and this helps us to better understand because it means "to stick to, join to, or cling."  Cleave is also part of the meaning and may be where the word "cleaver" as in a meat cleaver because a cleaver is also a cutting instrument and might be the origin of two who are "cutting" a deal.
God and David
God has said in His Word that David was a "man after God's own heart" (Acts 13:22).   Just as husbands are commanded to cleave unto their wives, so too must a believer cling to or cleave unto God.  We are to become one with God in the sense that we have been born again or born from above (John 3:3) by the Holy Spirit Who dwells within us and Who circumcises the flesh of our hearts to be bound to Him for all eternity.  Our desires are to be His desires.  John Piper wrote that "God is most glorified in us when we are most satisfied in Him."  This means that when we delight in Him and His ways, He grants to us the desires of our heart (Psalm 37).  We should desire what He desires and we know that we are compelled to proclaim the gospel to lost sinners because God desires that no one should perish without Christ (2 Pet 3:9).   Since God's desires is that no one to perish, shouldn't we desire this too?  The late Prince of Preachers, Charles Spurgeon once wrote that "Have you no wish for others to be saved? Then you are not saved yourself. Be sure of that." David was always proclaiming God's greatness, even after His great sin of adultery and murder (Psalm 51).  The Psalms are full of God's praises and David felt compelled to teach sinners about God's ways writing "I will teach transgressors thy ways, and sinners shall return unto thee" (Psalm 51:13).  David's repentant heart and His desire to teach those who are out of the way about God's ways are obvious throughout His writings.
God and David's Covenant
God speaks to David in Samuel  7:12-17 saying
"When your days are fulfilled and you lie down with your fathers, I will raise up your offspring after you, who shall come from your body, and I will establish his kingdom.  He shall build a house for my name, and I will establish the throne of his kingdom forever.  I will be to him a father, and he shall be to me a son. When he commits iniquity, I will discipline him with the rod of men, with the stripes of the sons of men, but my steadfast love will not depart from him, as I took it from Saul, whom I put away from before you.  And your house and your kingdom shall be made sure forever before me. Your throne shall be established forever."
Here God tells David that He will establish his house and his kingdom forever and if God says it is sure and forever, there is no doubt about it. No human endeavor or activity or sin can shatter it for what God says will be, He has the power to bring it about.  This covenant is in this Offspring of His Who shall come from his own body and indeed, this Holy Offspring is the Promised Seed of which God spoke to Abraham about (Gal 3:16; Gen 12:3) because "if you are Christ's, then you are Abraham's seed and heirs according to the promise (Gal 3:29).  This is why Jesus is so frequently referred to as "the Son of David" (Matt 1:1, 15:22, 20:30; Mark 10:47). Jesus was said to be "the son of David [and] the son of Abraham" (Matt 1:1).  He is that One by which God "will establish his kingdom [and] establish the throne of his kingdom forever."  This is what Luke wrote about when an angel of God told Mary "You will conceive and give birth to a son, and you are to call him Jesus. He will be great and will be called the Son of the Most High. The Lord God will give him the throne of his father David, and he will reign over Jacob's descendants forever; his kingdom will never end" (Luke 1:31-33). The covenant made between God and David is one that is forever for David will reign again someday but as a co-regent of Christ which believers will also participate in someday (2 Tim 2:11-13; Rev 20:6) and they shall be kings and priests in His kingdom (Rev 1:6, 5:10).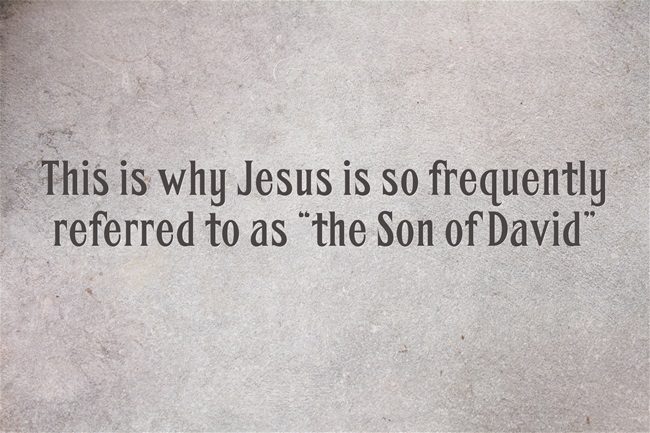 Conclusion
The fulfillment of this coming kingdom is written about by the Apostle John in Revelation 11:15 "The kingdom of the world has become the kingdom of our Lord and of his Messiah, and he will reign for ever and ever."   This is the promise given to Abraham, to David, and as Peter said on the Day of Pentecost and the birth of the church that Jesus said that He would build, "The promise is for you and your children and for all who are far off–for all whom the Lord our God will call" (Acts 2:39).  For those who have trusted in Christ God has set His seal on them (2 Cor 1:12) that is a "deposit guaranteeing our inheritance until the redemption of those who are God's possession" (Eph 1:14) because "he as chose us in him before the creation of the world to be holy and blameless in his sight. In love he predestined us for adoption to sonship through Jesus Christ, in accordance with his pleasure and will—to the praise of his glorious grace, which he has freely given us in the One he loves" (Eph 1:4-6).   Indeed, "you also were included in Christ when you heard the message of truth, the gospel of your salvation. When you believed, you were marked in him with a seal, the promised Holy Spirit" (Eph 1:13). This means that you too have been included in this Davidic covenant, if you have repented, confessed your sins, and trusted in the King of the Universe, Jesus Christ.  If not, they your fate is sealed (John 3:18; Rev 11:15-20).   May that never be said of you.

Article by Jack Wellman
Jack Wellman is Pastor of the Mulvane Brethren church in Mulvane Kansas. Jack is also the Senior Writer at What Christians Want To Know whose mission is to equip, encourage, and energize Christians and to address questions about the believer's daily walk with God and the Bible. You can follow Jack on Google Plus or check out his book  Blind Chance or Intelligent Design available on Amazon