Is tithing still required today?  Does the New Testament or did Jesus say anything about tithing?
The Tithe of the Old Testament
There were actually three tithes in the Old Testament.  The word "tithe" is an old English word meaning a tenth so a tithe was 10% of the gross of one's income, whether that was money, livestock, seed, fruit, vegetables and any other produce or products (like sheep skins).  It was a portion that was holy to God.  Everything actually belongs to God so it's not just the 10% that God owns, He owns it all!  We are privileged that God has been so generous so we should give back a portion of what He has blessed us with.  The first tithe was a general tithe and as I said it was 10% of anything earned and it went to help support the Levitical priesthood and was called the Levitical Tithe as they had no inheritance of the land like the other tribes of Israel had (Num 18:21).  The tithe allowed the Levites to survive as they didn't have a means of income.
The Second and Third Tithe
Every third year there was a third tithe taken up and this was designated for the poor, the widowed and the orphans among the land in Israel.  Many had lost their incomes due to the death of their husbands and fathers and these people depended upon the third tithe to survive (Duet 14:28-29).  The second tithe was for the people themselves to spend at the Feast of Tabernacles and the other feasts throughout the year (Duet 14:22-27).
The Scribes and the Pharisees Tithed
Matthew 23:23 "Woe to you, scribes and Pharisees, hypocrites! For you tithe mint and dill and cumin, and have neglected the weightier matters of the law: justice and mercy and faithfulness. These you ought to have done, without neglecting the others."
The Scribes and the Pharisees tithed but they were hypocrites.  They tithed even the tiniest of things like mint, dill, and cumin which was not required of the law but they neglected the most important things in the law like justice, mercy and faithfulness.  Jesus says that "these you ought to have done, without neglecting the others."  What did Jesus mean by this?  Did He mean that they should have been tithing ("ought to have done") but not neglect "the others?"  Was Jesus saying that they should tithe but not leave undone doing justice, mercy and faithfulness?  Since the religious leaders were still keeping the law, this may be why Jesus said that they should be doing these but they were neglecting the "weightier matters of the law."  Since they were bound up in the law and believed that righteousness came by the law, Jesus may have been saying "Okay, you should be paying the tithe but the more important parts of the law you are neglecting."
The Self-Righteous Tither
Luke 18:10-14 "Two men went up into the temple to pray, one a Pharisee and the other a tax collector.  The Pharisee, standing by himself, prayed thus: 'God, I thank you that I am not like other men, extortioners, unjust, adulterers, or even like this tax collector.  I fast twice a week; I give tithes of all that I get.'  But the tax collector, standing far off, would not even lift up his eyes to heaven, but beat his breast, saying, 'God, be merciful to me, a sinner!'  I tell you, this man went down to his house justified, rather than the other. For everyone who exalts himself will be humbled, but the one who humbles himself will be exalted."
Here is a case of someone even saying that they gave "tithes of all that I get" but Jesus said nothing of this man's tithing.  He did say that the Pharisee was a self-righteous man who was not accepted by God but the tax collector who never even mentions tithing simply prayed that he was a sinner and for God to save him.  That man was justified, the other was not.  The story of the Pharisee and the Tax Collector seems to indicate that tithing is wrapped up in self-righteousness and the law and that God will not accept that person as being justified.  The fact is that no one can ever be saved on account of keeping the law (Eph 2:8-9) so that no one could boast.  This Pharisee boasted big time but God said that everyone that is boastful or exalts themselves is going to be humbled but God will exalt those who come to Him humbly.
Tithing in the New Testament
I could not find one verse in the New Testament that says the tithe is commanded.  Do you remember the Old Testament occurrence when someone was gathering sticks for firewood on the Sabbath?  This man was stoned for breaking the Sabbath.  Do you think that God will be any more lenient for those who give God nothing?  I believe the vast majority of believers can give more than 10%.  Some cannot afford to do that.  For example if someone makes 100,000 thousand dollars a year, is 10% really enough?  Probably not because they should be able to give more than 10%.  How about someone who lives on the poverty level and makes only $600 a month?  Should they give 10% off the top?  Do you see what I am saying?  Some can and should give more while others are not able to.  Having said that, there is a blessing that many people might be robbing themselves of by not giving and instead, trusting in God to supply their needs.  I know of several people who don't make much money and they give just over 10% and God has blessed them in more ways than in money.
Cheerful Giving
God loves a cheerful giver, not one that is giving out of obligation or compulsion (2 Cor 9:7).  God is more interested in our hearts than in our wallets or checkbook however, where our hearts are, that is where our treasure is sure to be (Luke 12:34).  You can tell by a person's checkbook where their heart is.  If they give to the poor, give offerings to their local church and sometimes give to those who are in need, you can tell that they are less interested in storing up treasures here on earth but more in storing them up in heaven.  Jesus assures us that if we "give…it will be given to you. Good measure, pressed down, shaken together, running over, will be put into your lap. For with the measure you use it will be measured back to you" (Luke 6:38).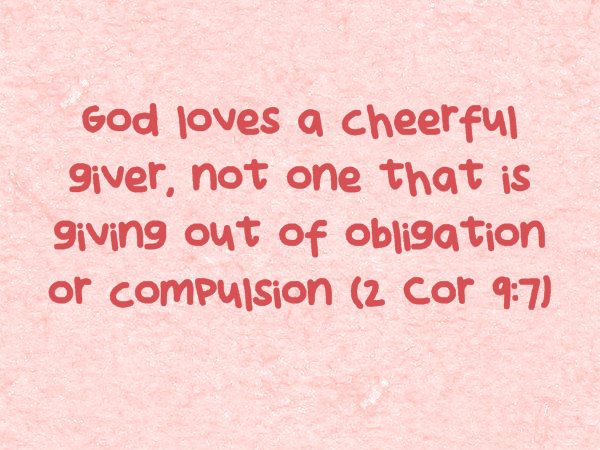 Conclusion
Paul gets to the heart of the matter on giving in 2 Cor 9:6-12
"The point is this: whoever sows sparingly will also reap sparingly, and whoever sows bountifully will also reap bountifully. Each one must give as he has decided in his heart, not reluctantly or under compulsion, for God loves a cheerful giver.  And God is able to make all grace abound to you, so that having all sufficiency in all things at all times, you may abound in every good work. As it is written, "He has distributed freely, he has given to the poor; his righteousness endures forever." He who supplies seed to the sower and bread for food will supply and multiply your seed for sowing and increase the harvest of your righteousness. You will be enriched in every way to be generous in every way, which through us will produce thanksgiving to God.  For the ministry of this service is not only supplying the needs of the saints but is also overflowing in many thanksgivings to God."
Paul is saying that if you are generous, God will be generous to you. If you give to the poor, it is like giving to God and He will repay you someday but God wants a heart that is generous.  He does not want to lay a guilt trip on you about giving however He does promise if you are sowing abundantly then you will reap abundantly, perhaps not receiving the full return in this life but in the life to come.  In that life, the rewards will be there waiting for you because God loves generosity because He is a generous God.  He gave us freely His own Son so that we might freely come to Him and be saved.  What was of supreme cost to Him He gives to us freely.  You cannot out give God because what more could He give than His own Son (John 3:16-17)?

Article by Jack Wellman
Jack Wellman is Pastor of the Mulvane Brethren church in Mulvane Kansas. Jack is also the Senior Writer at What Christians Want To Know whose mission is to equip, encourage, and energize Christians and to address questions about the believer's daily walk with God and the Bible. You can follow Jack on Google Plus or check out his book  Blind Chance or Intelligent Design available on Amazon