believerWhat does hope mean to the Christian?  How does the Bible define hope?  Hope is essential to the believer for joy so it's critical to have.
What Hope Isn't
Hope is not "I hope my team wins the Super Bowl" or "I hope I get a raise." Biblical hope is not a hope-so but it is a know-so.  It isn't wishing for the best.  It isn't waiting to see what happens and hope that it turns out well. Hope is not a feeling or an emotion.  Hope is the knowledge of facts.  If someone says to you that "I hope you have a good day," there is no guarantee that the day will go well.  To have a biblical hope is to have a sure anchor of the soul, not hoping for rain because the forecast says that there is a 60% chance of rain and you hope that you get your garden watered.  That is not hope…that is wishful thinking and it is utterly undependable and has no power to bring anything to pass. Human hope pales in comparison to biblical hope, as we shall read.
A Christian's Definition of Hope
A Christian's definition of hope is far superior to that of the world.  Instead of wishing or hoping for something to happen, a believer knows that their hope is solid, concrete evidence because it is grounded in the Word of God and we know that God cannot lie (Heb 6:18; Num 23:19).  The Christian has a hope that is "the assurance of things hoped for, the conviction of things not seen" (Heb 11:1).  It is a hope that is like faith…a faith that cannot be moved by circumstances or what the eyes see because an unseen God is seen in His faithfulness.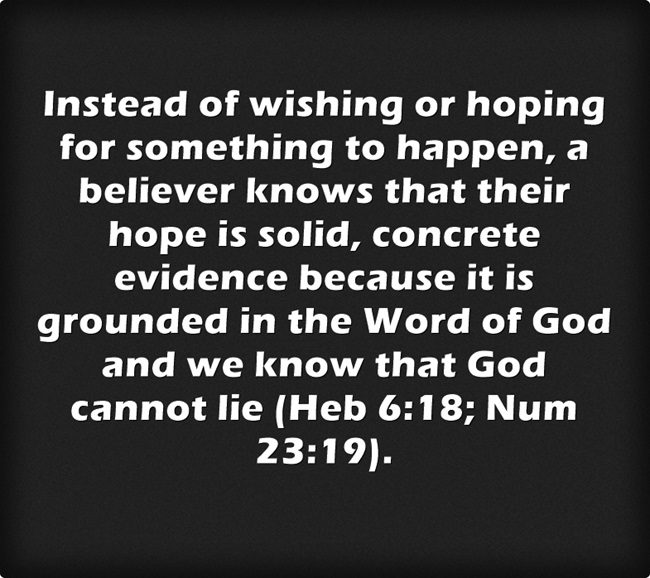 Biblical Hope
Paul may give us the best example of hope in Romans chapter 8.  Whenever I encounter hopelessness in new believers and even among experienced Christians and there is doubt about their salvation, I usually direct them to Romans 8:24-25 where Paul tells the believer, "For in this hope we were saved. Now hope that is seen is not hope. For who hopes for what he sees? But if we hope for what we do not see, we wait for it with patience" because "If God is for us, who can be against us" (Rom 8:31)?  If God is on your side, how sure is that hope!   I believe that every Christian has gone through or will go through a dark night of the soul where deep doubts and fears flare up but extinguishing those fears is as simple as staying in the Bible faithfully, day by day.
The Hope of the Resurrection
Peter spoke to those who were experiencing terrible persecution when he wrote "According to his great mercy, he has caused us to be born again to a living hope through the resurrection of Jesus Christ from the dead, to an inheritance that is imperishable, undefiled, and unfading, kept in heaven for you, who by God's power are being guarded through faith for a salvation ready to be revealed in the last time" (1 Pet 3:3-5).  We have this assured hope because Jesus was also raised; therefore we know that "the Lord himself will descend from heaven with a cry of command, with the voice of an archangel, and with the sound of the trumpet of God. And the dead in Christ will rise first.  Then we who are alive, who are left, will be caught up together with them in the clouds to meet the Lord in the air, and so we will always be with the Lord.  Therefore encourage one another with these words" (1 Thess 4:16-18).  When was the last time you encouraged a brother or sister with this hope?  We know that Christ "was buried, that he was raised on the third day in accordance with the Scriptures" (1 Cor 15:4) and "in fact Christ has been raised from the dead, the firstfruits of those who have fallen asleep" (1 Cor 15:20) so let's encourage one another with this truth.
Hope in God
There is no hope in mankind, circumstances, or in any other thing in the universe but "we have our hope set on the living God, who is the Savior of all people, especially of those who believe" (1 Tim 4:10) because "Jesus Christ [is] our hope" (1 Tim 1:1).  Peter spoke of this faith by quoting David who wrote "my heart was glad, and my tongue rejoiced; my flesh also will dwell in hope" (Acts 2:26).  That is exactly the reason Paul told the Roman believers that he could "rejoice in hope of the glory of God" (Rom 5:2) and desired that "the God of hope fill you with all joy and peace in believing, so that by the power of the Holy Spirit you may abound in hope" (Rom 15:13).
Conclusion 
If you are not born again then you have no such hope in you because "those who go down to the pit do not hope for [God's] faithfulness" (Isaiah 38:18) however "to them God chose to make known how great among the Gentiles are the riches of the glory of this mystery, which is Christ in you [it is] the hope of glory" (Col 1:27).  Today believers  are "waiting for our blessed hope, the appearing of the glory of our great God and Savior Jesus Christ" (Titus 2:13) and "and everyone who thus hopes in him purifies himself as he is pure" (1 John 3:3) but for those who reject Christ  there is only "a fearful expectation of judgment, and a fury of fire that will consume the adversaries" (Heb 10:27).  Know this, "It is a fearful thing to fall into the hands of the living God" (Heb 10:31) for even Christ Himself has said "Whoever believes in him is not condemned, but whoever does not believe is condemned already, because he has not believed in the name of the only Son of God" (John 3:18).  That is a most hopeless situation to be in.

Article by Jack Wellman
Jack Wellman is Pastor of the Mulvane Brethren church in Mulvane Kansas. Jack is also the Senior Writer at What Christians Want To Know whose mission is to equip, encourage, and energize Christians and to address questions about the believer's daily walk with God and the Bible. You can follow Jack on Google Plus or check out his book  Blind Chance or Intelligent Design available on Amazon