The Book of Ruth is one a book of great significance. What is the purpose behind this book?
The Book of Ruth
The Book of Ruth's author is never mentioned but it was not written by Ruth. Some Bible scholars believe it was written by Samuel but years before David became king as it refers to a "former time" so the date may have been around 1010 B.C. and appears to be an account that took place during the time of the judges. It appears to be written specifically for the nation Israel so that they could see the lineage of David as coming through Ruth and Boaz. This book is very unique and although one of the shortest books in the Bible, it is one of the most theologically rich in meaning as we will later see.
Famine and Death
Elimelech and Naomi are an Israelite family from Bethlehem. When famine struck the area, they were forced to migrate to Moab which was a pagan nation and that was when Elimelech died. Their two sons married Moabite women, Orpah and Ruth and but both of Naomi's sons died so it was only Naomi and her two daughters remaining. This was a great misfortune for the family because they had no source of income and unlike Israel, Moab had no such support system for widows and orphans. The only thing that Naomi could do was to locate one of her kinsman who was Boaz. Naomi tried to make both her daughter-in-laws stay behind and although Orpah did, Ruth said one of the most beautiful statements that the Bible has recorded in it; "Wherever you go, I will go: and where you lodge, I will lodge: your people shall be my people and your God my God" (1:16).
Ruth is Greatly Blessed
Naomi located her late husband's kinsman. It was Boaz, which means "my strength" and Ruth went to the fields to glean the fields from what the reapers left. Boaz saw Ruth in the fields gleaning grain and inquired about who she was (2:5). They told Boaz that it was a Moabite woman that came with the widow Naomi from out of Moab. (2:6). Boaz made her feel welcome and invited her to stay in the area and ensured that she and Naomi would have more than enough grain to eat (2:8-10, 15-18). He then invited her to eat with him and the reapers (2:14).
The Kinsman Redeemer
Naomi suggested that it would be best for Ruth to be redeemed by and marry Boaz, her kinsman redeemer and so she followed the custom of the nation Israel. Ruth washed herself, anointed herself with perfume, put on her best apparel so that she could lie down at the feet of Boaz and uncover his feet. Then Boaz would then tell her what to do next (3:1-6). She did as she was told and when Boaz had finished his evening meal, he lay down and Ruth uncovered his feet and lay next to them and Boaz was startled and asked "Who are you?" Ruth said "I am Ruth your handmaid: therefore spread your skirt over your handmaiden; for you are a near kinsman" (3:9). Boaz was accepted Ruth and said "Blessed you are of the Lord, my daughter: for you have shown more kindness in the latter end than at the beginning, inasmuch as you didn't follow young men, whether rich or poor. And now, my daughter, don't fear: I will do to you all that you require: for all the city of my people know that you are a virtuous woman. And now it is true that I am your near kinsman: although there is a kinsman nearer than I" (3:10-12). The other kinsman, upon finding out that Ruth and Naomi had no inheritance, declined to take her and so she married Boaz and Boaz because her kinsman redeemer (4:6). Boaz then bought all that Elimelech had, which was really only Elimelech's daughter and widow and Boaz and Ruth ended up marrying and Ruth and Boaz became part of the royal lineage that would extend down to David and hundreds of years later, the lineage of Jesus Christ.
The Purpose of the Book of Ruth
This book was written to Israel but I believe it has an even greater and much deeper meaning to Christians today because it is reflective of our own Redeemer, Jesus Christ. There is striking similarities and symbolism of what happens to the sinner and what the Redeemer has done for all those who have repented and trusted in Him. For those who have been born again, we are all like Ruth and Christ redeemed us like Boaz redeemed her. Ruth represents the bride of Christ and Boaz represents the Bridegroom, Jesus Christ.
Christians are like Ruth, a Moabite, or specifically, Gentiles but God offers salvation, first to the Jews but also to the Gentiles also (Rom

1:16

;

2:10

).

Just as Boaz sought after Ruth, so God sought us (2:6-14).

When Ruth bowed down at Boaz' feet, so we bow down at Christ's feet (

2:10

) and as Ruth humbled herself before Boaz, we must humble ourselves before Christ (1 Pet 5:6; James

4:10

).

God ensures we will have all of our needs met like Boaz made sure Ruth would have all that she needed (2:7-16).

Boaz gave Ruth comfort (

2:13

) just as God comforts us (2 Cor 1).

Jesus gives us the bread of life (John

6:35

) just as Boaz gave Ruth bread to survive (

2:14

).

Just as we have all of our sins washed away and have the righteousness of Christ imputed to us (2 Cor

5:21

) so Ruth washed herself and put on her best apparel (Ruth (3:3) representing our white linen mentioned in Revelation 19:9 and elsewhere.

Ruth lay at Boaz' feet as an act of submission to his will (3:4) as we should do at Christ's feet being in submission to Him and His will (James 4:7).

Christians have had their sinfulness covered by Christ's righteousness; Boaz gave Ruth the vail that she was covered with that had been used by Boaz (3:14-15).

Boaz purchased the right to redeem Ruth (4:9) so that Elimelech and Naomi's name would not be cut off from among the living, and included of course, Ruth; so too did Jesus Christ purchase us with His own blood and redeemed us from being cut off from having access to God and allowing us to have eternal life.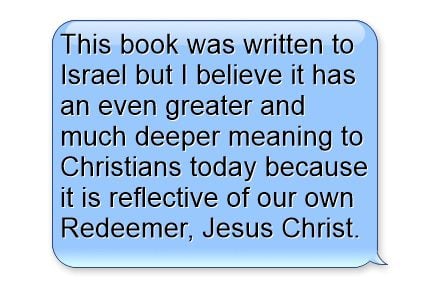 King David and Jesus Christ's Lineage
So Boaz took Ruth "Then the women said to Naomi, "Blessed be the Lord, who has not left you this day without a redeemer, and may his name be renowned in Israel! He shall be to you a restorer of life and a nourisher of your old age, for your daughter-in-law who loves you, who is more to you than seven sons, has given birth to him." Then Naomi took the child and laid him on her lap and became his nurse. And the women of the neighborhood gave him a name, saying, "A son has been born to Naomi." They named him Obed. He was the father of Jesse, the father of David" (4:13-17).
Conclusion
It is so easy to see the symbolism of Ruth as the Bride of Christ and Boaz as Christ, our Redeemer. More than a "restorer to life," He brings us eternal life. He purchased us with His own blood. There is no greater cost that could be paid. If you are a child of God, read the Book of Ruth and see if you don't see the similarities between Ruth and the church and Boaz and Jesus Christ. We were sought, caught, bought, and taught. Like Ruth, we bring nothing. We could no more earn our salvation than Ruth could earn Boaz's redemption of her. The Book of Ruth is a precious story of how we were redeemed by the blood of the Lamb of God, spilled by our Redeemer. It's somewhat like the old hymn Rock of Ages and which Ruth could most certainly identify with: "Nothing in my hand I bring, simply to the cross I cling; naked come to thee for dress; helpless, look to thee for grace."
Another Reading on Patheos to Check Out: What Did Jesus Really Look Like: A Look at the Bible Facts

Article by Jack Wellman
Jack Wellman is Pastor of the Mulvane Brethren church in Mulvane Kansas. Jack is also the Senior Writer at What Christians Want To Know whose mission is to equip, encourage, and energize Christians and to address questions about the believer's daily walk with God and the Bible. You can follow Jack on Google Plus or check out his book Blind Chance or Intelligent Design available on Amazon