Does the Bible give us a good definition of what oppressed means? If so, what is the biblical definition of oppressed?
Oppressed is…
Someone or a people that is being oppressed is typically under someone else's control or rule and they are taken advantage of and treated in a harsh or cruel way and so it is seen as the exercise of authority or power over another person or a people and using them for their own purposes in a burdensome, cruel, and unjust manner. It is usually where the people have no control of their own lives and have no freedoms and they are living in a state of bondage. Two great examples of oppression were when the Israelites were in Egypt and African-American were enslaved in American as they were both being oppressed and forced to hard labor against their will.
Israel Oppressed in Egypt
When the Israelites slaves began to grow large the Egyptians worked them even harder "But the more they were oppressed, the more they multiplied and the more they spread abroad. And the Egyptians were in dread of the people of Israel" (Ex 1:12). They were under the severest of bondage and this is a great definition of being oppressed but God would eventually deliver them out of this oppression in what is called the Exodus.
Oppressing the Disadvantaged
God also strictly prohibits oppression of the disadvantaged and even neighbors as we read in Leviticus 6:2 "If anyone sins and commits a breach of faith against the Lord by deceiving his neighbor in a matter of deposit or security, or through robbery, or if he has oppressed his neighbor." If Israel disobeys God then He will send oppression upon them as it says in Deuteronomy 28:29b "And you shall be only oppressed and robbed continually, and there shall be no one to help you" as "A nation that you have not known shall eat up the fruit of your ground and of all your labors, and you shall be only oppressed and crushed continually" (Duet 28:33). When Israel later started to disobey God by idolatrous practices, "the anger of the Lord was kindled against Israel, and he sold them into the hand of the Philistines and into the hand of the Ammonites, and they crushed and oppressed the people of Israel that year. For eighteen years they oppressed all the people of Israel who were beyond the Jordan in the land of the Amorites, which is in Gilead" (Judges 10:7-8).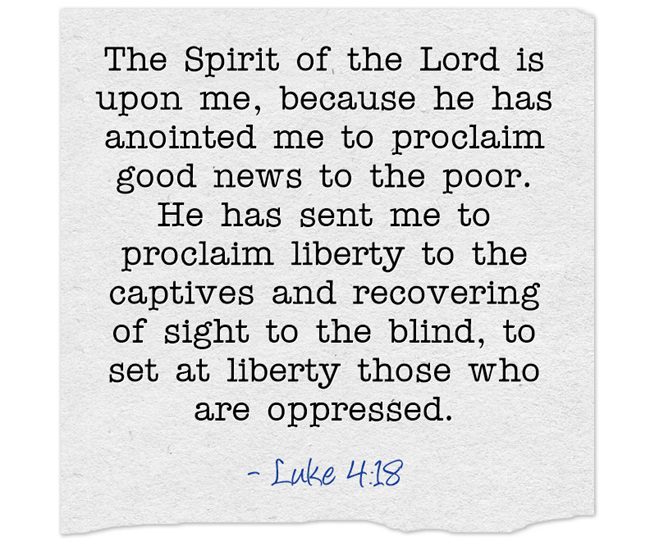 God aids the Oppressed
God has many scriptures that testify to the fact that He "is a stronghold for the oppressed, a stronghold in times of trouble" (Psalm 9:9) and so we praise You "O Lord, you hear the desire of the afflicted; you will strengthen their heart; you will incline your ear to do justice to the fatherless and the oppressed, so that man who is of the earth may strike terror no more" (Psalm 10:17-18). God's children can rest assured that "The Lord works righteousness and justice for all who are oppressed" (Psalm 103:6) for it is God "who executes justice for the oppressed, who gives food to the hungry. The Lord sets the prisoners free" (Psalm 146:7).
Jesus Oppressed for our Sake
If you've ever read Isaiah 53 then you know that Jesus suffered greatly on our behalf as the prophet writes that Jesus "was oppressed, and he was afflicted, yet he opened not his mouth; like a lamb that is led to the slaughter, and like a sheep that before its shearers is silent, so he opened not his mouth" (53:7).
Jesus helps the Oppressed
Jesus came to seek and to save those who were lost but He also came to help those oppressed from illnesses, disease, and even demon possession as we read in Matthew 12:12 where "a demon-oppressed man who was blind and mute was brought to him, and he healed him, so that the man spoke and saw" as many "brought to him all who were sick or oppressed by demons" (Mark 1:32). Jesus declares about Himself "The Spirit of the Lord is upon me, because he has anointed me to proclaim good news to the poor. He has sent me to proclaim liberty to the captives and recovering of sight to the blind, to set at liberty those who are oppressed" (Luke 4:18).
Conclusion
Have you ever felt oppressed; oppressed by the world, by sickness, by illness, by financial circumstances, or by anything that has pressed down upon you? Then Jesus says to you "Come to me, all who labor and are heavy laden, and I will give you rest" (Matt 11:28).
Article by Jack Wellman
Jack Wellman is Pastor of the Mulvane Brethren church in Mulvane Kansas. Jack is also the Senior Writer at What Christians Want To Know whose mission is to equip, encourage, and energize Christians and to address questions about the believer's daily walk with God and the Bible. You can follow Jack on Google Plus or check out his book Blind Chance or Intelligent Design available on Amazon.