What does the word reproach mean when used in the biblical context and what is the biblical definition of reproach?
Reproach is…
Someone who is above reproach is said to be not deserving of blame or criticism for something they said or did but someone who is being reproached is someone who has received criticism, disproval, or disappointed others that is justified by their actions. In other words, they have done things or something that deserved condemnation and rebuke or blame. The biblical definition of the word reproach is not unlike the secular definition as we shall see.
The Reproach of Childlessness
When Jacob's wife Rachael couldn't conceive children, she became a reproach to those who knew her. In the Jewish culture, to be childless was thought to be under a curse from God Who alone opens the womb. This was a very difficult thing to endure but "Then God remembered Rachel, and God listened to her and opened her womb. She conceived and bore a son and said, "God has taken away my reproach." And she called his name Joseph, saying, "May the Lord add to me another son" (Gen 30:22-24). Joseph's name means to "may he add" but in the Hebrew sounds like "take away." In the New Testament, Elizabeth in her later years conceived a child and would be called John the Baptist and she declared "Thus the Lord has done for me in the days when he looked on me, to take away my reproach among people" (Luke 1:25).
The Reproach of Israel
When the Philistine's Goliath was hurling insults at Israel and against God, David was outraged and so David asked "What shall be done for the man who kills this Philistine and takes away the reproach from Israel? For who is this uncircumcised Philistine, that he should defy the armies of the living God" (1st Sam 17:26). The same type of reproach was endured, unjustly, by Job who's friends had turned on him after first coming to console him in his afflictions so Job said "These ten times you have cast reproach upon me; are you not ashamed to wrong me" (Job 19:3) and Job concluded, "I hold fast my righteousness and will not let it go; my heart does not reproach me for any of my days" (Job 17:6).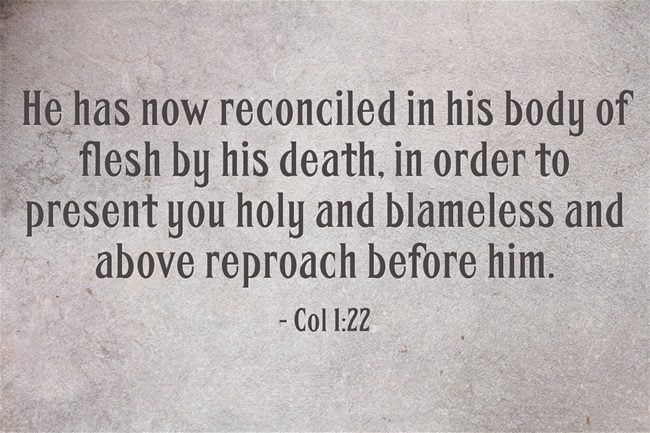 Sin as a Reproach
The psalmist asked the question "Who can dwell on your holy hill" (Psalm 15:1) and that would be he or she "who does not slander with his tongue and does no evil to his neighbor, nor takes up a reproach against his friend" (Psalm 15:3). The fact is that "Righteousness exalts a nation, but sin is a reproach to any people" (Prov 14:34) and "He who does violence to his father and chases away his mother is a son who brings shame and reproach" (Prov 19:36). In Psalm 69, which is a Messianic psalm, the psalmist writes "For zeal for your house has consumed me, and the reproaches of those who reproach you have fallen on me" (Psalm 69:9) which was fulfilled when Jesus cleansed the temple of the unrighteous money changers (John 2:17).
Reproached by God
When God disciplined Judah for her idolatry, Jeremiah wrote as God speaking, "And I will bring upon you everlasting reproach and perpetual shame, which shall not be forgotten" (Jer 23:40) and "I will make them a horror to all the kingdoms of the earth, to be a reproach, a byword, a taunt, and a curse in all the places where I shall drive them" (Jer 23:40) and because of their idolatry God says "I will pursue them with sword, famine, and pestilence, and will make them a horror to all the kingdoms of the earth, to be a curse, a terror, a hissing, and a reproach among all the nations where I have driven them" (Jer 29:18) but someday God "will gather those of you who mourn for the festival, so that you will no longer suffer reproach" (Zeph 3:18). The purpose of making Israel a reproach was that they would repent and turn again to Him.
Being Above Reproach
Among the qualifications of being a deacon, elder, or pastor, is that the man must be living a life above reproach or be living a blameless life. In Paul's writing to Timothy about the qualifications for being an elder he wrote "if anyone is above reproach, the husband of one wife, and his children are believers and not open to the charge of debauchery or insubordination" (Titus 1:6) because "an overseer, as God's steward, must be above reproach. He must not be arrogant or quick-tempered or a drunkard or violent or greedy for gain" (Titus 1:7). Paul writes much the same thing to Timothy as he said that "an overseer must be above reproach, the husband of one wife, sober-minded, self-controlled, respectable, hospitable, able to teach" (1st Tim 3:2).
The Reproach of Christ
Believers suffer the reproach of non-believers as the author of Hebrews wrote that they were "sometimes being publicly exposed to reproach and affliction, and sometimes being partners with those so treated" (Heb 10:33) but we should think about Moses who "considered the reproach of Christ greater wealth than the treasures of Egypt, for he was looking to the reward" (Heb 11:26) so just as Christ endured reproach for our sake, "let us go to him outside the camp and bear the reproach he endured" (Heb 13:13).
Conclusion
To live a life that is free from reproach, a believer must live a holy life and a life that when others accuse them, will have no substantial evidence that the man or woman of God is living in sin and bringing shame to the cause of Christ. To be a reproach for Christ is good but to be a reproach for living a lifestyle that justifies that accusation is not.
Article by Jack Wellman
Jack Wellman is Pastor of the Mulvane Brethren church in Mulvane Kansas. Jack is also the Senior Writer at What Christians Want To Know whose mission is to equip, encourage, and energize Christians and to address questions about the believer's daily walk with God and the Bible. You can follow Jack on Google Plus or check out his book Blind Chance or Intelligent Design available on Amazon.