What is the New Covenant mentioned in the Bible? How is it different from the Old Covenant?
The Prophesied New Covenant
The prophets of old foretold of a coming new and better covenant. Jeremiah wrote "Behold, the days are coming, declares the Lord, when I will make a new covenant with the house of Israel and the house of Judah' (Jer 31:31). Ezekiel wrote "And I will put my Spirit within you, and you shall live, and I will place you in your own land. Then you shall know that I am the LORD; I have spoken, and I will do it, declares the LORD" (Ezk 37:14) and "I will give them an undivided heart and put a new spirit in them; I will remove from them their heart of stone and give them a heart of flesh" (Ezk 11:19). God's Spirit will "cause you to walk in my statutes and be careful to obey my rules" (Ezk 36:27). Before we were saved, we all needed a new heart; literally a heart transplant from a heart of stone to a heart of flesh. We needed a new heart because the "The heart is deceitful above all things, and desperately sick; who can understand it" (Jer 17:9)?
The Old Covenant
The Old Covenant was a physical and earthly based agreement that was initially made at Mount Sinai with the children of Israel. God promised prosperity or blessings for a people and a nation that would live in obedience to God's laws but it also promised curses for those who broke His laws. The blessings would include good health and financial prosperity; the cursing's would bring death, captivity, and poverty. The Old Covenant was based upon obedience to God's laws and either brought misery or curses from breaking them or great blessings and joy from keeping them. The only problem was, the people couldn't really keep the law, just as we can't today. For one thing, they didn't have access to God's power through His Spirit (Rom 7:6; Heb 8:7-9) as born-again children of God do. We need a new and better covenant and that's exactly what Jesus brought when He came to this earth.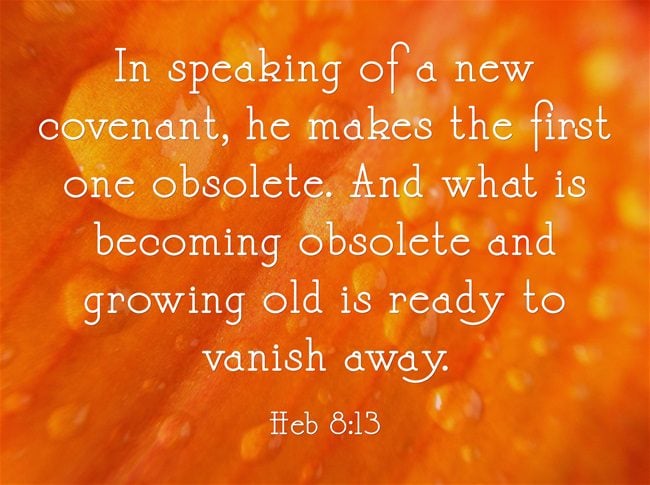 The New Covenant
Before Jesus went to die on the cross so that we could be reconciled to God, He said "This cup that is poured out for you is the new covenant in my blood" (Luke 22:20). Paul repeated something very similar when he wrote in 1st Corinthians 11:25 "In the same way also he took the cup, after supper, saying, "This cup is the new covenant in my blood. Do this, as often as you drink it, in remembrance of me." We are commanded to partake of the Lord's Supper as part of the New Covenant and do this "in remembrance of" just how much Christ paid for this new and better covenant. After we've embraced this New Covenant by repentance and faith, God "has made us sufficient to be ministers of a new covenant, not of the letter but of the Spirit. For the letter kills, but the Spirit gives life" (2nd Cor 3:6). This means we've got good news to share and that means we must tell others about this New Covenant and how they might enter into it. We are compelled to, not only by Christ (Matt 28:19-20; Acts 1:8), but by our love for God to share this pearl of great price, so that others might be saved.
The Better Covenant
The Book of Hebrews is the best book in the Bible to understand how the New Covenant is superior to the old. It is by far supreme for many reasons, and "In speaking of a new covenant, he makes the first one obsolete. And what is becoming obsolete and growing old is ready to vanish away" (Heb 8:13). Instead of Moses or Aaron or Levi being the mediator, there is "the mediator of a new covenant, so that those who are called may receive the promised eternal inheritance, since a death has occurred that redeems them from the transgressions committed under the first covenant" (Heb 9:15) and of course, Jesus is our Mediator. And it is "to Jesus, the mediator of a new covenant, and to the sprinkled blood that speaks a better word than the blood of Abel" (Heb 12:24).
Conclusion
The main difference between the Old Covenant and the New Covenant is that "it is impossible for the blood of bulls and goats to take away sins" (Heb 10:4) because "The blood of goats and bulls and the ashes of a heifer sprinkled on those who are ceremonially unclean sanctify them so that they are outwardly clean" (Heb9:13) but never reached or cleansed the heart. It was day after day that the priest would stand "and perform his religious duties; again and again he offers the same sacrifices, which can never take away sins" (Heb 10:11). The Old Covenant covered our sins but the New Covenant takes them away completely and it is only possible to have our sins taken away by the blood of the Lamb of God; and that is so much better than the old.
Article by Jack Wellman
Jack Wellman is Pastor of the Mulvane Brethren church in Mulvane Kansas. Jack is also the Senior Writer at What Christians Want To Know whose mission is to equip, encourage, and energize Christians and to address questions about the believer's daily walk with God and the Bible. You can follow Jack on Google Plus or check out his book Blind Chance or Intelligent Design available on Amazon.