What was the Promised Land all about concerning Israel's crossing over into it? Why is this important for us to know about today?
The Promise to Abraham
Long before Israel even existed, God called Abram (later, changed to Abraham) and told him that He would make him into a great nation (Gen 12:2) and that the families of the earth would be blessed on account of him (Gen 12:3). Later, God told Abram "Look toward heaven, and number the stars, if you are able to number them." Then he said to him, "So shall your offspring be." And he believed the Lord, and he counted it to him as righteousness" (Gen 15:5). The promise of the Promised Land started with the promise to Abraham.
The Promise of Deliverance
When Israel was in severe bondage and captivity as slaves, God raised up Moses to lead them out of this bondage but first Moses had to meet God and he did so in the burning bush experience (Ex 3:2-4). God spoke to Moses "I have surely seen the affliction of my people who are in Egypt and have heard their cry because of their taskmasters. I know their sufferings, and I have come down to deliver them out of the hand of the Egyptians and to bring them up out of that land to a good and broad land, a land flowing with milk and honey, to the place of the Canaanites, the Hittites, the Amorites, the Perizzites, the Hivites, and the Jebusites" (Ex 3:7-8). So God tells Moses "I will send you to Pharaoh that you may bring my people, the children of Israel, out of Egypt" (Ex 3:10). Here is the first hint of the coming promise of the Promised Land. It will be a place of rest and not bondage. This is also the first hint of a coming promise to Israel that had long ago been spoken of.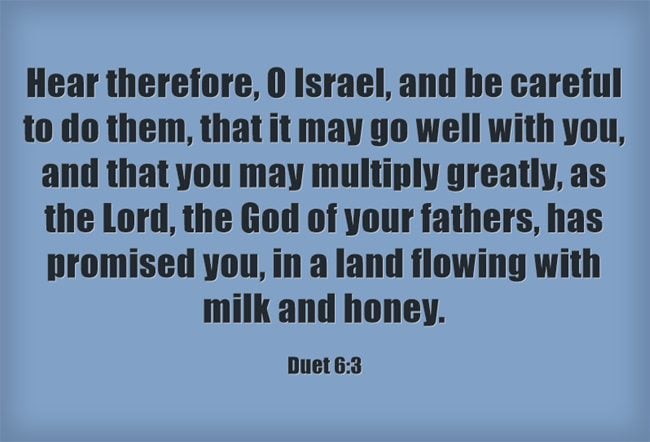 The Promised Land
As the time neared Israel crossing over into the Promised Land, God reminded them of how this all began: "Remember Abraham, Isaac, and Israel, your servants, to whom you swore by your own self, and said to them, 'I will multiply your offspring as the stars of heaven, and all this land that I have promised I will give to your offspring, and they shall inherit it forever" (Ex 32:13). This shows that God is always faithful to His promises and is the ultimate Promise Keeper. God admonishes His people to "be careful to do them, that it may go well with you, and that you may multiply greatly, as the Lord, the God of your fathers, has promised you, in a land flowing with milk and honey" (Duet 6:3).
The Promises of God
God never breaks His promises, even when we do. He is ever faithful, even when we are not. This precious promise of God shows His trustworthiness, "No one shall be able to stand against you. The Lord your God will lay the fear of you and the dread of you on all the land that you shall tread, as he promised you" (Duet 11:25). Here God reminds them of His precious promise that no one will be able to stand against them because He is their God. No one shall "lay the fear of you or the dread of you" in that land. God's promises for Israel about not fearing and that no one can stand against us is for us as well because God is always faithful to His Word and not one promise has ever been broken. Finally, this promised was fulfilled when God said "the Lord your God has given rest to your brothers, as he promised them. Therefore turn and go to your tents in the land where your possession lies, which Moses the servant of the Lord gave you on the other side of the Jordan" (Joshua 22:4) and even with the threat of enemies, God declares "The Lord your God will push them back before you and drive them out of your sight. And you shall possess their land, just as the Lord your God promised you" (Joshua 23:5) so who or what can change what God has declared to be!?
Conclusion
Egypt is a type of sin as we were all once slaves to sin (Rom 6:17, 20) but we were set free by the power of God's Spirit and as Moses was a type of Jesus Christ and brought Israel out of Egypt (sin) so Christ brings us out of sin and the bondage of sin and brings us into the Promised Land of the kingdom to give us rest from the previous life of this hard bondage of a way of life that was headed for hell. That was His promise and that is what He has done, at least for all who have repented and trusted in Him. His promise is His Word.
Article by Jack Wellman
Jack Wellman is Pastor of the Mulvane Brethren church in Mulvane Kansas. Jack is also the Senior Writer at What Christians Want To Know whose mission is to equip, encourage, and energize Christians and to address questions about the believer's daily walk with God and the Bible. You can follow Jack on Google Plus or check out his book Blind Chance or Intelligent Design available on Amazon.