What does it mean that God is omnipresent? How is that possible that God is everywhere?
What is Omnipresence?
Omnipresence refers to the quality of being present everywhere, in all places, at all times. The "omni" comes from the Latin which means "all" so when God is referred to as omnipresent, we understand that He is in a lofty and exalted position over time, space, and matter and is not subject to the same constraints of distance or time as we are. He is sovereign over time. The omnipresence of God is joined with the omnipotence and omniscience as part of the divine power that He is all present, all powerful, and all knowing and at all times and in every place.
God is Everywhere?
How can God be in more than one place at a time? God is Spirit and unlike the flesh, He is not bound to the "here and now" or the vastness of the universe. The psalmist knew it was impossible to escape the presence of God, writing "Where shall I go from your Spirit? Or where shall I flee from your presence? If I ascend to heaven, you are there! If I make my bed in Sheol, you are there" (Psalm 139:7-8). Jonah learned the hard way that you cannot escape God's call any more than you can escape God's presence because He is omnipresent. God has dwelt in the past, dwells in the present, and will dwell for all eternity, "For thus says the One who is high and lifted up, who inhabits eternity, whose name is Holy" (Isaiah 57:15a). Where does God live? God lives in heaven, yes, but also in eternity, so even "If I say, 'Surely the darkness will hide me and the light become night around me,' even the darkness will not be dark to you; the night will shine like the day, for darkness is as light to you" (Psalm 139:11-12).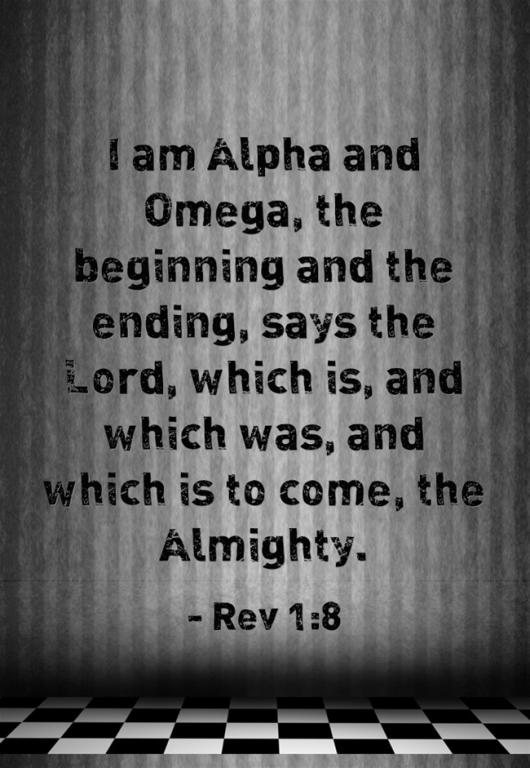 Past, Present, Future
When Jesus returns to judge the world in righteousness and gather those who have already had their sins judged at the cross, what was written of Him will come to pass; "Behold, he comes with clouds; and every eye shall see him, and they also which pierced him: and all kindreds of the earth shall wail because of him. Even so, Amen." (Rev 1:7). Here, the King of kings and Lord of lords is obviously, Jesus Christ (Rev 1:5-6) and He says of Himself "I am Alpha and Omega, the beginning and the ending, says the Lord, which is, and which was, and which is to come, the Almighty" (Rev 1:8) meaning, like the Greek alphabet, He is the Alpha (the very beginning letter) as well as the Omega (the ending letter) and everything else in between. That's like saying He's everything A to Z in the English language. Jesus states that He is the One "which is" (present tense) and "which was" (past tense) "and which is to come" (future tense) and in Revelation 22:13 He says "I am Alpha and Omega, the beginning and the end, the first and the last." He is the beginning of all things also, as the Creator (John 1:3), and "before Abraham was" Jesus had already existed (John 8:58), showing His eternality which also shows His divinity.
What it means to You
Why would this matter to you? I think that none of us can really grasp the greatness of God. How He has always existed is beyond my human comprehension. It's like trying to understand the Trinity. I don't know how to explain it, I just believe. God has revealed Himself to me in His Word and the one book that showed me more about the divinity and eternality of Jesus Christ (just above Revelation) was the Gospel of John. In fact there are more references to Jesus' divinity in John's gospel than in any other book in the New Testament. To believe in God simply means that you believe in His Son, Jesus Christ, and you believe His message; the need for repentance and faith or belief, the same things Jesus said when He began His earthly ministry (Mark 1:15).
Conclusion
This Great I AM, Jesus Christ, asks you "And he said unto me, It is done. I am Alpha and Omega, the beginning and the end. I will give unto him that is thirsty of the fountain of the water of life freely" (Rev 21:6). He is still offering eternal life to all who believe in Him (John 3:36a) but warns of the wrath of God that will abide on those who refuse to believe (John 3:36b) but at least you still have time to choose but no one knows when our own time will be up (Heb 9:27).
Article by Jack Wellman
Jack Wellman is Pastor of the Mulvane Brethren church in Mulvane Kansas. Jack is also the Senior Writer at What Christians Want To Know whose mission is to equip, encourage, and energize Christians and to address questions about the believer's daily walk with God and the Bible. You can follow Jack on Google Plus or check out his book Teaching Children the Gospel available on Amazon.