Does God answer the prayers of unbelievers or does He only listen to the prayers of believers?
Sin and Separation
Humanity has a problem. It is a problem with sin as Isaiah writes, "but your iniquities have made a separation between you and your God, and your sins have hidden his face from you so that he does not hear" (Isaiah 59:2). Sin has separated us from God and just like Adam and Eve disobeyed God and chose for themselves the knowledge of what is good and what is evil (Gen 3:22) so we have all decided for ourselves what is good and what is evil. The problem is that we don't know what is truly right before God and what is sin. This is because "Every way of a man is right in his own eyes, but the LORD weighs the heart" (Prov 21:2) and "All a person's ways seem pure to them, but motives are weighed by the LORD" (Prov 16:2). To the wicked, God says "When you spread out your hands in prayer, I hide my eyes from you; even when you offer many prayers, I am not listening. Your hands are full of blood" (Isaiah 1:15). In the first place, "None is righteous, no, not one" so that eliminates all of us from declaring ourselves good in our own eyes (Rom 3:10). If the sin problem and the separation of God are to be addressed, we need help outside of ourselves and God has done just that, as we will later read.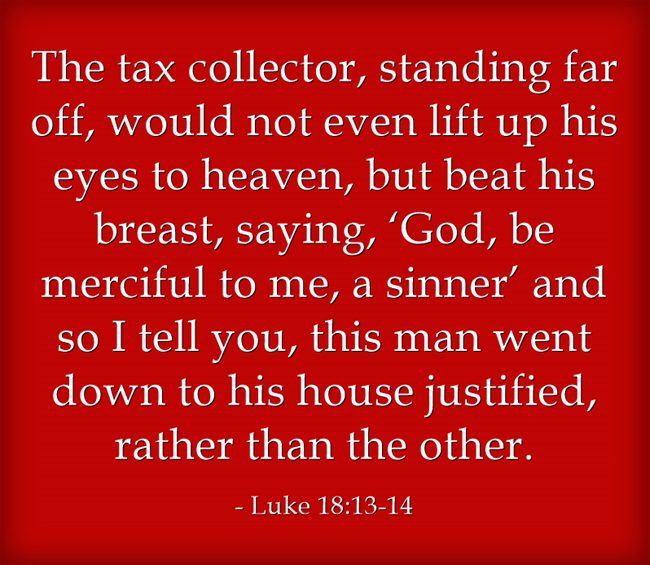 Does God Hear Sinners?
The Bible says that "God does not listen to sinners, but if anyone is a worshiper of God and does his will, God listens to him" (John 8:31) so God listens to the prayers of those who do His will and listen to Him, primarily through His Word the Bible and through Bible preaching and teaching but does God hear a sinner's prayer? For one thing, we're all sinners but the difference between a believer and a lost person is that the believer has repented and trusted in Christ and now strives to listen to God and His Word and to seeks to do His will. The lost person could care less whether they think they've sinned or not. The fact is that "God does not listen to their empty plea; the Almighty pays no attention to it" (Job 35:13) but "The eyes of the LORD are on the righteous, and his ears are attentive to their cry" (Psalm 34:15) but if a saved person is still regarding sin in their heart the psalmist knows that "If I had cherished sin in my heart, the Lord would not have listened" (Psalm 66:18).
When God Hears Prayers
God will hear the prayers, as we have read, of those who obey Him and are doing His will and "He fulfills the desires of those who fear him; he hears their cry and saves them" (Psalm 145:19) so we know that "The LORD is far from the wicked, but he hears the prayer of the righteous" (Prov 15:29) and "If anyone turns a deaf ear to my instruction, even their prayers are detestable" (Prov 28:9) so God does not hear the prayers of the sinners, generally speaking, however God reserves the right to hear whomever He desires to hear and sometimes God does hear and answer the prayers of the unsaved. It may be the exception but it all depends upon the circumstances and God hear the sinner's prayer at times but with some, He won't. Perhaps God looks at the sinner's heart and sees their desperation and He honors their prayers to help them, even before they're saved. He might hear some while ignoring others. I can only guess why and so I won't even try but God must hear the prayers of some sinners before a person is saved, otherwise none of us would be saved. Jesus talked about the prayer of a tax collector verses a self-righteous Pharisee, saying "the tax collector, standing far off, would not even lift up his eyes to heaven, but beat his breast, saying, 'God, be merciful to me, a sinner'" (Luke 18:13) and so "I tell you, this man went down to his house justified, rather than the other" (Luke 18:14).
Conclusion
Why God doesn't hear some sinners and He does others is a mystery to me. I just don't know why God chooses to hear some sinners and not others. God does hear the cry for forgiveness after a person repents and trusts in Christ. If God didn't hear sinners, then He would never hear any of us cry out to be saved but as a general rule in Scripture, God will not hear and answer the prayers of the sinners (the unsaved) but chooses for Himself whether to hear one or not and reserves for Himself the right to answer that prayer or not. This much I do know; repentance and belief are necessary and that Jesus died for us to save us and enable us to have a relationship with God (John 3:16).
Article by Jack Wellman
Jack Wellman is Pastor of the Mulvane Brethren church in Mulvane Kansas. Jack is also the Senior Writer at What Christians Want To Know whose mission is to equip, encourage, and energize Christians and to address questions about the believer's daily walk with God and the Bible. You can follow Jack on Google Plus or check out his book Teaching Children the Gospel available on Amazon.