Why was the Book of Job written? Who wrote it? How can it help a believer in Christ today?
Who Wrote the Book of Job?
No one knows for sure who wrote the Book of Job, although ultimately, "All Scripture is breathed out by God and profitable for teaching, for reproof, for correction, and for training in righteousness, that the man of God may be complete, equipped for every good work" (2nd Tim 3:16-17). We can argue over who wrote the book but it's like arguing who wrote this article. Was it the word processor or was it me? Most Bible scholars believe it was Job who wrote this book but some believe it was Elihu, Moses or Solomon. I believe it was Job who actually wrote it and if you were to place the Book of Job in chronological order, you'd have to place it in the first 5th of the Book of Genesis because the Book of Job is believed to be the oldest book in the Bible, written perhaps around 1800 BC.
What was the Purpose of Job?
Why did Job or whoever it was write this book? Knowing that all Scripture is God-breathed we can actually ask, why did God write this book? Was it to explain the problem of suffering? Was it to comfort those who are suffering? Why did Job have to suffer so much since he strived to live a holy life? It could be that Job is showing us that even those who are obeying the will of God still may have to suffer. Good and bad happen to all of us and it isn't always because we are living in sin. It can be but it isn't always the case. This much we do know; that whatever happens will always work out for our ultimate good (Rom 8:28). God may chastise us (Heb 12:3-17) for living in sin but that is only because God loves His children and disciplines every child of His (Heb 12:6).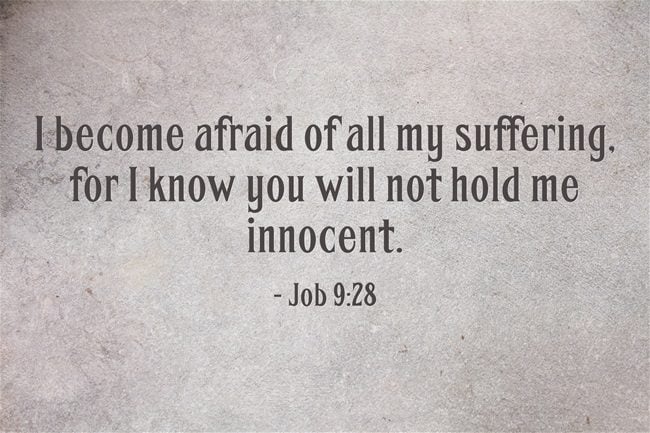 What it means to Us
This book can help us through times of suffering because it shows that God is always in charge over everything that happens to us. He wants us to learn how to endure suffering and still praise God as Job wrote if "he slay me, I will hope in him; yet I will argue my ways to his face" (Job 13:15). Job may have been the first person to ever praise God in the storm and these were literal storms (Job 1). Job never did receive an answer from God as to why he had to suffer so much and why he lost everything. This book might also be teaching us that there is a spiritual war going on that we don't see with our eyes. The invisible enemy continually accuses us before God (Rev 12:10) and shoots fiery darts our way so we must always put on the full armor of God every single day (Eph 6:11).
Suffering and Sovereignty
We know that nothing can compare with the suffering that we're enduring today to the glory that's going to be revealed to us someday (Rom 8:18). That God does allow suffering means that it must be for His divine purpose. God never wastes suffering. Sometimes He allows us to reap what we've sown. At other times, He might be using trials to soften someone's heart to bring them to repentance and trust in Christ. Whatever God does or whatever God allows is always for our highest and best purpose. We must learn to trust God even in times of suffering, distress, and anxiety. He sees it all and we must understand that He will use it for His glory and our best every single time. It's a matter of trust and believing with the eyes of faith.
Conclusion
If you haven't yet trusted in Christ, your fate, when compared to Job's suffering, will look like Job took a trip to the Caribbean. If you were to die tonight outside of having faith in Christ, then you will not receive another chance to trust in Christ. There is no repentance possible at the time of the judgment (Rev 20:12-15), therefore I beg you to consider putting your faith in Christ today because you've got an appointment with death (Heb 9:27) and you nor do I know when that time is coming.
Article by Jack Wellman
Jack Wellman is Pastor of the Mulvane Brethren Church in Mulvane Kansas. Jack is also the Senior Writer at What Christians Want To Know whose mission is to equip, encourage, and energize Christians and to address questions about the believer's daily walk with God and the Bible. You can follow Jack on Google Plus or check out his book Teaching Children the Gospel available on Amazon.