Do Christians have any reason to fear Satan or demons? If not, why not?
Fear of God
The very beginning point for all human wisdom is not found in mankind, it is found in the fear of the Lord. It isn't a fear of being struck dead at any moment but a deep, holy, reverential fear and respect for the Word of God and for God Himself. Solomon wrote that "The fear of the Lord is the beginning of knowledge [but] fools despise wisdom and instruction" (Prov 1:7). To Israel, God said "what does the Lord your God require of you, but to fear the Lord your God, to walk in all his ways, to love him, to serve the Lord your God with all your heart and with all your soul" (Duet 10:12) and so "You shall fear the Lord your God. You shall serve him and hold fast to him, and by his name you shall swear" (Duet 10:20). Jesus said "do not fear those who kill the body, and after that have nothing more that they can do. But I will warn you whom to fear: fear him who, after he has killed, has authority to cast into hell" (Luke 12:4-5). For those who refuse to repent and believe in Christ, the author of Hebrews warns that "It is a fearful thing to fall into the hands of the living God" (Heb 10:31).
Fear of Man
Solomon wisely wrote that "The fear of man lays a snare, but whoever trusts in the LORD is safe" (Prov 29:25). In Jesus' day "many even of the authorities believed in him, but for fear of the Pharisees they did not confess it, so that they would not be put out of the synagogue for they loved the glory that comes from man more than the glory that comes from God" (John 12:42-43). In other words, they feared what man would think, particularly the synagogue officials but to the apostles it didn't matter what others thought. When the disciples were brought before the authorities they said "in order that it may spread no further among the people, let us warn them to speak no more to anyone in this name. So they called them and charged them not to speak or teach at all in the name of Jesus" (Acts 4:17-18) but what was the Apostle Peter and John's response? They said "Whether it is right in the sight of God to listen to you rather than to God, you must judge, for we cannot but speak of what we have seen and heard." And when they had further threatened them, they let them go, finding no way to punish them, because of the people, for all were praising God for what had happened" (Acts 4:19-21). A little later, this time after the disciples were beaten and jailed for preaching the gospel and told not to teach anymore about Jesus they said "We must obey God rather than men" (Acts 5:29).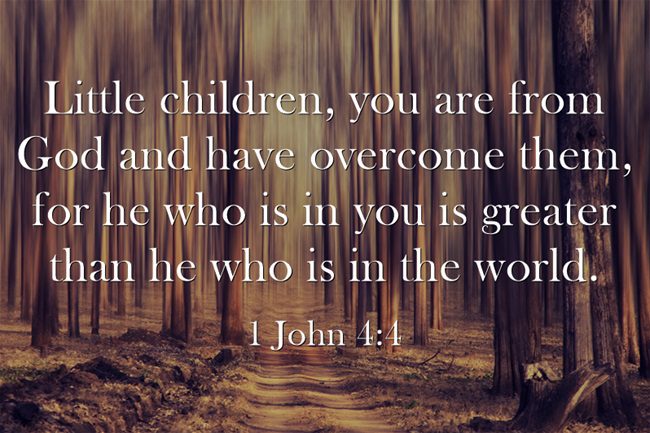 Fear of Satan
Why should we have any fear of Satan or his demons since he and they are defeated foes? They were defeated at Calvary and can no longer take us back into the darkness, from which we came. In 1st John 4:4 the Apostle John tells the church, "Little children, you are from God and have overcome them, for he who is in you is greater than he who is in the world." The "He" is the Holy Spirit of God and where God dwells in us, there is no chance for Satan to rule. Paul writes in Romans 8:38-39 that "I am sure that neither death nor life, nor angels nor rulers, nor things present nor things to come, nor powers, nor height nor depth, nor anything else in all creation, will be able to separate us from the love of God in Christ Jesus our Lord." It sounds like they have nothing to fear. Why? Paul says "If God is for us, who can be against us" (Rom 8:31)? The obvious answer to this rhetorical question is, we have nothing to fear if God is for us and if we've repented and trusted in Christ, then our condemnation has been lifted (Rom 8:1) and we now have peace with God through Jesus Christ (Rom 5:1).
Nothing to Fear
The author of Hebrews tells us to "Keep your life free from love of money, and be content with what you have, for he has said, "I will never leave you nor forsake you" (Heb 13:5) and if the Lord disciplines us, we should understand that "the Lord disciplines the one he loves, and chastises every son whom he receives" (Heb 12:6). If God never disciplines you when you are in sin, then you are not a child of God for "he disciplines us for our good, that we may share his holiness" (Heb 12:10). When God disciplines us, and He does every child of His, we cannot confuse this with attacks from the enemy because we are being reproved by God because He loves us because "It is for discipline that you have to endure. God is treating you as sons. For what son is there whom his father does not discipline" (Heb 12:7)?
Conclusion
We have no fear of Satan or his demons because Jesus had victory over the enemies of darkness and has even conquered death so that is nothing to fear anymore for those who have been born again and "since we have a great priest over the house of God, let us draw near with a true heart in full assurance of faith, with our hearts sprinkled clean from an evil conscience and our bodies washed with pure water" (Heb 10:21-22). For all who refuse to repent and believe in Christ, they only have "a fearful expectation of judgment, and a fury of fire that will consume the adversaries" (Heb 10:27) because "It is a fearful thing to fall into the hands of the living God" (Heb 10:31).
Article by Jack Wellman
Jack Wellman is Pastor of the Mulvane Brethren Church in Mulvane Kansas. Jack is also the Senior Writer at What Christians Want To Know whose mission is to equip, encourage, and energize Christians and to address questions about the believer's daily walk with God and the Bible. You can follow Jack on Google Plus or check out his book Teaching Children the Gospel available on Amazon.