Where was Paul trained? Where was it that he learned the Scriptures so well and other academic areas?
Paul's Calling
The Apostle Paul's calling is similar to every Christian's call. It is the effectual call by God Himself and for Paul, it was Jesus Christ's very appearance that struck him down and humbled him enough to believe in Christ. It was while "Saul, still breathing threats and murder against the disciples of the Lord, went to the high priest and asked him for letters to the synagogues at Damascus, so that if he found any belonging to the Way, men or women, he might bring them bound to Jerusalem" (Acts 9:1-2) but "suddenly a light from heaven shone around him. And falling to the ground he heard a voice saying to him, "Saul, Saul, why are you persecuting me?" And he said, "Who are you, Lord?" And he said, "I am Jesus, whom you are persecuting. But rise and enter the city, and you will be told what you are to do" (Acts 3b-6). So those who were with Paul led the temporarily blind man to Ananias who instructed him about the Way that he previously spent himself trying to destroy. Saul, which means "the destroyer," would become Paul, which means "small" or humble, and would end up turning the whole Roman Empire upside down, which to me is the right side up.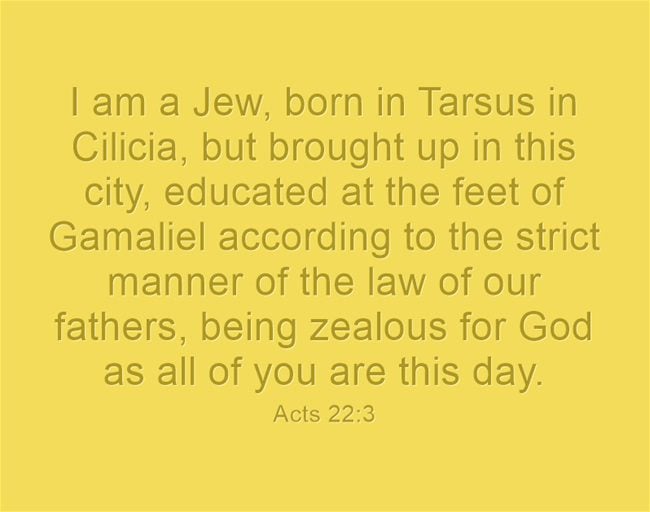 Paul's Training
Paul was said to be one of the most brilliant men of his day and not just by the early church leaders and historians. He was a fierce apologist, as evidenced by his witnessing to the Jews and the Greeks (or Gentiles). Paul said, "I am a Jew, born in Tarsus in Cilicia, but brought up in this city, educated at the feet of Gamaliel according to the strict manner of the law of our fathers, being zealous for God as all of you are this day" (Acts 22:3) and this, "according to the strict manner of the law of our fathers, being zealous for God as all of you are this day" (Acts 22:4). Paul added "I am a Pharisee, a son of Pharisees. It is with respect to the hope and the resurrection of the dead that I am on trial" (Acts 23:6). The Pharisees were experts in the Law of God and so Paul knew it as well as anyone among the Jews but probably more so as he excelled above them all, "being zealous" so Paul must have known Hebrew. This is confirmed elsewhere in Scripture where we read that Paul spoke to the crowd in the Hebrew tongue (Acts 21:40; 22:2) but apparently understood Greek too (Acts 21:37-38). The conclusion is that Paul was fluent in at least two languages (probably more) and had become an expert in the law of God (Scripture), having been trained in the strictest of manners, much like he did under Gamaliel. Gamaliel is considered one of the greatest teachers of all time, but who was Gamaliel? Was it important for Paul to study under him? What was it that Gamaliel taught Paul?
Who was Gamaliel?
Paul touches on his training in Acts 22:3 by mentioning that he was "brought up in this city, educated at the feet of Gamaliel" (Acts 22:3) but who was Gamaliel? Acts 5:34 says there was "a Pharisee in the council named Gamaliel, a teacher of the law held in honor by all the people, stood up and gave orders to put the men outside for a little while." Gamaliel was the greatest of the teachers of the Pharisees, perhaps of all time, because he was said to have known the law at a doctorate level, so it was with great wisdom that he told the council when the apostles were brought before them for preaching the gospel, "Men of Israel, take care what you are about to do with these men" (Acts 5:35) for "in the present case I tell you, keep away from these men and let them alone, for if this plan or this undertaking is of man, it will fail; but if it is of God, you will not be able to overthrow them. You might even be found opposing God!" So they took his advice" (Acts 5:38-39). That comment displayed some of the great wisdom of Gamaliel, similar to that of the Wisdom of Solomon. Since no one could argue with Gamaliel's logic, "they took his advice." Gamaliel was the same man that the Apostle Paul had studied under and in the strictest manner possible, so Paul also much have reached a doctorate level much like his teacher Gamaliel and later, may have even surpassed him intellectually. It took the Damascus Road experience for Paul to see what true, godly wisdom was, and it changed his entire life's purpose and forever altered the course of human history (Rom 10:9-13).
Conclusion
Paul did change the world, even by what people call today "the Roman Road to Salvation" which includes powerful verses like Romans, 1:16; 3:10-12, 3:23; 6:23 and of course Romans 10:9-11, 13 which says "if you confess with your mouth that Jesus is Lord and believe in your heart that God raised him from the dead, you will be saved. For with the heart one believes and is justified, and with the mouth one confesses and is saved. For the Scripture says, "Everyone who believes in him will not be put to shame… For everyone who calls on the name of the Lord will be saved." No one who is full of pride about themselves can ever be saved. That's because they must first humble themselves before the Mighty God and then repent of their sins, confess them all to God, and see their own dreadful condition before God (Isaiah 59:2; Jer 17:9). They must understand that they fall infinitely short of God's glory (Rom 3:23) and that in themselves, there's nothing good in them (Rom 3:10). Until they first humble themselves, God is directly opposed to them because He will extend His grace only to the humble of heart (James 4:6).
Article by Jack Wellman
Jack Wellman is Pastor of the Mulvane Brethren Church in Mulvane Kansas. Jack is also the Senior Writer at What Christians Want To Know whose mission is to equip, encourage, and energize Christians and to address questions about the believer's daily walk with God and the Bible. You can follow Jack on Google Plus or check out his book Teaching Children the Gospel available on Amazon.