Here are my top seven Bible verses about visions.
Isaiah 6:1-2 "In the year that King Uzziah died I saw the Lord sitting upon a throne, high and lifted up; and the train of his robe filled the temple. Above him stood the seraphim. Each had six wings: with two he covered his face, and with two he covered his feet, and with two he flew."
This might be the greatest vision ever because Isaiah beheld the glory of the Lord as the mighty seraphim proclaimed "Holy, holy, holy is the Lord of hosts; the whole earth is full of his glory" (Isaiah 6:3). We know it must have been a vision for no one can actually see God and live (Ex 33:20) and Isaiah must have realized that so he cried out, "Woe is me! For I am lost; for I am a man of unclean lips, and I dwell in the midst of a people of unclean lips; for my eyes have seen the King, the Lord of hosts" (Isaiah 6:5). The length of the king's robe is indicative of his splendor but here the Lord's train filled the whole temple, indicating that there is nothing near to the glory of God.
Acts 16:9-10 "And a vision appeared to Paul in the night: a man of Macedonia was standing there, urging him and saying, "Come over to Macedonia and help us. And when Paul had seen the vision, immediately we sought to go on into Macedonia, concluding that God had called us to preach the gospel to them."
God used dreams and visions quite often in the Bible and they were always precise. One night, Paul sees a vision where a man is crying out for help all the way from Macedonia so after this vision, Paul rightly concluded that "God had called [them] to preach the gospel" to the Macedonians, and history tells us, that's just what Paul did.
Revelation 1:9-10 " I, John, your brother and partner in the tribulation and the kingdom and the patient endurance that are in Jesus, was on the island called Patmos on account of the word of God and the testimony of Jesus. I was in the Spirit on the Lord's Day, and I heard behind me a loud voice like a trumpet."
This verse comes from the Book of Revelation which is not really the Apostle John's revelation but "The revelation of Jesus Christ, which God gave him to show to his servants the things that must soon take place. He made it known by sending his angel to his servant John" (Rev 1:1). Later in the Book of Revelation, John is still in a vision and he writes, "I saw the horses in my vision and those who rode them: they wore breastplates the color of fire and of sapphire and of sulfur, and the heads of the horses were like lions' heads, and fire and smoke and sulfur came out of their mouths" (Rev 9:17).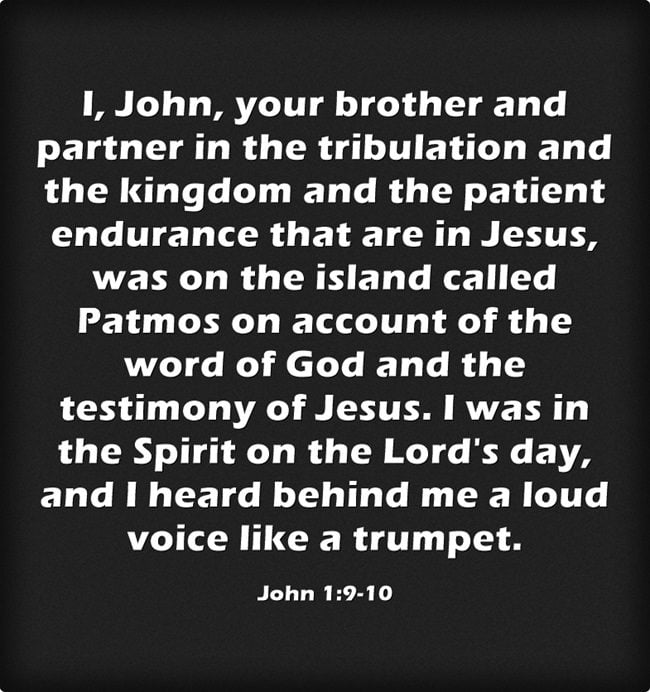 Acts 9:10-12 "Now there was a disciple at Damascus named Ananias. The Lord said to him in a vision, "Ananias." And he said, "Here I am, Lord." And the Lord said to him, "Rise and go to the street called Straight, and at the house of Judas look for a man of Tarsus named Saul, for behold, he is praying, and he has seen in a vision a man named Ananias come in and lay his hands on him so that he might regain his sight."
Ananias was a disciple of Jesus Christ and he knew that Saul was trying to destroy the church, taking people off to prison and so God sent Ananias a vision but Ananias was still not sure because he knew that Paul was the great persecutor of the church. Maybe God sent a vision because Ananias might not have believed another person but God, He would believe. Saul also had a vision and it was about Ananias and Ananias saw a vision about Saul (later changed to Paul).
Psalm 89:19 "Of old you spoke in a vision to your godly one, and said: "I have granted help to one who is mighty; I have exalted one chosen from the people."
I know that God spoke in the ancient days through visions to Abraham, Moses, Jacob, Isaiah but also to Paul, Peter, John, and many others. Today, we don't need to have God send us visions because we have the whole Word of God in the Old and New Testament. The former patriarchs never had this (but the Torah) so God had to speak to them directly at times and often through visions.
Acts 11:5 "I was in the city of Joppa praying, and in a trance I saw a vision, something like a great sheet descending, being let down from heaven by its four corners, and it came down to me."
Peter had this vision when it was time for lunch and he was hungry so the timing of God's sending Peter a vision of unclean foods must have got his attention even more as in this vision God said that "What God has made clean, do not call common.' This happened three times, and all was drawn up again into heaven" (Acts 11:9-10). As with Ananias, a fellow Christian telling Peter that salvation is now open to the Gentiles might not have convinced him; a visions sent from God did so "When they heard these things they fell silent. And they glorified God, saying, "Then to the Gentiles also God has granted repentance that leads to life" (Acts 11:18).
Genesis 46:1- "So Israel took his journey with all that he had and came to Beersheba, and offered sacrifices to the God of his father Isaac. And God spoke to Israel in visions of the night and said, "Jacob, Jacob." And he said, "Here I am." Then he said, "I am God, the God of your father. Do not be afraid to go down to Egypt, for there I will make you into a great nation."
Jacob must have been reluctant to enter into a pagan nation such as Egypt since there were so many false gods but this was God's way of growing the nation of Israel. Jacob, whose name was changed by God to Israel, would enter as a family of a hundred or so but at the Exodus, they would number in the millions some four hundred years later. God sent Israel a vision to perhaps give him reassurance that he has to no reason to fear going "down to Egypt" because there is where Israel will be made "into a great nation."
Conclusion
We don't need visions today as much as then. It's not that God cannot still send visions to people, but it just seems to be the rare exception. Since we have the whole counsel of God in the Old and New Testament, we can read what God wants us to do without receiving a vision. The only vision I worry about is my own eyesight as I need to stay focused on the Word of God, for there is where one will find eternal life.
Article by Jack Wellman
Jack Wellman is Pastor of the Mulvane Brethren Church in Mulvane Kansas. Jack is also the Senior Writer at What Christians Want To Know whose mission is to equip, encourage, and energize Christians and to address questions about the believer's daily walk with God and the Bible. You can follow Jack on Google Plus or check out his book Teaching Children the Gospel available on Amazon.