How did Jesus suffer? In what five ways did He suffer specifically?
Crushed for our Iniquities
When Isaiah the Prophet wrote about the "Suffering Servant," in the Person of Jesus Christ, he wrote as if no one would believe (Isaiah 53:1) and today, most still do not believe it. The point is that what a person believes doesn't mean something is true or is not true. What a person believes cannot change what is true and what is false. The fact that Jesus had more historical evidence written about Him than any other Man in human history cannot be changed. You cannot go back in time and undo something any more than a person can go back in time and undo something they had already done. Critics cannot alter what has already happened. Isaiah writes about one of the many purposes for which Jesus Christ came to earth even before He came and one reason was to be "pierced for our transgressions; he was crushed for our iniquities [and] upon him was the chastisement that brought us peace, and with his wounds we are healed" (Isaiah 53:5). This was necessary because "All we like sheep have gone astray; we have turned—every one—to his own way and the Lord has laid on him the iniquity of us all" (Isaiah 53:6).
By His Wounds, We Are Healed
There is healing miracles still happening today, long after Jesus' earthly ministry. Every day it seems there are new miraculous healings that cannot be explained in any other way. Isaiah wrote that it was by "his wounds we are healed" (Isaiah 53:5b) and although this chapter speaks about our redemption or spiritual healing, God still chooses to heal people today. Part of the reason that Jesus came to earth was to heal the sick, restore the lame, and make the blind to see again as Isaiah wrote, He came so "the eyes of the blind shall be opened, and the ears of the deaf unstopped; then shall the lame man leap like a deer, and the tongue of the mute sing for joy" (Isaiah 35:5-6). By Jesus' life, suffering, and death "he has borne our griefs and carried our sorrows" (Isaiah 53:4a) which we could not carry alone.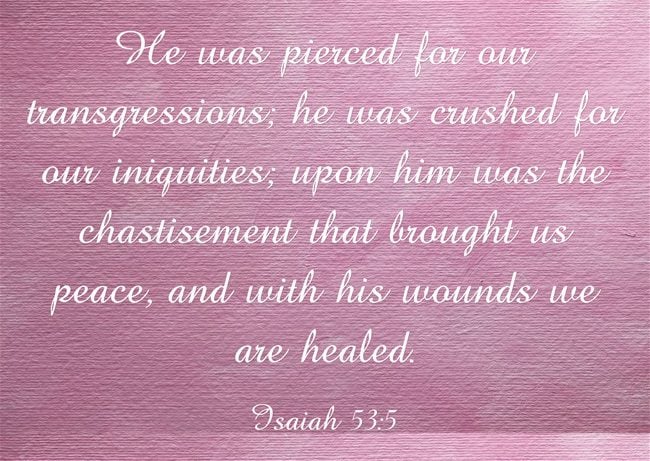 Suffering in the Passion
Jesus told the disciples several times that "The Son of Man must suffer many things and be rejected by the elders and chief priests and scribes, and be killed, and on the third day be raised" (Luke 9:22) but they acted like they didn't want to hear about it. They were not sure what this meant so they said little about it. Jesus often acknowledged that "he must suffer many things and be rejected by this generation" (Luke 17:25). Nearing the end of Jesus' earthly ministry, He "began to show his disciples that he must go to Jerusalem and suffer many things from the elders and chief priests and scribes, and be killed, and on the third day be raised" (Matt 16:21) and Peter still didn't understand it (Matt 16:22). Only later would Peter see that "God foretold by the mouth of all the prophets, that his Christ would suffer, he thus fulfilled" (Acts 3:18).
Redeeming Mankind
There is one clear purpose for which Jesus came to suffer and die. It was to redeem mankind from their separation from God that their sins had caused (Isaiah 59:2) so the Apostle Paul wrote that it is "In him we have redemption through his blood, the forgiveness of our trespasses, according to the riches of his grace" (Eph 1:7), speaking of Jesus Christ of course. This redemption was costly as it says of Jesus, "he entered once for all into the holy places, not by means of the blood of goats and calves but by means of his own blood, thus securing an eternal redemption" (Heb 9:12) and as a result, we have "have redemption, the forgiveness of sins" (Col 1:14). It is not by what we did (Eph 2:8-9) but because of what He did (John 3:16) and it's "because of him you are in Christ Jesus, who became to us wisdom from God, righteousness and sanctification and redemption" (1st Cor 1:30). Those who have repented and trusted in Christ "are justified by his grace as a gift, through the redemption that is in Christ Jesus" (Rom 3:24).
Setting up a Kingdom
We know that Jesus is coming again from many biblical prophecies and from His own mouth and when He does return again, He will set up an eternal kingdom that will never end and a kingdom where sin will be no more (Rev 22:15) and "who for the joy that was set before him endured the cross, despising the shame, and is seated at the right hand of the throne of God" (Heb 12:2) and He is coming again; it's not a matter of if but when! Not only will Christ set up an eternal kingdom (Rev 22), "He will wipe away every tear from their eyes, and death shall be no more, neither shall there be mourning, nor crying, nor pain anymore, for the former things have passed away" (Rev 21:4). This is what Isaiah meant when He prophesied "Behold, I am doing a new thing; now it springs forth, do you not perceive it? I will make a way in the wilderness and rivers in the desert" (Isaiah 43:19) and what John the Baptist prepared the way for coming out of the spiritual wilderness in Judea at the time. Someday (Soon?), it will be said in real time and space, "Behold, I am making all things new" (Rev 21:5) and this comes to its fulfillment upon His second coming. You and I who are God's children are a part of that coming kingdom too as the Apostle John writes "To him who loves us and has freed us from our sins by his blood and made us a kingdom, priests to his God and Father, to him be glory and dominion forever and ever. Amen" (Rev 1:5-7).
Conclusion
If you were to die tonight or Christ were to return this very day and you haven't repented and trusted in Him, your day to be saved is over. I don't see how you pillow your head at night or when you drive to work or when you do just about anything in life if you're not saved because there is no guarantee that you'll see tomorrow. If you reject Jesus, after death or at His return, you will already be judged and found wanting (Hew 9:27; Rev 20:12-15) and all I can do is pray for you that God will grant you repentance and that you would humble yourself and trust in Christ today, while it's still called today (2nd Cor 6:2). My job's not to convince you. You must choose but remember this from Jesus; "Whoever is not with me is against me, and whoever does not gather with me scatters" (Luke 11:23). The statistics on death are very impressive. My prayer is you will not become just another stat before you trust in Christ.
Article by Jack Wellman
Jack Wellman is Pastor of the Mulvane Brethren Church in Mulvane Kansas. Jack is also the Senior Writer at What Christians Want To Know whose mission is to equip, encourage, and energize Christians and to address questions about the believer's daily walk with God and the Bible. You can follow Jack on Google Plus or check out his book Teaching Children the Gospel available on Amazon.