What does a sermon outline look like? How do you make one from scratch?
The Greatest Sermon Ever
If we look in the Bible and really, throughout church history, the greatest sermon ever preached wasn't the one by the Apostle Peter on the Day of Pentecost (Acts 2) or the Apostle Paul's message to King Agrippa (Acts 26) but the Sermon on the Mount, given by Jesus in Matthew chapter 5. Jesus was making one overall point; that those who be like the salt of the earth or a light to the world (Matt 5:13-16) will be blessed in many ways for hungering and thirsting for righteousness, for being poor in spirit, those who are meek, the pure in heart, the merciful, the peacemakers, and even the persecuted (Matt 5:2-12). Jesus sought to bring home one point; there are blessings for being like God and being a light to a dark world and salt (a preservative) to a decaying and dying world.
Before the Sermon
Before you even create an outline for a sermon you must select what it is you think the church needs to hear. We know that pastors or preachers are called to sometimes rebuke, sometimes correct, or sometimes admonish (2nd Tim 2:15) but this depends on what you think the church needs to know or what they need to hear. If the church has a problem with gossip, you've already got an "in or out of season" sermon topic. Each individual church has different needs and variable issues so bath the sermon preparation in much prayer. The first preachers never used notes, they only studied and taught the apostle's doctrine, which are the teachings that Jesus gave the disciples and we find that today in the New Testament. Some preachers don't ever use notes; they simply use the text of the Bible and this type of preaching, verse by verse, expository preaching is the most effective of all sermons because it is giving the whole counsel of God in the whole of the context and unleashes the power of the gospel (Rom 1:16). So what if you don't use sermon outlines; as long as your main text is the Word of God (at least 50%), you are doing what the early church did and God caused the church to grow because of this (Acts 2:47).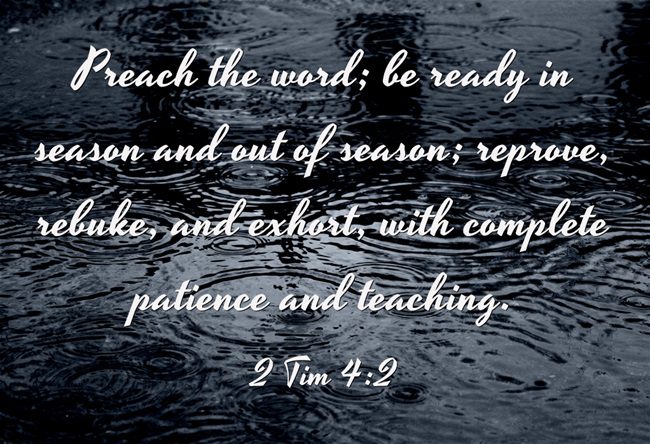 Main Verse
Sometimes there is one key Bible verse that a pastor or preacher wants to bring out and that is typically near the top of his sermon outline, just below the title of the sermon. This might be one or more verses but it directly relates (or at least it should) to your subject or topic and tie in with your title. Here is a sermon outline that I normally use (given as an example below).
Title: "What is Repentance?"
Main Verse:  Luke 13:5 "I tell you, no! But unless you repent, you too will all perish."
1. Is Suffering Always Due to a Person's Sin?
a. Some people believe, like the ancient Pharisees, that if someone was rich, they were obviously favored by God (Acts 10:34; Rom 2:11).
b. Others think that death, sickness, or illness is God's punishment (Luke 13:1; Job 19:2-8).
2. Is it Fair to Blame People for their suffering?
a. Do we all get what we deserve (Luke 13:2, 4)?
b. Our future without repentance and faith (Luke 13:3).
c. Examining Ourselves and Not Others (Luke 13:5; 2nd Cor 13:5)
Another Sermon Outline Format
Introduction by use of an example or analogy of an actual event or a story that introduces the topic or main idea, even if it's from the Bible.
1. Question: Is the Bible Really the Inspired Word of God?
a. Scripture: "Thus says the Lord" occurs at least 418 times in the Bible.
b. Source: God claims that it is "God-breathed" (2 Tim 3:16).
2. Question: Is there Empirical Evidence to Support the Bible's teachings?
a. Citations: Six-thousand complete or fragmented Greek manuscripts
b. Additional notations: Ten thousand Latin manuscripts
Conclusion: Repeating Main Points or Ending with the One Main Point.
Conclusion
We are told to "preach the word; be ready in season and out of season; reprove, rebuke, and exhort, with complete patience and teaching" (2nd Tim 4:2), regardless of whether it hurts the listeners or not. The author of Hebrews understood the power of preaching God's Word as he wrote "For the word of God is living and active, sharper than any two-edged sword, piercing to the division of soul and of spirit, of joints and of marrow, and discerning the thoughts and intentions of the heart" (Heb 4:12) and this means that "no creature is hidden from his sight, but all are naked and exposed to the eyes of him to whom we must give account" (Heb 4:13) so preach the Word in and out of season and reprove, rebuke, or exhort; whatever is needed.   The Word of God comforts those who are afflicted but it also afflicts those who are comfortable.  God's Word cuts but it cuts in order to heal and that healing can bring eternal life to those who hear and believe.
Article by Jack Wellman
Jack Wellman is Pastor of the Mulvane Brethren Church in Mulvane Kansas. Jack is also the Senior Writer at What Christians Want To Know whose mission is to equip, encourage, and energize Christians and to address questions about the believer's daily walk with God and the Bible. You can follow Jack on Google Plus or check out his book Teaching Children the Gospel available on Amazon.