Here are four tips for a pastor doing a memorial service or a funeral service.
Meeting with the Family Before
When a pastor has a funeral or memorial service to do, they should find a time to speak with the family and tell them what to expect at a service. Even though they may be familiar with funeral services, they might not be thinking about what to expect since they are experiencing a time of great grief. You will need to ask about the life of the deceased family member in order to tell others about the person who's passed away. Give them time to share with you what they knew about their lost loved one. Don't depend on memory; write down some of the things they say and then ask them for permission to be able to use some of that. Let them read, ahead of time, what you plan to say so that they can edit or ask that you leave out certain things or include some things that they forget to mention earlier. Look for positive attributes in the person's life. Avoid anything that is negative about the deceased person. You want to make it a tender, loving service and not say anything that might hurt their family or friends. Ask the family member about the deceased person's favorite Bible verse or book and show them what Bible verses you plan on using for the service so that they can either agree with them, tell you that some would be better off being left out, or one's that the family themselves would like to be read at the service. You can certainly ask any of the family members to give a personal testimony about their lost loved one but that is their choice. Respect their wishes if the decline this invitation.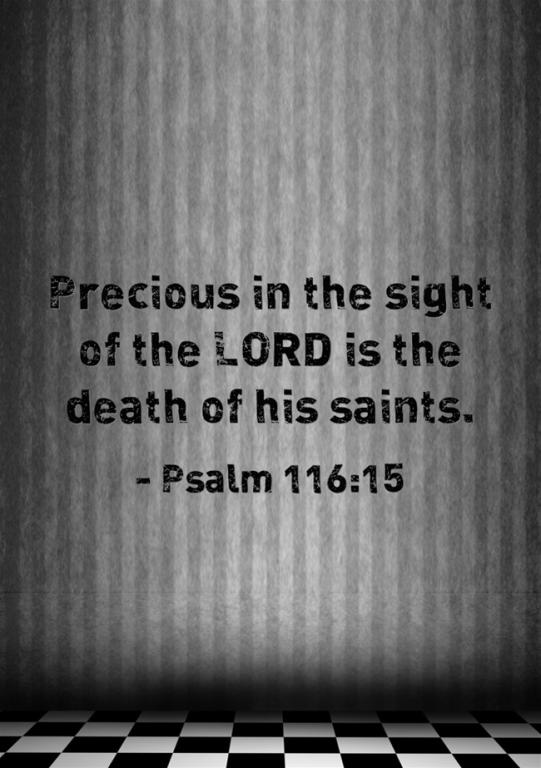 What Not to Say
There are some things that just don't help a person who is grieving and has lost a loved one. One thing is "just get over it," and "keep a stiff upper lip," or quoting Romans 8:28 which is true but does it really help someone who is grieving and in deep pain to tell them "And we know that for those who love God all things work together for good, for those who are called according to his purpose." Yes, this is true, but the timing may not be the best. Sometimes it best to just sit and listen to them and tell them how sorry you are for their great loss. There is a time to speak and a time to be silent. Know when that time is. We can do more harm than good by the words we say or by the things we do, so carefully consider the feelings of the family. By all means, make sure you know how to pronounce the family or friends names that are brought up. Just be slow to speak and quick to listen rather than trying to fill up awkward moments of silence.
What to Say
After speaking with the family you should ask if they have any questions at all about the upcoming service. Do they have preferences for flowers or memorial gifts for some organizations like the Salvation Army for example? Are there certain songs that they feel would be best or some that they would rather not include? Remember that the family's preferences come first, long before any personal preferences for a funeral that you might have. Ask the family if they want the obituary read or would they rather write one themselves or not read it at all? Ask if they need help in writing one for the service. Ask any close relatives if they'd like to read some Bible verses or perform a special song in tribute to the deceased family member.
No Surprises
Funeral services are one of the most difficult times for any family, but pastors can make this seem less difficult by remaining sensitive to the needs and wishes of the grieving family. They should use Bible verses that the family would want you to use. Make sure there are no surprises for the family at the funeral and cover what the service will be like but make sure to let them know that the final decision about how things should go and what they would like to include or exclude rests with them. One of my favorite lines I say at the graveside service, if the family wants one, is that "This is not burial ground but resurrection ground" in reference to 1st Corinthians chapter 15. It is so true that "Precious in the sight of the LORD is the death of his saints" (Psalm 116:15) so make sure you treat is in this way.
Conclusion
If you have a funeral or graveside service or memorial to do, please remember to depend on prayer and pray with the family too. They need your prayers but you need to pray too so that God would use you in this time of grief in how to help the family endure after losing someone so precious to them. Speak with the family, listen to the family, respect the wishes of the family, and trust God with the results.
Article by Jack Wellman
Jack Wellman is Pastor of the Mulvane Brethren Church in Mulvane Kansas. Jack is also the Senior Writer at What Christians Want To Know whose mission is to equip, encourage, and energize Christians and to address questions about the believer's daily walk with God and the Bible. You can follow Jack on Google Plus or check out his book Teaching Children the Gospel available on Amazon.