Have you ever thought about what you'll do with the rest of your life?
A Purpose
If someone feels that they don't have a purpose in life, then they could certainly feel useless but the truth is, as long as a person's drawing breath, God has plans for them, and that includes you and me. What you've already done with your life is not as important as what you will yet do in the future. Many people came to know their greatest purposes late in life, so there is always something that you can do that will make a difference in the world. For a believer in Christ, they have a great purpose in this life and no matter what happens in life, they can know that God will work all things out in their life no matter what happens, good or bad (Rom 8:28).
A Plan
God alone knows the future. We can only make educated guesses about what our plans are but God's plan is already at work in you, whether you know it or not. Jeremiah, in writing about Israel, wrote "the Lord, plans for welfare and not for evil, to give you a future and a hope" (Jer 29:11), so if God had plans for Israel's future, why shouldn't He have plans for you too? The fact is He does have plans for you. We just might not know what they are…yet. The question becomes; do you have a plan for the rest of your life? Solomon reminds us that "Without counsel plans fail, but with many advisers they succeed" (Prov 15:22) so "Commit your work to the Lord, and your plans will be established" (Prov 16:3).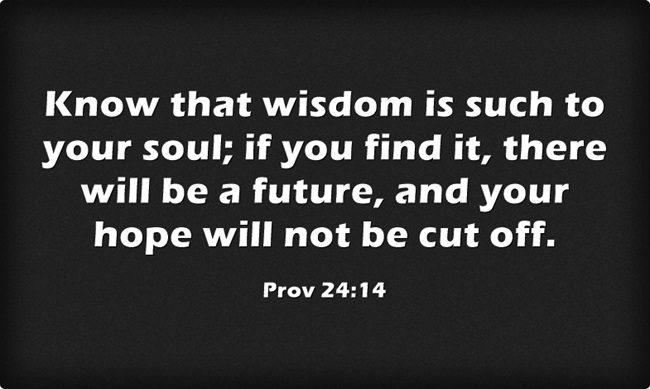 A Hope
Jeremiah also wrote that God had plans for Israel's future and it was to give them hope (Jer 29:11). God has that same plan for those who trust in Christ. We hope in Christ to save us and that hope is founded on the bedrock of the promises of God. Again, Solomon gives us his godly wisdom in writing "The hope of the righteous brings joy, but the expectation of the wicked will perish" (Prov 10:28) so for the children of God "Surely there is a future, and your hope will not be cut off" (Prov 23:18) and "Know that wisdom is such to your soul; if you find it, there will be a future, and your hope will not be cut off" (Prov 24:14).
A Future
The future belongs to God because He's already been there and back. God is not limited by time and space like we are. He is Lord over His creation and can do what He pleases, but He would remind us that He has a future in mind for us (Jer 29:11). For the nation of Israel, God declared, "There is hope for your future, declares the Lord, and your children shall come back to their own country" (Jer 31:17) and for the children of God, our country is a heavenly one that is yet to come (Rev 22). If you desire to know what the future holds for you, don't consult a horoscope, just "Listen to advice and accept instruction, that you may gain wisdom in the future" (Prov 19:20) because "Surely there is a future, and your hope will not be cut off" (Prov 23:18).
Eternal vs Temporary
Everything in this world is passing away. Only that which is done for God will remain. One such example is from Jesus Who said, "whoever gives one of these little ones even a cup of cold water because he is a disciple, truly, I say to you, he will by no means lose his reward" (Matt 10:42) because "God is not unjust so as to overlook your work and the love that you have shown for his name in serving the saints, as you still do" (Heb 6:10). Whatever you do for Christ, He sees it as being done for Him as it says in Matthew 25:40 where Christ says "Truly, I say to you, as you did it to one of the least of these my brothers, you did it to me" (Matt 25:40).
Conclusion
What can you do with the rest of your life? You can live it for yourself and for the things of the world that are going to pass away someday…or you can live for Christ and do things for the glory of God because what is done for Christ has eternal ramifications and there will be eternal rewards in store for the believer in Christ, who will hear the most precious words ever heard from Christ as He says, "Come, you who are blessed by my Father, inherit the kingdom prepared for you from the foundation of the world" (Matt 25:34). Trust God with your future for He holds the keys…we must simply walk through the doors that He opens.
Article by Jack Wellman
Jack Wellman is Pastor of the Mulvane Brethren Church in Mulvane Kansas. Jack is also the Senior Writer at What Christians Want To Know whose mission is to equip, encourage, and energize Christians and to address questions about the believer's daily walk with God and the Bible. You can follow Jack on Google Plus or check out his book Teaching Children the Gospel available on Amazon.