How can we correctly interpret the Bible? Are there certain things to look for?
The Bible
The Bible is an amazing book. It has been written over a 1,500-year period with 40 different authors, most who didn't know one another personally but still being in agreement on things like being saved by faith because believing God is seen as having faith in God. The rreference of being saved by faith goes all the way back to Genesis 15:6 where it said, "And he believed the LORD, and he counted it to him as righteousness." The Apostle Paul refers to that doctrine by writing, "as Abraham believed God, and it was counted to him as righteousness" (Gal 3:6). The Bible is an unveiling of the redemptive plan of God and that plan is that we are saved by faith so the revelation of the knowledge of God is revealed more and more as you move through the Scriptures, from Genesis until the New Testament.
Context
When we try to interpret the Bible we can say what we think it means but someone else will come along and say, "Well, that's your interpretation," so how do you know when it's the correct interpretation? The Apostle Peter reminds us all "that no prophecy of Scripture comes from someone's own interpretation" (2nd Pet 1:20) because "All Scripture is breathed out by God and profitable for teaching, for reproof, for correction, and for training in righteousness" (2nd Tim 3:16). We can't interpret the Bible. We can only take care to read the verses within the context of the chapter and within the fuller context of the Book. To take one text out of context can create a pretext and quite possibly, a false one. Many a cult are formed by proof-texting and then using that verse to create a set of beliefs, however the problem is it may be a false set of beliefs because we can easily rip out a verse from the proper context and make it mean something that it not really accurate.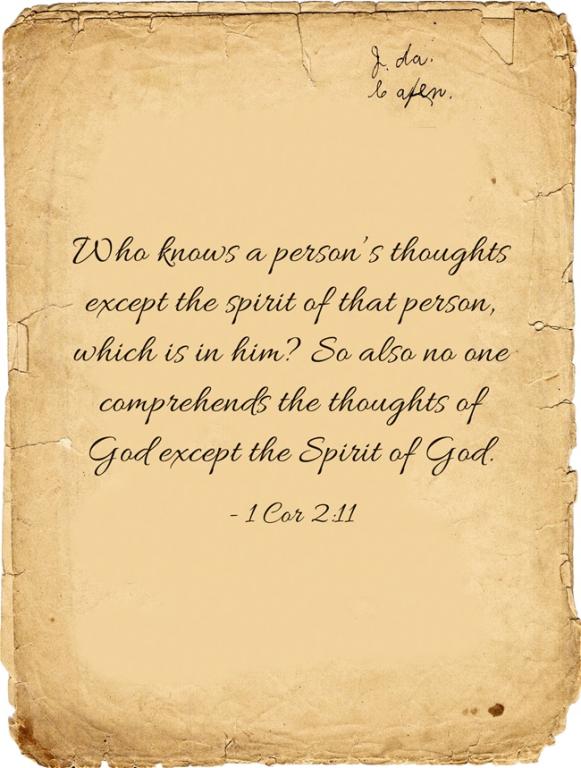 The Helper
Just before Jesus was about to go to the cross and die and then return to the Father, the disciples were deeply troubled. Jesus had been all they knew and now He was going away, but Jesus said that He would send "the Helper, the Holy Spirit, whom the Father will send in my name, he will teach you all things and bring to your remembrance all that I have said to you" (John 14:26) and "When the Spirit of truth comes, he will guide you into all the truth, for he will not speak on his own authority, but whatever he hears he will speak, and he will declare to you the things that are to come" (John 16:13). Paul reminds us by writing, "who knows a person's thoughts except the spirit of that person, which is in him? So also no one comprehends the thoughts of God except the Spirit of God" (1st Cor 2:11). In fact, the "the Spirit helps us in our weakness. For we do not know what to pray for as we ought, but the Spirit himself intercedes for us with groanings too deep for words. And he who searches hearts knows what is the mind of the Spirit, because the Spirit intercedes for the saints according to the will of God" (Rom 8:26-27).
Prescriptive vs Descriptive
Many people get in trouble when they begin to apply Bible verses to others and themselves but are specifically written to someone or a group of people. For example, the Mosaic Laws of washings, feast days, sacrifices, and clean vs unclean foods were always prescriptive to Israel as it would say, "And thus say to the children of Israel." The Bible contains many Bible verses that are descriptive, like Jesus died on the cross, but aren't prescriptive for us…they are descriptive. The Ten Commandments are prescriptive for all mankind but raising the dead is descriptive. These laws were prescriptive for Israel, just as the Saturday Sabbath was. To say the Sabbath is commanded of all people is to take prescriptive commands that were written "to Israel" and try to make them be applied to Christians today, whom they were never intended for.
Interpreting Scripture
When we say "interpreting Scripture," we don't mean that we can interpret a verse and say "This is what it means to me," rather, we should ask, "Who it was written too." Who was the original audience? Who wrote it and to whom? Was the verse(s) describing an event? If so, should we use that event as being intended for us? Again, context is king. Let the Scripture be interpreted within the broader context of the chapter and perhaps, even the Book. We also need the help of the Holy Spirit because spiritual truths are not discerned by the human spirit but by the Holy Spirit. No man or woman can really understand the things of God without the Spirit of God. Some are universal principles but some are written to a specific group of people. Some churches teach that circumcision and that we should avoid unclean foods but this is contrary to what Jesus taught in the New Testament, as He said, "Do you not see that whatever goes into a person from outside cannot defile him, since it enters not his heart but his stomach, and is expelled?" (Thus he declared all foods clean)" (Mark 7:18-19).
Conclusion
It's so easy to miss-interpret the Bible because we bring presuppositions with us. We might have been raised to believe this or have been taught that and when we read certain Bible verses we shoehorn them into what we think they mean and then try to make our interpretation something that others should be believe. Thankfully, God's Spirit can help us discern what is prescriptive for us and what is descriptive for everyone. To know the difference is to be better equipped from falling into error and being misled while misleading others.
Article by Jack Wellman
Jack Wellman is Pastor of the Mulvane Brethren Church in Mulvane Kansas. Jack is also the Senior Writer at What Christians Want To Know whose mission is to equip, encourage, and energize Christians and to address questions about the believer's daily walk with God and the Bible. You can follow Jack on Google Plus or check out his book Teaching Children the Gospel available on Amazon.