Is U2 a Christian Band? What about the work Bono does? Is he doing the work of Christ for His sake?
Who is U2?
Most of us have heard of U2. This Irish rock band was formed in Dublin, Ireland in 1976 and includes Bono, Adam Clayton, the Edge, and Larry Mullen. There are some who believe that they are a Christian band or that the members (at least some) are Christian. Bono and Edge paint broad pictures of what their faith looks like, but is it true saving faith where repentance and faith are required, just as Jesus demands (Mark 1:15)? I have never read or heard a statement from Bono, Edge or the other band members where they have publically stated, "I am a Christian and I follow the risen Savior Jesus Christ and His teachings in the Word," and neither have any of the band members publically said that the Bible is the final authority on their life and that they are going to follow Jesus. True followers of Christ place their own life at the feet of Jesus and are His slaves, so where does this belief that U2 is a Christian band come from? Is this simply an "urban legend?" Can we assume that they believe because of what they do for others?
Is Doing Good Enough?
Since Bono has done much for others who are less fortunate, can we gather from this that Bono is a Christian? For sure, only God knows this, but there is a demonstration of faith that should validate whether someone's a true follower of Christ or not. Jesus did say "You will recognize them by their fruits. Are grapes gathered from thornbushes, or figs from thistles" (Matt 7:16), and He also said, "For whoever does the will of my Father in heaven is my brother and sister and mother" (Matt 12:50), so is Christian philanthropy proof of one's citizenship in the kingdom? Speaking of our works, the Bible states that "We have all become like one who is unclean, and all our righteous deeds are like a polluted garment. We all fade like a leaf, and our iniquities, like the wind, take us away" (Isaiah 64:6). Doing good to others is not how a person is saved, but a person that is saved will naturally do good works (Eph 2:10), but it is only "by grace you have been saved through faith. And this is not your own doing; it is the gift of God, not a result of works, so that no one may boast" (Eph 2:8-9).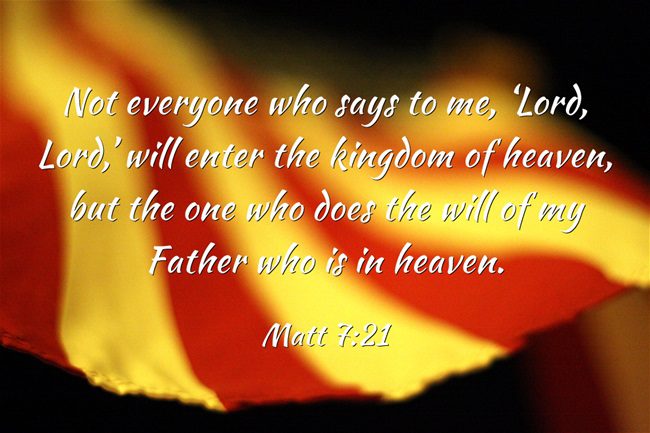 A New Creation
If we claim to know Christ, then we must have had a time in our life where we've repented and put our trust in Christ, and this trust in Christ will be followed by obedience to Him, as Jesus said, "You are my friends if you do what I command you" (John 15:14). This doesn't mean believers have perfect obedience or that a Christian is sinless, although we should sin less, day by day, as we grow in the grace and knowledge of God. The process of sanctification is a lifelong experience and believers should be able to look back at their lives a few months or a few years ago and see growth in holiness. The Apostle Paul tells us that we should be a different person since "if anyone is in Christ, he is a new creation. The old has passed away; behold, the new has come" (2nd Cor 5:17). This means that if a person who's been regenerated, they will have new desires and new passions for God; not the old passions and desires things in life where we were only concerned about pleasing our self. Instead, we should be striving to please God. A new creation in Christ should compel them to do new things for Christ.
Public Professions
For the Apostle Paul, it was easy to tell that he was a Christ-follower, because he stated publically that "I am not ashamed of the gospel, for it is the power of God for salvation to everyone who believes, to the Jew first and also to the Greek" (Rom 1:18) and as Christ Himself said, "whoever denies me before men, I also will deny before my Father who is in heaven" (Matt 10:33), but how do we deny Christ? It is by our silence, which is a sin of omission. To not publically speak (or write) to others about our faith is to publically deny Jesus, and that's a very serious issue to Him because He says, "For whoever is ashamed of me and of my words, of him will the Son of Man be ashamed when he comes in his glory and the glory of the Father and of the holy angels" (Luke 9:26). Paul said he wasn't ashamed of the gospel, but many who profess to be Christians privately do not do so publically. There should be no Christian that is ever a silent, underground one. That's incompatible with Christianity. Can a person be a follower of Christ and not ever express their faith publically? I don't see how that can be reconciled.
Conclusion
Jesus warns that many will come to Jesus on the day of His visitation (or second coming) and believe that they are going to enter the kingdom, but the Lord says, "Not everyone who says to me, 'Lord, Lord,' will enter the kingdom of heaven, but the one who does the will of my Father who is in heaven" (Matt 7:21). They will claim to have done good works for Christ (Matt 7:22), but tragically, Christ will tell this same "many," "I never knew you; depart from me, you workers of lawlessness" (Matt 7:23). Ultimately, God alone knows, but there should at least be some evidence. If there is no fruit, then there is likely no root. Jesus tells us, "I am the vine; you are the branches. If you remain in me and I in you, you will bear much fruit" (John 15:5) and like with any fruit, it must be visible in order to pick it, so "If you do not remain in me, you are like a branch that is thrown away and withers; such branches are picked up, thrown into the fire and burned" (John 15:6). We can't always see the root, but we should be able to see the fruit, and if there's no fruit, can there really be any root?
Article by Jack Wellman
Jack Wellman is Pastor of the Mulvane Brethren Church in Mulvane Kansas. Jack is also the Senior Writer at What Christians Want To Know whose mission is to equip, encourage, and energize Christians and to address questions about the believer's daily walk with God and the Bible. You can follow Jack on Google Plus or check out his book Teaching Children the Gospel available on Amazon.