Here are seven awesome nicknames for God.
Creator
God is actually called Creator and proclaims Himself as such. That is a bold statement indeed, but there is every reason why he proclaims Himself as such as it says in Genesis 1:1 "In the beginning, God created the heavens and the earth." There is a daily devotional that is written just for women called Daughters of the Creator, written by Crystal McDowell, which is written with the Christian woman in mind. In fact, God says of Himself "I am the Lord, your Holy One, the Creator of Israel, your King" (Isaiah 43:15). Solomon wrote, "Remember also your Creator in the days of your youth, before the evil days come and the years draw near of which you will say, "I have no pleasure in them" (Eccl 12:1). Isaiah asks, "Have you not known? Have you not heard? The Lord is the everlasting God, the Creator of the ends of the earth. He does not faint or grow weary; his understanding is unsearchable" (Isaiah 40:28), so even though the name of God as Creator is only found six times in Scripture, even once would be enough.
Maker
The Lord God is the Creator of heaven and earth, but more specifically He is called "our Maker" as is mentioned in the Book of Job 35:10 where it asks, "Can mortal man be in the right before God? Can a man be pure before his Maker" (4:17)? Of course the answer is no, because none are good…not even one of us (Rom 3:10-11). Job's associate, Elihu, answers this question about where our righteousness comes from by saying, "I will get my knowledge from afar and ascribe righteousness to my Maker" (Job 35:10). The psalmist extols God's greatness by writing, "Oh come, let us worship and bow down; let us kneel before the Lord, our Maker" (95:6), so his conclusion is, "Let Israel be glad in his Maker; let the children of Zion rejoice in their King" (Psalm 149:2).
Ancient of Days
When Daniel the Prophet was given a vision of the great God in on His throne, he must have been overwhelmed, as would all of us been, and he wrote of the Ancient of Days; "As I looked, thrones were placed, and the Ancient of Days took his seat; his clothing was white as snow, and the hair of his head like pure wool; his throne was fiery flames; its wheels were burning fire" (Dan 7:9). This fits the description of Jesus Christ after His resurrection in Matthew where he wrote that Jesus' "appearance was like lightning, and his clothing white as snow" (Matt 28:3), and just as Daniel did, so too "The guards were so afraid of him that they shook and became like dead men" (Matt 28:4). Micah also refers to Jesus when prophesying about His coming birth, writing "O Bethlehem Ephrathah, who are too little to be among the clans of Judah, from you shall come forth for me one who is to be ruler in Israel, whose coming forth is from of old, from ancient days" (Micah 5:2).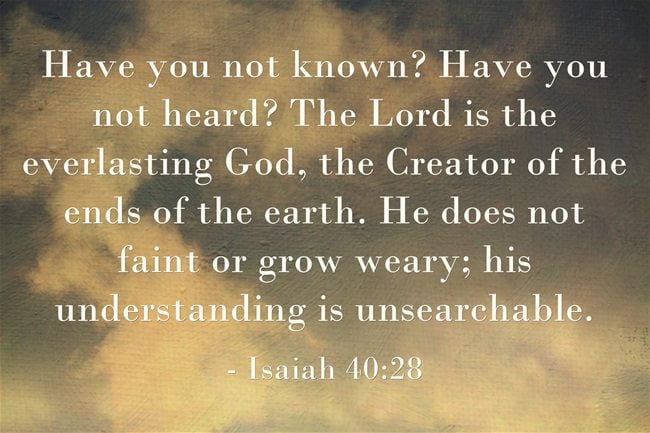 Everlasting Father
Since Jesus is clearly God, and God is the only One Who could be called "the Ancient of Days," Isaiah writes of the coming birth of the Messiah (Jesus Christ); "For to us a child is born, to us a son is given; and the government shall be upon his shoulder, and his name shall be called Wonderful Counselor, Mighty God, Everlasting Father, Prince of Peace" (Isaiah 9:6). Even though this is the only place in the Bible where Jesus is referred to as the "Everlasting Father," God has often been referred to elsewhere in the Old Testament as a Father (Jer 3:19), but dozens of times in the New Testament as well, and is what Jesus referred to as His own Father (Matt 6, 7, 10) at least over 100 times, but He is also our Father if we've trusted in Christ!
I AM
The name I AM is found nearly 2,000 times in the Bible, and Jesus referred to Himself as the "I AM" in the New Testament nearly. Jesus calls Himself I AM in the Gospel of John nearly 100 times, and over 25 times in the Book of Revelation. That's why the Jews sought to stone Him. They knew that this was the covenantal name of God as He revealed Himself in the Old Testament which was first given to Moses when God revealed Himself to Moses, saying "I AM who I AM." God told Moses to say to the children of Israel, "Say this to the people of Israel: 'I AM has sent me to you" (Ex 3:14), and Moses was instructed by God to "Say this to the people of Israel: 'The Lord, the God of your fathers, the God of Abraham, the God of Isaac, and the God of Jacob, has sent me to you.' This is my name forever, and thus I AM to be remembered throughout all generations'" (Ex 3:15).
Adonai
Adonai was the Hebrew name that the Israelites used when speaking of God and comes from the Hebrew (Adon), meaning "Lord, Lord, LORD, Master," or "Owner" and that is His title, as He holds the deed to the entire universe, so even though this name does not appear that often in the Bible, it is mentioned in 1st Kings 2:26 where it was written "And the king said to Abiathar the priest, Go to Anathoth, to thine own fields; for thou art worthy of death; but I will not at this time put thee to death, because thou didst bear the ark of Adonai Jehovah before David my father, and because thou hast been afflicted in all wherein my father was afflicted." The name Adonai also appears when God encounters Moses in Exodus where He tells him, "I appeared to Abraham, to Isaac, and to Jacob, as God Almighty (Adon in Hebrew or Adonai), but by my name the Lord I did not make myself known to them" (Ex 6:3).
Jehohvan-Jireh
Another name for God is Jehohvan-Jireh (or Yahweh-yireh) or "YHWH will provide" or "God will provide." This was a fitting name for God because when Abraham was instructed to sacrifice his son, Isaac. Isaac asked his father Abraham, "My father!" And he said, "Here I am, my son." He said, "Behold, the fire and the wood, but where is the lamb for a burnt offering" (Gen 22:7), and Abraham answered him by saying "God will provide (Yahweh-yireh) for himself the lamb for a burnt offering, my son" (Gen 22:8). Later, God would provide a lamb for a sacrifice, but this Lamb, being the Lamb of God, would be the ultimate sacrifice, without spot or blemish (Eph 5:27; 1st Pet 1:19).
Conclusion
God has many names and they are often associated with His attributes. There are dozens and dozens of names that God uses to reveal Himself and these have to do with, not only His attributes, but His character and His graciousness. The many names of God always reveal His glory, His omnipotence, His omniscience, and His omnipresence, but they also tell us a lot about Who God is.
Article by Jack Wellman
Jack Wellman is Pastor of the Mulvane Brethren Church in Mulvane Kansas. Jack is also the Senior Writer at What Christians Want To Know whose mission is to equip, encourage, and energize Christians and to address questions about the believer's daily walk with God and the Bible. You can follow Jack on Google Plus or check out his book Teaching Children the Gospel available on Amazon.