Is it true that Alice Cooper is a Christian? What does he say about this?
Who is a Christian?
Before we find out if Alice Cooper is a Christian or not, we need to find out exactly who a Christian is and how one becomes born again? When a person realizes, for the very first time, that they are a sinner and have the wrath of God abiding on them (John 3:36b) and unless they repent and trust in Christ, they will perish, they have received the Spirit of God, because it is spiritually discerned knowledge, and not self-revealed knowledge. The Apostle Paul said, "these things God has revealed to us through the Spirit. For the Spirit searches everything, even the depths of God. For who knows a person's thoughts except the spirit of that person, which is in him? So also no one comprehends the thoughts of God except the Spirit of God" (1st Cor 2:10-11), and "we have received not the spirit of the world, but the Spirit who is from God, that we might understand the things freely given us by God" (1st Cor 2:12). Only the Holy Spirit can bring conviction of sin, and in fact, tells the Spirit tells us what sin is (1 John 3:4), so until God brings us to repentance and they place their trust in Christ, they cannot claim to be a Christian. And from what the Bible teaches, it is just as Jesus told the Apostle Peter, "Blessed are you, Simon Bar-Jonah! For flesh and blood has not revealed this to you, but my Father who is in heaven" (Matt 16:17).
Professing Christ
The Scriptures say "if you confess with your mouth that Jesus is Lord and believe in your heart that God raised him from the dead, you will be saved" (Rom 10:9) because it is "with the heart one believes and is justified, and with the mouth one confesses and is saved" (Rom 10:10). Paul publically confessed his faith dozens of times as he said, "I am not ashamed of the gospel, for it is the power of God for salvation to everyone who believes, to the Jew first and also to the Greek" (Rom 1:16), but if someone claims to be a Christian secretly, they cannot prove that they have been born again because it is by our mouth that we confess it and acknowledge Jesus Christ as Lord and Savior. There are no such things as Christians who do not profess their faith publically. Jesus warned those who think they are saved but may not be because they've never publically proclaimed it, and said, "whoever denies me before men, I also will deny before my Father who is in heaven" (Matt 10:33) and "the one who denies me before men will be denied before the angels of God" (Luke 12:9), so there is no such thing as a Christian who never professes it before others.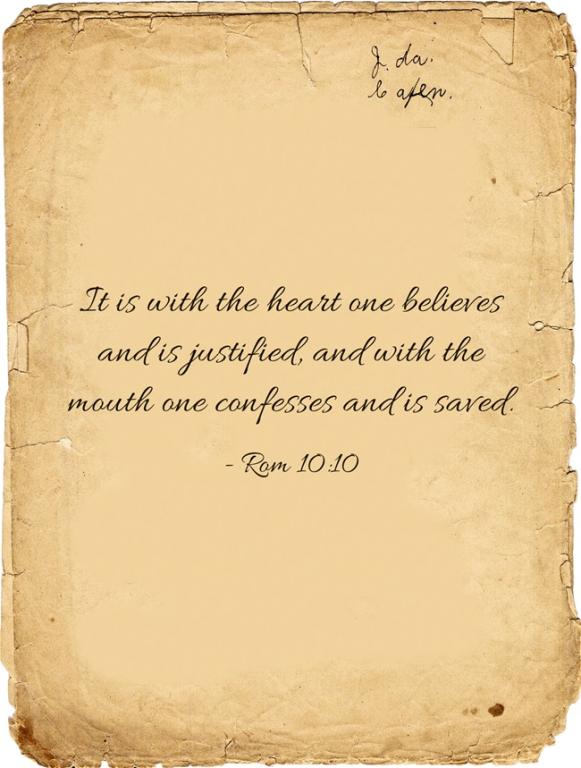 Is Alice Cooper a Christian?
Alice Cooper is one of the most well-known figures to have publically and openly professed Jesus Christ as his savior and unashamedly tells everyone. At one time, Cooper was a mega-rock star in the 1970's into the early 80's who was elected to the Rock and Roll Hall of Fame in 2011, and he's also appeared in several motion pictures, but today, he professes that he's been born again. In his youth, it sure didn't look that way, even though he was the son of a preacher, or a PK (Preacher's kids), because his father was a pastor for 25 years and his grandfather was also one for over 75 years, so undoubtedly, he heard the gospel time and time again, but it never occurred to him to finally put his trust in God until he tried to overcome his drug and alcohol addiction. It was killing him and he knew it, so for him, it was only when he returned to his Christian roots and trusted in Christ was finally saved. He would say, "Better late than never."
Cooper on Cooper
The knowledge that Alice Cooper trusted in God didn't come until very late in his life. An extension of the work Cooper did among young people was begun by Cooper's Solid Rock Foundation in 1995. He founded it so that kids would have a "safe place" to go in the hopes that they wouldn't follow his early path in life; a life littered with drugs and alcohol. You don't have to do much searching to discover his many quotes about his faith in God and that he isn't embarrassed at all to reveal it to others. He's reached a stage in his life where he knows what he believes and isn't going to hold back on his public profession of believing in God. More than once he has stated that he has dedicated his life to Jesus Christ, because it was by God's help that he was able to overcome his drug and alcohol addiction. He admits he couldn't have done this by himself. Today he speaks to others about Christ, including many of his closest friends, and even attends the Camelback Bible Church in Paradise Valley, Arizona and loves it. He describes it as a very strong, Bible-believing church, and that is a fruit of a Christian if ever there was one.
Conclusion
If I could sit down with Alice Cooper and ask him if I could quote him about his faith, he would not hesitate, just as he hasn't neglected to do so in dozens of other interviews. It's the public profession of faith that reveals to the world that a person is a believer. The fact is "that no one speaking in the Spirit of God ever says "Jesus is accursed!" and no one can say "Jesus is Lord" except in the Holy Spirit" (1st Cor 12:3), and it is "By this you know the Spirit of God: every spirit that confesses that Jesus Christ has come in the flesh is from God" (1st John 4:2), because "every spirit that does not confess Jesus is not from God" (1st John 4:3).
Article by Jack Wellman
Jack Wellman is Pastor of the Mulvane Brethren Church in Mulvane Kansas. Jack is also the Senior Writer at What Christians Want To Know whose mission is to equip, encourage, and energize Christians and to address questions about the believer's daily walk with God and the Bible. You can follow Jack on Google Plus or check out his book Teaching Children the Gospel available on Amazon.