What was the 1st century church like? Are there churches still like this one?
The First Century Church
You don't even have to go to the church historians or the writings of the early church fathers to know what the first century church was like. Of course, you are free to do that, but we can learn much about the church by reading the Book of Acts, more specifically, Acts 2:42-47 in this case. Three, you can see what the primitive church did. To begin with, the early church "devoted themselves to the apostles' teaching and the fellowship, to the breaking of bread and the prayers" (Acts 2:42), so they saw studying the apostle's doctrine as being of first import. What was "the apostles' teaching?" Surely, it was the very same things that Jesus taught them which were the same things that Jesus said they were to teach others, or as Jesus said, they are to be "teaching them to observe all that I have commanded you" (Matt 28:20). That is the apostles' doctrine. Next, notice that they continued in fellowship. The early church didn't live the Christian faith out in isolation. In fact, there are dozens of "one another's" in the New Testament, indicating that we were made for fellowship and relationship, but only if the apostle's doctrine was taught.
Prayer and Communion
Some believe the "breaking of bread" is simply eating together, but they might actually fall into the fellowship part. Our church has a "Fellowship Hall" where we eat meals together, have board meetings together, and members use it to have family birthday parties, wedding receptions, and several other purposes, so part of our fellowship is eating and meeting, so by the early church "breaking bread," it could well be that Luke is writing about Communion or the Lord's Supper. We know from Paul's writing that the early church participated in the Lord's Supper, so it wasn't an optional event. It was commanded by Jesus Himself, where Paul quotes Him; "Do this in remembrance of Me" (1st Cor 11:24). This sentence comes as an imperative command. Another key point is the church were people of prayer. Paul and Silas had been thrown into prison, and they "were praying and singing hymns to God, and the other prisoners were listening to them they prayed" (Acts 16:25), so prayer was a way of life. I find it interesting that the word "prison" is found 64 times in the New Testament, but nearly half of those (28) show up in the Book of Acts, and of course, they're related to those who preached the gospel. Even here, it brought much good because the Apostle Paul now had time to write the prison epistles while being incarcerated, not to mention, witnessing to the fellow prisoners, and a rotating guard.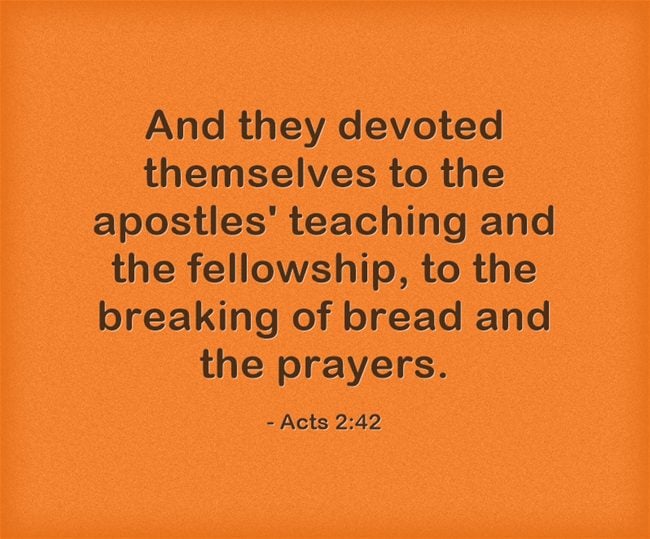 Persecution and Growth
I don't remember too many missionaries ever asking for the persecution to stop. They mainly asked for prayers so that people might be saved. That's what the early church did too. Their priority was to be used by God to save some. It's not personal comfort and safety that they worried about, or they wouldn't even be a missionary in the first place. We read in Acts 5:41-42 that the apostles "left the presence of the council, rejoicing that they were counted worthy to suffer dishonor for the name. And every day, in the temple and from house to house, they did not cease teaching and preaching that the Christ is Jesus." So not only didn't the beatings and suffering not stop their preaching, they increased all the more, "from house to house…not [ceasing from] teaching and preaching that the Christ is Jesus." During an especially intense period of persecution, Saul (later, Paul) and the Jews were making sweeps, looking for the Christians so that they could be imprisoned, beaten, or even stoned to death like Stephen was. And it says, "Saul approved of his execution. And there arose on that day a great persecution against the church in Jerusalem, and they were all scattered throughout the regions of Judea and Samaria, except the apostles" (Acts 8:1), but did it stop the church or slow down its growth? No, because "those who were scattered went about preaching the word" (Acts 8:4). Missionaries don't request prayers to be free from persecution because they know they are blessed by it (Matt 5:10-12; 1st Pet 4:12), and it also helps to spread the gospel (Acts 8:1-4).
Glad and Generous Hearts
I believe it is true; a joy shared is doubled, but a grief shared is halved. The early church clung to one another in fellowship, prayer, sharing, and the study of the apostles' doctrine, but they were also "attending the temple together and breaking bread in their homes, they received their food with glad and generous hearts" (Acts 2:46). Noticed that they had fellowship, regular Communion, prayer, sharing, and study, so they "had all things in common" (Acts 2:46). This shows a church that was unified in purpose and in teaching; a church that was unified in prayer and Communion; and a church unified in worshipping together and fellowshipping at home with one another. No wonder they had "glad and generous hearts." Here are the results of a Spirit-led church; they were "praising God and having favor with all the people" (Acts 2:47a), and "the Lord added to their number day by day those who were being saved" (Acts 2:47b).
Conclusion
Finding resources to grow a church is okay, but I can think of many of these methods I've looked at to grow churches and I can either burn a big pile of money or I can turn to the New Testament, and specifically the Book of Acts. That's where I have decided to study the primitive church, which "continued to meet together in the temple courts. They broke bread in their homes and ate together with glad and sincere hearts, praising God and enjoying the favor of all the people," and the best part, "the Lord added to their number daily those who were being saved" (Acts 2:46-47).
Article by Jack Wellman
Article by Jack Wellman
Jack Wellman is Pastor of the Mulvane Brethren Church in Mulvane Kansas. Jack is a writer at Christian Quotes and also the Senior Writer at What Christians Want To Know whose mission is to equip, encourage, and energize Christians and to address questions about the believer's daily walk with God and the Bible. You can follow Jack on Google Plus or check out his book Teaching Children the Gospel available on Amazon.