God says that He chastises every child of His but why and in what ways does God discipline His children?
Discipline and Love
You cannot separate discipline from love because a lack of discipline in one's own children or one's own life shows a lack of love for their children or for the Lord. Jesus said, "Whoever has my commandments and keeps them, he it is who loves me. And he who loves me will be loved by my Father, and I will love him and manifest myself to him" (John 14:21). I love my wife and desire to please her but I love the Lord even more and my love for Him motivates me to obey Him, so if God doesn't discipline me when I need it, it shows He doesn't love us. The most loving thing we can do is to discipline our children so that they will know we care about them and their future, so the opposite of love is not hate, it is indifference or apathy. Parents who raise children and allow them to live undisciplined lives may create an adult who has difficulty obeying authorities in society. Charles Spurgeon said "If we never have headaches through rebuking our children, we shall have plenty of heartaches when they grow up," and so will law enforcement.
The Lord Disciplines Those He Loves
The author of Hebrews writes "do not regard lightly the discipline of the Lord, nor be weary when reproved by him. For the Lord disciplines the one he loves, and chastises every son whom he receives" (Heb 12:5-6). If the Lord did not care for us, the Lord would not discipline us since "It is for discipline that you have to endure. God is treating you as sons. For what son is there whom his father does not discipline? If you are left without discipline, in which all have participated, then you are illegitimate children and not sons" (Heb 12:7-8), and since "we have had earthly fathers who disciplined us and we respected them. Shall we not much more be subject to the Father of spirits and live" (Heb 12:9). The Lord "disciplines us for our good, that we may share his holiness" (Heb 12:10). Discipline is not fun. In fact, at "the moment all discipline seems painful rather than pleasant, but later it yields the peaceful fruit of righteousness to those who have been trained by it" (Heb 12:11). That should be in the forefront of our minds when we are disciplined by the Lord. He means it for our good. Solomon adds, "My son, do not reject the discipline of the LORD Or loathe His reproof" (Prov 3:11), "For whom the LORD loves He reproves, Even as a father corrects the son in whom he delights" (Prov 3:12), so that should change our perspective on being disciplined by the Lord.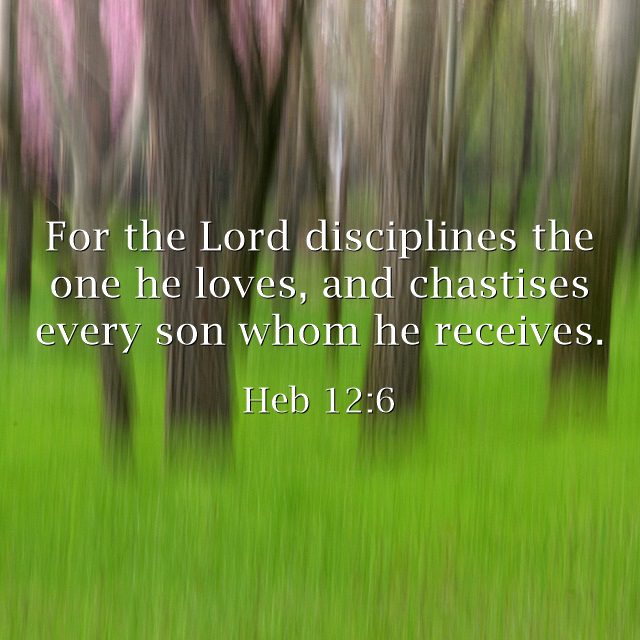 Through Illness
God kept Paul humble through his thorn in the flesh. God has humbled many men and women by allowing them to battle through illness, but the Lord might allow an illness or disease to bring us to an end of ourselves and put our trust in Him. When we cannot handle our trials, we should come to depend on God. When a believer is living in disobedience, and all other disciplines of the Lord are not working, God may allow illnesses as a way to draw us to Himself so that we might have utter dependence on Him, which is what He desires anyway.
Financial Difficulties
When we hit rock bottom in finances and have nowhere else to turn, we should turn to God. God wants us to rely on Him for our needs, and if we are seeking the kingdom first, He promises to supply every need (Matt 6:33), but if we're not putting Him first, this promise is null. When we see our finances dwindle we might (or at least should) start to examine our lives to see how good or bad of a steward of God's provisions we have been. If we are neglecting the Lord and His work, we are not pleasing God, however God is more interested in our hearts than our pocketbooks, but look at the Lord's discipline as a proof of His love for you.
Relationships
When a marital relationship or a relationship between parents and children are wrecked, we should run to the Lord and bow down in prayer and seek to find out what He is telling us in this. It could be that we are disconnected from a relationship, or a relationship is ruined and the Lord wants us to examine how we are treating the other person(s) but a ruined relationship might be a way that God bring us to the Himself and to seek His wisdom in restoring the relationship. Those we love the most are also those who can hurt us the most. The greatest risk is to love someone and risk being hurt, but to not take that risk can lead to an even greater hurt in living a life of isolation without personal relationships.
Conclusion
Does this mean that every bad thing that happens to us is the Lord's discipline? No, it might be the Lord's way of conforming us into the image of Christ. It could be we are reaping what we have sown. It may be due to persecution because of our faith in Christ. The believer knows that everything that happens to them is in the sovereign will of God and is working in us for our good (Gen 50:20; Rom 8:28). Being corrected or going through trials can be opportunities for growth. The Lord intends trials and tribulations to work for our good and not our hurt. Finally, perhaps God desires we examine ourselves and look at our lives and lifestyle. He is interested in eternity and not the present only. God sees into the future and that's why He disciplines His own children, for what loving father doesn't discipline his own children? God's discipline of us is proof that He loves us because discipline = love, whereas no discipline shows a lack of love, care, concern, and compassion.
Article by Jack Wellman
Jack Wellman is Pastor of the Mulvane Brethren Church in Mulvane Kansas. Jack is host of Spiritual Fitness and also the Senior Writer at What Christians Want To Know whose mission is to equip, encourage, and energize Christians and to address questions about the believer's daily walk with God and the Bible. You can follow Jack on Google Plus or check out his book Teaching Children the Gospel available on Amazon.