What can you do to help the homeless or should you do anything at all? Here are some gift ideas for the homeless if you choose to help someone.
Growing Homelessness
There are probably not very many of us who know someone who is homeless, and most people wouldn't go out of their way to meet them, but the numbers of homeless people is growing today. Growing numbers of homeless people come from growing rents which are pushing people living on the margins into homelessness. I was able to break the cycle of dysfunction in my family and smash the cycle of poverty. But I had a little help. Some homelessness if caused by job loss or a serious illness that puts the person or family in financial ruin. And of course, alcoholism and drug abuse cause many to lose everything, including their families. The number of reasons for people becoming homeless is almost as diverse as the stories themselves. The number of homeless people, estimated by the U.S. Department of Housing and Urban Development back in 1996, which was the last serious attempt to count them, was almost 900,000. Today, conservative estimates are that well over one million people are homeless in the United States and as many as 42% of these may be children! That makes it even worse.
Gifts for the Homeless
I have created a list of gift items that are best suited to give to those who are homeless and usually, hopeless. I solicited churches that helped the homeless. I talked with ministries, Case Managers, the SRS, and I ask them if they can think of something else that I can add to this list, so if you can think of something else, please comment and leave us your suggestion. There is likely something I missed. This is from my own experience so maybe there is something that you might think of that I didn't.
So here is my list. Please add to it if you can think of something. And perhaps I can inspire you to give some hope to the hopeless and homeless…even if it's your time. Random acts of kindness hold their own reward. From my own personal experience and talking with many people who work with the homeless, cash is not recommended, so here are a few suggestions.
A pillow
A sleeping bag
Blankets
A crank up radio, flashlight and emergency weather radio
A Backpack
Socks
An electric razor
A baseball hat/cap and a stocking cap
Cotton gloves
Sunglasses
Hand crank can opener
Phone card
A hand-crank flashlight
Spray water bottle
Portable radio with batteries
Reading glasses
Movie tickets
Scented deodorant
Variety store gift card
Plastic cup with sealable lid
Raincoat
Food or grocery store gift card
Books (including children's books)
A Bible
Paper, envelopes, pens and stamps
Sandwiches
A lighted magnifier (for reading at night and since many may need glasses but can't afford them)
Reading glasses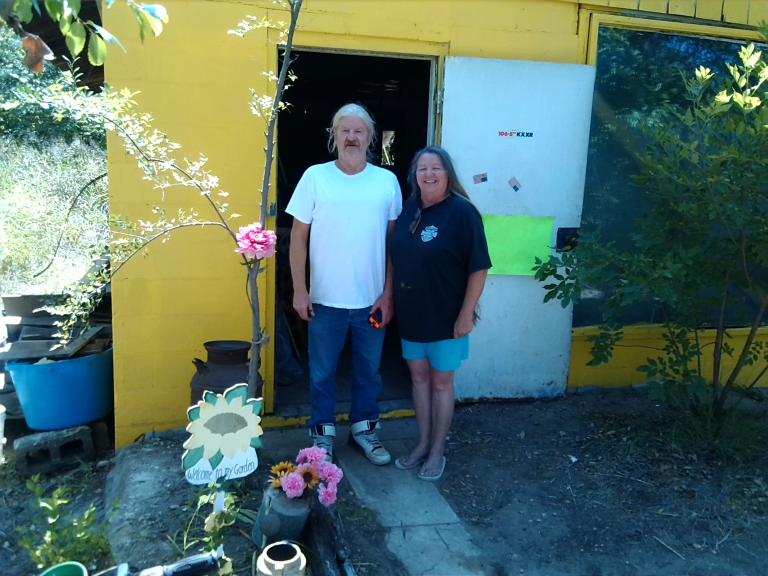 Who Are They?
There are only two churches in our town which helps the homeless with things like these I mentioned above; the church just north of us and our church, as we can afford to. Yes, some people are homeless by choice and choose not to work, but not all homeless people are homeless by their own choice. Many are veterans and the elderly. Some are single mothers living in their cars. Others are under a bridge somewhere just trying to survive. It's unfair to assume that everyone who is homeless deserved to be and it is only by the grace of God that many of us are not in the same situation, so what can we do. How can one person make a difference? How can any one person help so many? The answer is, you can only help one person or family at a time. At least that it is something. There are some who break free of the cycle of homelessness, and who in turn, try to help others do the same thing because they understand their situation. They can relate better than most of us can. It is a wonderful thing to break the cycle of homelessness and poverty and it perhaps the most powerful way we can pay it forward.  Who are the poor?  People just like us.
God's Care for the Poor
The Bible says a lot about the poor. Jesus said the poor will always be with us (Matt 26:11), which is much the same as recorded in the Old Testament, where it says, "there will be no poor among you; for the Lord will bless you in the land that the Lord your God is giving you for an inheritance to possess" (Deut 15:4), so even though the poor will always be with us, God says, "You shall open wide your hand to your brother, to the needy and to the poor, in your land" (Deut 15:11). Undoubtedly, the rich have frequently exploited the poor, which is contrary to the civil law, "You shall not oppress a hired worker who is poor and needy, whether he is one of your brothers or one of the sojourners who are in your land within your towns" (Deut 24:14), so it is a sin to withhold a worker's fair wages (Deut 24:15). Sadly, the homeless and poor will always be around until Christ establishes His kingdom, when all suffering will end (Rev 21:4), so we must realize that it's part of our fallen world, but just because they will always be with us doesn't mean we don't ever help them. Incidentally, some of the happiest people on the planet are those who don't have much, so we know that things or possessions don't bring happiness.
Conclusion
We see so many needs in this world that it feels overwhelming, and we feel that there's nothing we can do. There are so many who have needs around today that we might feel there isn't anything we can do about it, but because we can't solve everything doesn't mean we can't at least do something. It's true we can't help them all, but it does not mean we can't help some. One person can make a difference, even if they touch one person's life for good. Whatever you do for the least of these, Jesus says, you have done it to Him (Matt 25:40). Don't ever think that by only helping one person you won't make much of a difference; it makes a great deal of difference to that one person.
Article by Jack Wellman
Jack Wellman is Pastor of the Mulvane Brethren Church in Mulvane Kansas. Jack is host of Spiritual Fitness and also the Senior Writer at What Christians Want To Know whose mission is to equip, encourage, and energize Christians and to address questions about the believer's daily walk with God and the Bible. You can follow Jack on Google Plus or check out his book Teaching Children the Gospel available on Amazon.