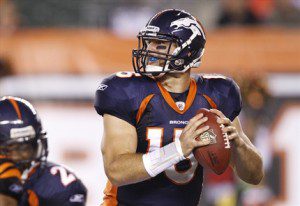 You don't have to be from Colorado these days to hear about the so-called "Tebow Mystique." An adoration for the new Denver Broncos quarterback that borders on hero-worship or even idolatry, the praise he is enjoying is, in itself, newsworthy. And yes, though the winning streak led by Tebow has been buttressed by a generally fierce defense, a capable offensive line and pitch-perfect special teams rallies, he's the one on whom all eyes rest when we reach the latter ends of the fourth quarter, inevitably behind but nonetheless hopeful that he'll pull another trick out of his hat during "Tebow Time."
My family likes to give me a little bit of a hard time because I'm hesitant to jump on the Tebow Bandwagon. Yes, he's talented, and exciting to watch to the point of evoking waves of anxiety. But I'm still unconvinced that his unorthodox approach to leading an NFL team is the formula required for an Elway-like championship run.
But right now, none of that really matters.
"There's something about Tebow that trumps and objective assessment," says Costas in a recent analysis. And during Sunday Night Football's December 11th broadcast, he built on this sentiment:
Whatever Tebow may lack in classic NFL quarterbacking traits, he possesses other qualities in abundance. And in his case, those qualities — confidence, equanimity, optimism — and a presence that can't be explained, but can certainly be felt. The whole Tebow persona derives from how he sees the world, and his place in it. Those qualities, no matter how one comes by them, are an asset, perhaps especially in sports.

Good for Tebow, and those who share his beliefs. And those who don't can still acknowledge, and appreciate, that who Tim Tebow is, is not only genuine, but for the moment at least, it makes him and the Broncos, one of the most fascinating, and in whatever sense you interpret it, uplifting stories in sports.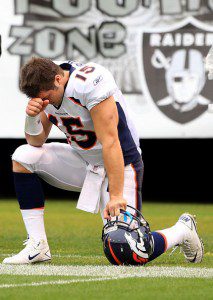 I may not appreciate his public demonstrations of prayer, and he certainly didn't win any points with me when he appeared on a
Focus on the Family ad
during last year's Super Bowl. But in so much as he fulfills the roles of galvanizing a team and inspiring the public, there's no one in the game right now that's better at what he does.
At the least, sports are a diversion, a distraction from whatever preoccupations plague us during the other hours in our week. At their best, they offer a glimpse of greatness, of someone (or a team of someones) transcending typical humanity, if even for a moment. But as Costas points out, even the spiritual skeptic can find something to like in Tim Tebow.
Even when we lack to conviction to believe ourselves, there's a strange magnetism around someone whose own faith is so central to their success. Though Tebow readily admits he doesn't believe God plays a hand in the streak of wins, his faith arguably does. Even those on his own team who may not share his beliefs benefit from his centeredness, his confidence and tireless positivity in the face of adversity. It is, in so many ways, the archetypal American Dream in its most unvarnished form.
Though I'm not ready to make any predictions about the Denver Broncos' prospects beyond their most recent win, I'll be among the millions who tune in next week to see what Tebow does next. Though we, the viewing public, enjoy a tragic fall from grace as much as a meteoric rise, it's nice in this time of year, when people of faith focus on the hope of that which is possible, to imagine that Tebow's ascent won't stop until he's raising the Lombardi trophy high above the heads of his adoring teammates.