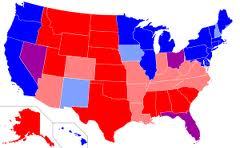 I've watched with some fascination as the projected electoral map takes shape, with great swaths of red across the heart of the nation, with blue surrounding on the left and right perimeters. There are a few exceptions, but for the most part, we're a polarized nation, at least according to the maps the media present.
Day by day, new states are colored in one way or the other as the predictions become more grounded in real-time data. As less is left to speculation, more attention is afforded to those areas still up for speculation, like Ohio. For some, the entire 18-plus-month presidential drama that is the election cycle will come down to the handful of undecided voters who will tip the scales in this one midwest state.
Is this right?
It got me thinking further about the entire "representative democracy" we generally hold up as superior to all others. But to paint any one state as monolithically red or blue is, of course, a gross exaggeration. It simply means that at least fifty percent plus one of that population voted the same way. The rest? Well, better luck next time, but you get nothing.
This also is why we're left with largely a two-party system, with minor parties relegated to the fringes, hoping to grasp enough public attention to sway one of the two larger parties. But the notion of a Libertarian or Green candidate occupying the Oval Office is fairly comical.
It causes me to wonder if there's not a better way to go about this whole democracy thing. As some contributors of our book, "Split Ticket," on faith and politics posited, it could be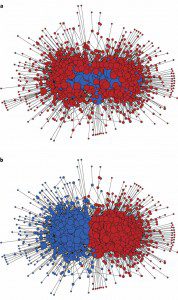 argued that voting in our present democratic system is actually an act of violence. Not violence in the typical blood-and-gore sense so much, but our democracy serves to silence the voice of nearly half the population, rendering their vote impotent if they can't secure a majority.
But what about local elections? Yes, we're dealing with smaller numbers and, in some cases, party affiliations and ideologies that might not capture the imagination of the international stage. But still, the minority gets nothing, while those in the majority take it all. Violence is violence, no matter the scale.
So what's the solution? I wonder about parliamentary systems like those emerging in the Middle East. In those, there may be half a dozen political voices represented, each proportionate to the amount of the vote they secured. Does it make for some controlled chaos and intense friction in the legislative process? I'm sure it does, but can anyone really point to our present system and suggest it's faring much better? It seems to me we're at least as paralyzed with only two parties in charge.
I know there's plenty at play when it comes to our cultural divide in the West. Our custom-built news and media environments allow us to surround ourselves with information that props up our existing ideals and biases, while largely ignoring opposing viewpoints. The politics of character assassination, while decried by all, still proves effective in nearly every case, and therefore, even those who speak of negative campaigning with contempt continue to employ it for their own personal gain.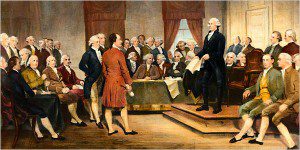 And on and on it goes. But I can't help but wonder if part of the visceral bitterness at the heart of our cultural discourse comes from an environment in which people don't actually feel heard and duly represented. After all, if you put me in a room with a bunch of big muscly guys who say I only get to participate if I can beat them at arm wrestling, I'm likely to complain that the system is inherently stacked against me. In fact, so are all the big, muscly guys hwo happen to lose in their respective sparring matches. It's only those who win that are content, at least for now with the present system. And ironically, they are the only ones with the power to change how it all works.
Can it ever change? Is it possible that ours might evolve into a more truly representative, more plural democracy? Anything is possible, I suppose, but the prospects for such change that requires those in power to accede a significant amount of their own authority depends on a kind of vision and altruism that I'd argue we haven't seen in American politics since the days when it was just being conceived.