Lots of people like movies; Gareth Higgins loves movies. But the founding director of the Wild Goose Festival and long-time peace activist engages popular culture with a different eye than most of us. And he's used that keen eye for deeper meaning to create his latest book.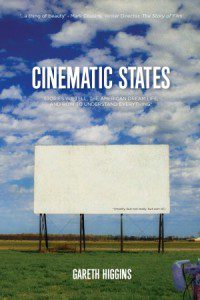 I asked Gareth about his new book on American film, his peace work, and what it's like considering American culture both as an insider and as a non-native. Here's what he had to say.
You just published a new book with Burnside Books called Cinematic States: Stories We Tell, the American Dream Life and How to Understand Everything that explores fifty films that help define something about that state. How does that help us understand everything?
In my experience, cinema is the art form that is most like dreaming, so to understand the U.S., we should pay attention to America's dreams of itself.
I took one movie (or more) from each state and tried to write about what I saw: how U.S. artists have understood the place that they're from — not just what The Wizard of Oz says about Kansas and Gone with the Wind about Georgia, but Fight Club and Delaware, and A River Runs Through It about Montana. Along the way it became clear to me what many already know: there are many U.S. Americas, and that the gifts of this enormous — and enormously misunderstood — land are often ignored in favor of superficial, flag-waving (and intimidating) patriotism on the right, or slightly embarrassed denial on the left.
This is an exclusive interview I did for Sojourners. To read the full interview, CLICK HERE.