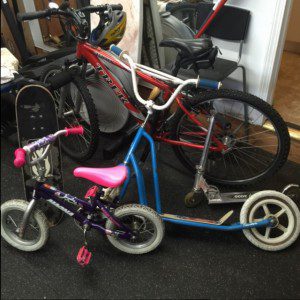 "Woah," Mattias' eyes bulged when he walked in and saw the red mountain bike, sitting in the hallway of our house. Is that for me?"
"No buddy, we're giving this away."
"But why?"
"To help feed 5,000 people."
He looked at me for a minute, trying to figure out if I was serious. "You're going to feed five thousand people," he said warily, "with a bike."
"Not exactly," I said. We trade this for something more valuable to someone else. Then we take that thing and trade it, and so on, until we have something valuable enough to buy food for 5,000 people."
"You mean like a car?"
"Could be," I said.
"Or a house?" He asked.
"Maybe," I said, "but that wouldn't be much of a house."
"Could be a big diamond ring."
"Honestly," I said, "I don't care what it is, because we're not going to keep it. We just need to have it to sell, so we can raise the money for food."
"That's pretty cool," he smiled, and went back to playing in his room. I went out to the garage to take a picture of the bike my friend had just dropped off. In addition to the bike he traded to me for six of my books, he threw in a helmet, some blinky safety lights and even a groovy bell.
"Hey dad," Mattias peeked around the corner, "can I help?"
"I don't know. What do you have in mind?" He brought his skateboard out from around the corner and set it next to the bike.
"I don't really use this anymore," he said, "plus I have another one anyway. Do you think it might help?"
"Can't hurt," I said. He ran back into the shed behind the garage, emerging with an old Razor scooter and a rubber-tired "bike scooter."
"You should put these in with it too," he said. "I mostly ride my bike everywhere anyway." I stacked the vehicles together, trying to get them into frame, when a smaller voice came form inside.
"Daddy," said Zoe, my five-year-old daughter, "can I do something too?" We found her old pink bike, recently retired since she graduated to a big girl Barbie bike.
"Do you think it's enough to feed five thousand people now?" she asked, her oversized eyes unblinking and sparking.
"Not quite, little one. But it's a heck of a start."
So now the pot is sweetened. I present to you the following transportation package bonanza, simply waiting for a bigger, better offer to come and grace your family with untold mobile delights:
A Trek Mountain Bike
A Bart Simpson Skateboard
A Razor Scooter
a Taryn "bike scooter" and
A Magna Junior Popstar mini bike
First, best offer takes them home. Let's get trading kids.