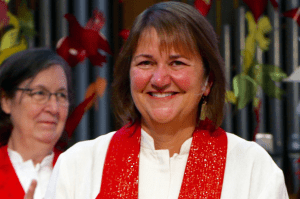 Some people choose to break ground in their careers; others feel called to a ministry that will result in a reckoning of God's calling with the cultural resistance on all sides. Bishop Karen Oliveto is an inspiration in who she is and what she does, and we spent some time with her learning how she went from being a young girl in the United Methodist Church to one of the most compelling religious figures in the current American religious landscape.
Amy and Christian also process parental feelings after the Manchester bombing, then unpack some loaded church phrases and how to navigate therm in mixed ideological company. Amy drops some big names of folks she spent quality time with this week and Christian gets scolded for his reaction to perhaps her most bizarre (Christian says funny) fear of the week.
Amy gets street with her recommendation and we drop some exciting, fresh news about an exciting special cohost joining us for three shows in June!
Headed to Wild Goose? Join us for a LIVE recording of the show from the main stage that Saturday. Details to come.
Listen to the Episode HERE
Subscribe to the Podcast HERE
Become a CultureCast Patron HERE
Join us on Facebook HERE