Christopher Closeup Podcast – Guest: Kathy DiFiore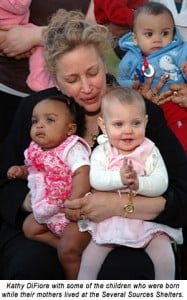 In 1981, Kathy DiFiore reached a defining moment in her life.  The NYU graduate with an MBA and a successful career as a Wall Street executive was feeling spiritually unfulfilled.  Raised in a Catholic family, Kathy was especially influenced by her grandmother who always taught her to keep Jesus at the center of her life.
One day, Kathy asked for God's guidance while praying the prayer of St. Francis of Assisi ("Lord, make me an instrument of your peace…"). She felt inspired to learn more about the saint's life, and discovered that he took Jesus's words and the call to live them out very seriously – feed the hungry, give drink to the thirsty, shelter the homeless. As Kathy recalled to me on Christopher Closeup, "It motivated me to do something unique."
With a heart for the unborn – and an awareness that many families would throw their daughter out of the house when they discovered she was pregnant, Kathy decided to offer her New Jersey home as a shelter for a pregnant teenager. After taking in that first girl, Kathy believed she had found the right mission. She put an ad in the local newspaper with her phone number and the message, "Pregnant? Need help?"   Sure enough, she got numerous calls and welcomed more young women over the next several years, helping to care for them materially, emotionally and spiritually. She credits the growth of the project to a higher power than herself, saying, "I guess it's something God wanted to happen…The next thing I knew, people at work and my family were stepping forward [to help] because – who doesn't like babies?"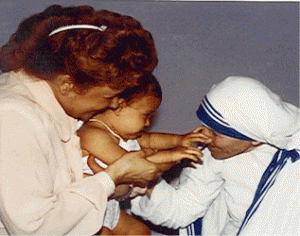 In 1984, her mission hit a speed-bump when the state of New Jersey fined her $10,000 for running an illegal boarding house.  Kathy tried to show the government that she was running a shelter, not a boarding house. At first, it looked like they might pass a bill that would exempt her from the rooming and boarding-house laws. Then, Governor Tom Kean said he would veto the legislation because most people don't have the kind of heart that Kathy does.  Kathy explained to me what happened next: "I said my morning prayers, and in my prayers I heard a voice that said 'Contact Mother Teresa.' I did. I knew someone who worked at her soup kitchen and he put me in touch with her. She said that she would help me…Eventually, she and the Governor got into a head-to-head…and [Mother Teresa] won out." Thankfully, Gov. Kean also became one of Kathy's supporters.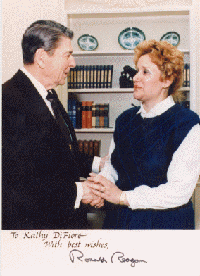 In the ensuing years, Kathy's personal project grew to become the non-profit, Several Sources Shelters.  They own and run five New Jersey facilities that have saved thousands of babies while sheltering young mothers, and providing them with education, ongoing support and guidance on making healthy life choices like chastity.
In addition to Several Sources Shelters, Kathy also founded a national pro-life website,
LifeCall.org
. It lists contact information (phone, email, web address) for shelters and crisis pregnancy centers in every state in the U.S. and offers a toll-free number of its own: 1-800-NO-ABORT (662-2678). Kathy declares, "Let's become an army of baby-savers and promote this website."
One example of how LifeCall.org is saving lives comes from this past Christmas. An 18-year-old girl's mother threw her out of the house when she discovered she was pregnant. Forced to sleep on a park bench on a frigid December night, the teen went to the guidance counselor at a local high school the next day and asked if she could use his computer to look for help. Kathy says, "She found [us] through LifeCall.org. It was an hour-and-a-half drive for us [to pick her up]. Now she's living with us and her baby is due in the spring…Once that baby is born, her family's going to want her back. There's nothing like a baby to heal the wounds."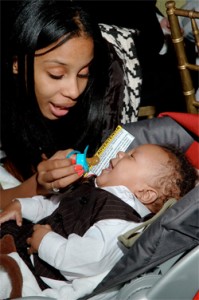 One of the things that Kathy has learned over the past 30 years of pro-life work is how to counsel girls who are considering abortion. It's advice that anyone can follow. She says, "I always feel the best way to resolve the conflict is spiritual. God tells us…that His laws are written on our hearts. So I always say, 'You know in your heart God doesn't want you to [have the abortion]. If you're reaching out to us, you're reaching out for a reason. And there are people who will help you. Not just me. I love you and want you to have your baby. But there are [also] tens of thousands of people out there that will help you. God has brought you to us for a reason, and now He's going to bring even more people to you and surround you with His holy angels so that you can have your precious baby.'"
RELATED: Read about the movie "Gimme Shelter," which was inspired by Kathy DiFiore's work.
To listen to my full interview with Kathy DiFiore, click the podcast link: Christopher Closeup Podcast – Guest: Kathy DiFiore