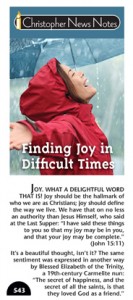 Here's an excerpt from our latest Christopher News Note, "Finding Joy in Difficult Times:"
Joy. What a delightful word that is! Joy should be the hallmark of who we are as Christians; joy should define the way we live. We have that on no less an authority than Jesus Himself, who said at the Last Supper: "I have told you all these things that my joy may be in you, and your joy may be full." (John 15:11)
It's a beautiful thought, isn't it? The same sentiment was expressed in another way by Blessed Elizabeth of the Trinity, a 19th-century Carmelite nun: "The secret of happiness, and the secret of all the saints, is that they loved God as a friend."
It all sounds simple enough, and reasonable enough, until you remember that every one of us is saddled with something called the human condition, and our all-too-human emotions–doubt, suffering, anger, fear–can get into the way of the joy that can be ours.
Facing Doubt
We all need to know that God is a faithful friend, especially in difficult times. People who don't know about divine love often ask, "Where was God when I needed him?" Those who know him as a friend are more inclined to trust Him in all circumstances.
But there are times when even people with strong faith falter in the face of tragedy. And tragedy is the word to describe the powerful tsunami that struck Southeast Asia in December of 2004, taking the lives of nearly a quarter-million people. Close to a million were left homeless. The hopelessness and despair of the tsunami's aftermath shook the faith of nearly everyone, including a local Roman Catholic bishop named Joseph K. Swampillia of Sri Lanka. "This disaster has shaken my faith," he told The Wall Street Journal, "and yet I know it was faith that saved us."
A shaken faith is not a shattered faith. Pain is pain, and each individual has to deal with suffering in his or her own way. But those who have God as a friend draw strength from Him, and manage to carry on with courage.
To read the rest, send your name, address and request for a free copy of "Finding Joy in Difficult Times" to mail@christophers.org