"In a sense, Teresa of Avila was a party girl."
That may not be the common perception of the beloved saint, but it's a personality trait that intrigued author and EWTN host Colleen Carroll Campbell, who was a Catholic college student hungry for a deeper relationship with God when she first started exploring Teresa's life.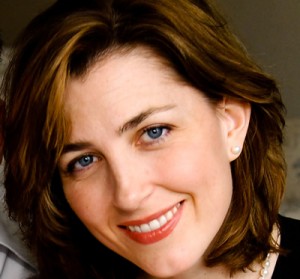 Raised by devoutly Catholic parents, Colleen was a junior at Marquette University who found herself legalistically following the Church's big rules – going to Mass on Sundays, not having sex before marriage – while the secular forces around her led her to compartmentalize her faith, keeping it separate from her daily life and frequent partying.
While discussing her deeply personal and moving new spiritual memoir "My Sisters the Saints" on Christopher Closeup, Colleen explained to me that her choices left her feeling empty and miserable. She started asking questions like, "How do I find freedom and yet maintain my faith? How do I find lasting love? What does it mean to be a success in the world?"
At first, Colleen hoped to find answers by taking a class in feminist philosophy. She said, "The ideals of the early feminists – and even the early modern feminists – were very appealing: a woman's inherent equality and dignity, defending her right to have a voice in public life as well as private life. Most of the early feminists were staunchly pro-life because they saw abortion as an affront to a woman's dignity… I became disillusioned as we got into the second-wave of modern feminists who seemed obsessed with many of the same materialistic concerns that they complained about in men: who's got the power, the status, the money, the sexual freedom? I felt stifled by their worldview. I was longing for something transcendent, that gave me room to breathe and delve into my deepest desires – not just figure out who was to blame for my unhappiness, but actually figure out how to solve it."
Then it happened. During Christmas break at home, Colleen felt bored and finally picked up the biography of St. Teresa of Avila that her father had been recommending for years. She discovered that a long-dead saint could provide answers to her modern problems.
Teresa, Colleen noted, was an attractive, flirtatious social butterfly with a vivacious personality. After an adolescent illness, she wound up in a Carmelite convent where she engaged in a decades long tug-of-war between her love of God and love of the world. When she finally confronted the superficiality and shallowness inside herself, she abandoned her worldly desires to focus fully on God. Teresa founded the Discalced Carmelites, reformed numerous convents, and took on authority "in a spirit of obedience to Church teaching." She is now a Doctor of the Church.
So what drew Colleen to her? "Teresa directed all of her passion, vitality and joy toward God and His purposes…When I saw that a woman could be feminine and faithful, yet free and bold, I was inspired."
Part of the reason Colleen believes that more modern people don't turn to the saints for help is that they often interpret obedience to the Church as weakness. People "might figure saints were canonized because they were just do-gooders who took orders well. But if you look at the canon of saints, often they had some serious challenges – even women like Teresa of Avila who, within the Church, met with forces of resistance to her reforms…There's an assumption that a lot of Catholic women who are liberated and have a sense of themselves couldn't possibly hold to the Church's teachings on controversial issues. I found that only after trying out all the secular alternatives, the truly counter-cultural wisdom to be found today is in the lives of the saints."
As Colleen soon discovered, making the conscious choice to follow God and grow closer to Him doesn't mean your life is going to get easy. In fact, it seemed to get worse because that's when her father got diagnosed with Alzheimer's disease. Thankfully, Colleen found another "sister" in St. Therese of Lisieux.
Colleen said, "I had seen Therese's holy cards with her sweet little face, and I thought she looked like somebody who had never been through anything in her life and couldn't relate to my struggles. Then I learned that her father had struggled with dementia. He had a series of paralytic strokes that led to six years of hallucinations, slurred speech, memory lapses…She was very close to her father, so this was agonizing for her…What interested me about Therese was the way she saw grace at work in her father, even in the midst of his trial – the way that she saw him conforming himself to the image of Christ precisely through his suffering. That allowed me to look at my own father in a new way."
In reading through her father's personal notes about the saints based on books he'd read, Colleen found him always returning to the idea that "everyone loves Jesus when He's sweetness and light. But when you're asked to carry a cross with Jesus, that's when you find out where your faith really is." Throughout her father's gradual decline, she witnessed the continued presence of the faith, hope and joy he'd exhibited throughout his life. She saw it in her own relationship with him, but also in comments from friends, caregivers and even strangers with whom he interacted. They would tell her that his words of kindness made a difference in their lives.
Though Colleen had been vaguely pro-choice in college, her experience with her father made her passionately pro-life. She explained, "It helped me understand how we don't know the human person when we judge by the exterior. Whether it's the size of the person, the age of the person, even the cognitive abilities of the person, we're not judging by God's standards. In fact, we may be overlooking great gifts in the very people that we think shouldn't even be here taking up space. I have a feeling that in heaven, we're going to find that those are the people who were the greatest jewels in God's eyes…All these places we think there's only despair and decay – places like nursing homes – they may actually be places where there is abundant grace waiting for us to recognize it."
One of the bright spots during her father's illness came when Colleen met John Campbell while she was researching her first book, "The New Faithful: Why Young Adults Are Embracing Christian Orthodoxy." The two fell in love and wanted to get married when Colleen was offered a job as a speechwriter in the White House. John was in medical school in St. Louis, while Colleen moved to Washington D.C. for the job. After living 800 miles apart for several months, she wondered if she was making the right decision putting her professional desires ahead of her personal fulfillment.
Colleen discovered that there's no one-size-fits-all approach to finding the right work-life balance in a relationship. She said, "That forced me to confront my own fears about what it means to truly commit to someone, even if it were to come at a cost. And what does it mean to actually be free? There's so much emphasis on woman's liberation, but what does that actually mean? I thought I was very free in college, but looking back it was probably the least free time of my entire life. The more I've been able to grow in my faith…and been able to commit, even sometimes at a cost, that's where I found the freedom."
As her faith grew, one of Colleen's commitments was to follow Church teaching even when it was difficult. In no area was that harder than when she and John discovered they might never be able to have biological children. In light of the Church's opposition to IVF, Colleen said, "You can understand something intellectually, but to actually face the possibility of not having one of your biggest desires in life fulfilled because you're going to stand with your Church on a teaching that's widely ignored, that's a tough thing. Any compassion I show begins with my own understanding of how painful that decision is – and how difficult infertility in general is."
It was during that already-painful time that Colleen's father passed away. This devastating blow gave her a new perspective on how Christians should react to grief – and why Jesus Himself wept when he heard that His friend Lazarus had died. She explained, "My sense was that Jesus weeps because death is an atrocity. We tend to gloss over this because, as Christians, we're supposed to focus on the Resurrection – and that's right…But just because God can bring greater good out of it doesn't mean it's not a horror. We don't have to do this stiff upper lip like, 'It's all God's will so I don't mind at all.' I think that's not real. God is truth and God connects with us when we're being real and honest, even when that honesty leads us to tell Him, 'I'm struggling here and I'm a little angry so I don't know why You're allowing this.'…The genius of the women saints is that they were very real with Jesus about how they felt. That's where they found their peace in Him, that real relationship with real intimacy."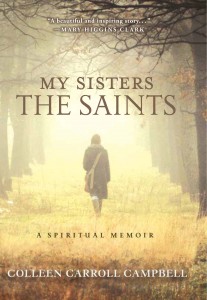 Colleen's ultimate hope for anyone who reads "My Sisters the Saints" is that they relate both to her own struggles and joys along with those of her saintly sisters. She said, "Everyone's journey is different; everyone's trials and joys are different. But at the end of the day, God is in pursuit of each one of us. He's writing a love story in each one of our lives. I shared my story simply because there was no other way to convey these truths than to tell a story. As Flannery O'Connor always said: if you can't explain it by argument, sometimes you just have to tell the story."
(THE WINNERS OF OUR BLOG CONTEST FOR A FREE COPY OF "MY SISTERS THE SAINTS" ARE CRYSTAL HEBELER, MONICA NEUMAN, JOEL WHITAKER AND MELANIE.)
To listen to my full two-part interview with Colleen Carroll Campbell, click the podcast links below:
1. Christopher Closeup Podcast – Guest: Part 1 with Colleen Carroll Campbell
2. Christopher Closeup Podcast – Guest: Part 2 with Colleen Carroll Campbell