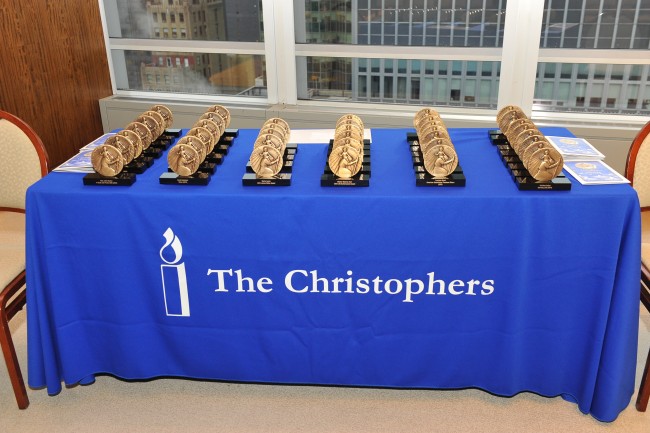 FAMILY TIES AND OVERCOMING ADVERSITY A COMMON THREAD IN 68TH ANNUAL CHRISTOPHER AWARD WINNERS
Creators of films, TV programs and books to be honored on May 16th

NEW YORK, March 28, 2017 — The Academy Award-nominated films Hidden Figures and Hacksaw Ridge, along with the pilot episode of NBC's blockbuster series This is Us, are among the 22 winning feature films, TV/Cable programs, and books for adults and young people that will be honored at the 68th annual Christopher Awards, to be presented in New York City on May 16th, 2017.
The Christopher Awards were created in 1949 to celebrate writers, producers, directors, authors and illustrators whose work "affirms the highest values of the human spirit."
"Winning a Christopher Award is one of the greatest honors for any filmmaker who hopes their work will have a lasting, positive impact on the world," said Hidden Figures writer/director Ted Melfi, who also won a Christopher Award for his 2014 film St. Vincent. "Movies that entertain are the norm, but films that enlighten, educate and inspire are so rare, yet so important and the Christopher Award shines light on these films, further illuminating their footprint on the planet. As one candle has the ability to cast out darkness, such is the power of one film to impact hearts and minds for the better. It's truly an honor to be considered for a Christopher Award…and an incredible blessing to be awarded one."
Tony Rossi, The Christophers' Director of Communications, added, "The powerful love of family is a thread in so many of our winning projects this year, be it family we're related to by blood or those whose kindness and selflessness lead us to form an emotional and spiritual connection with them. These are the kinds of bonds that can change people's lives and change the world."
Winners in the various categories are:
TV & Cable
Grieving mothers and fathers, whose children have been killed while serving in the military, receive vital support and healing from an annual program run by Blue Star Moms and San Francisco's Marines' Memorial Association in 60 Minutes: Gold Star Parents (CBS News). The friendships that form between coach and players on an inner city girls' high school soccer team drive them to pursue big dreams in spite of poverty, discrimination, and an underfunded school in America ReFramed: In the Game (World Channel). Born This Way: Bachelor Pad (A&E), an episode of the reality series about young adults with Down Syndrome, highlights the determination and independent spirit that leads one woman to her first job interview, and two friends to become roommates who navigate life on their own.
Dolly Parton's Christmas of Many Colors: Circle of Love (NBC) revisits the singer's childhood with a story about her siblings and father embracing the spirit of giving in order to buy their mother a special present. The documentary Marathon: The Patriots Day Bombing (HBO) provides an intimate look at the lives of those who lost limbs in the Boston terror attack, the physical and emotional battles they faced in the recovery process, and their unyielding efforts to reclaim their lives. Adoption, forgiveness, weight struggles, and career frustration are all explored in This is Us: Pilot (NBC), which introduced viewers to the Pearson family, who are grounded by sacrificial love for each other.
Feature Films
Hacksaw Ridge (Lionsgate) dramatizes the life of Congressional Medal of Honor winner Desmond T. Doss, a conscientious objector who saved 75 men during the World War II battle of Okinawa without firing a single shot. The unknown NASA heroines who helped launch Americans into space finally get their due in Hidden Figures (20th Century Fox), the true story of three African American mathematicians who faced down racism and sexism to win the space race for the United States. A medical crisis reunites a dysfunctional family and provokes soul-searching in each of them about fear, mercy, and the complex but loving relationships between parents and children in the comedy-drama The Hollars (Sony Pictures Classics). In Queen of Katwe (Walt Disney Studios/ESPN Films), a girl named Phiona seems destined to live a life of poverty in Uganda until a local church ministry's chess coach discovers her innate talent for the game and guides her toward becoming an international champion.
Books for Adults
In her memoir Carry On (Harper Wave/Harper Collins), veteran ESPN producer Lisa Fenn reveals the life-changing bonds that developed between her and two disabled high school wrestlers she was covering: one who was legally blind, the other who'd lost his legs in a train accident. The Hundred Story Home (Grace Press) shares author Kathy Izard's journey from award-winning graphic designer to soup kitchen volunteer to developer of housing for chronically homeless men and women. Award-winning journalist Ron Fournier embarks on eight road trips with his son Tyler, who has Asperger Syndrome, and challenges parents, including himself, to accept their children as they are in Love That Boy (Harmony Books/Crown Publishing).
Operating on Faith (Loyola Press) is humorist Matt Weber's touching and funny account of the life-threatening medical problem he faced shortly after getting married that developed in him a deeper love for his wife Nell and new perspective on God. Pediatric rehabilitation doctor Chuck Dietzen recalls the patients, family members, and recent saint who taught him to live a purposeful life and realize we are all born to be healers in Pint-Sized Prophets (Advantage Media Group). Retired NASA astronaut and Space Shuttle veteran Mike Massimino guides readers from the earth to the stars in Spaceman (Crown Archetype/Crown Publishing), his inspiring memoir about the challenges he faced in pursuit of his dream job and the power of teamwork in accomplishing goals.
Books for Young People
A young bird feels inadequate compared to the other animals it encounters until it learns a lesson about its own unique, God-given talent in Baby Wren and the Great Gift (Preschool and up, Zonderkidz) by Sally Lloyd-Jones, illustrated by Jen Corace. What Do You Do With a Problem? (Kindergarten and up, Compendium) by Kobi Yamada, illustrated by Mae Besom, follows a young boy as he discovers that facing a problem, instead of avoiding it, gives him a vital opportunity to learn and grow as a person. Ida, Always (ages 6 and up, Atheneum Books for Young Readers/Simon & Schuster), by Caron Levis, illustrated by Charles Santoso, helps children deal with loss through a story about the friendship between Gus and Ida, two polar bears that live in the Central Park Zoo, and the challenge they face when Ida gets sick.
While growing up in a Paraguayan slum, 11-year-old Ada Rios finds hope and self-confidence when a new arrival in town creates a now-world renowned orchestra using instruments made of recycled trash in the true story Ada's Violin (ages 8 and up, Simon & Schuster Books for Young Readers) by Susan Hood, illustrated by Sally Wern Comport. Heart problems prevent Jeremiah, a baseball-loving 12-year-old, from playing his favorite game, but his expertise, passion, and kindhearted nature help renew a town rocked by a sports scandal in the novel Soar (Ages 10 to 12, Viking/Penguin Young Readers Group) by three-time Christopher Award winner Joan Bauer. The historical novel Unbound (Young Adult, Scholastic Press/Scholastic) by Ann E. Burg, chronicles the trials of a slave girl named Grace who, after challenging her owners' cruelty, must escape with her family into the Great Dismal Swamp, a real-life hidden community in the wilderness for people fleeing bondage.
The 2017 special Christopher Awards will be announced soon.
The Christophers, a nonprofit organization founded in 1945 by Maryknoll Father James Keller, is rooted in the Judeo-Christian tradition of service to God and humanity. The ancient Chinese proverb—"It's better to light one candle than to curse the darkness"— guides its publishing, radio, and awards programs. More information about The Christophers is available at www.christophers.org. [Editors: A complete list of winners is available on request.]