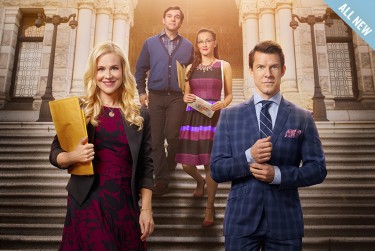 It's been a five month wait since the last original "Signed, Sealed, Delivered" movie ("Lost Without You") aired on Hallmark Movies and Mysteries, so it's appropriate that "waiting" is a theme in the newest installment, "Higher Ground," which premieres Sunday Feb. 19 at 9/8C.
It's not just about waiting, though, but about discerning God's will when obstacles, large or small, get thrown in the way of a potential romantic relationship.
That's the case for this movie's mystery involving a New Orleans musician named Gabe (Keb 'Mo) who starts falling in love with Hattie, a blues club owner, from whom he is separated after Hurricane Katrina. Gabe doesn't know if Hattie's dead or alive when he gets evacuated to Denver, but he sends heartfelt letters to her old address, hoping one of them will find its way to her.
Instead, one of his letters winds up in the Dead Letter Office with the Postables, 12 years later and in pretty bad shape. Oliver (Eric Mabius), Shane (Kristin Booth), Norman (Geoff Gustafson), and Rita (Crystal Lowe) get into detective mode, but not before cleaning out the office of their recently deceased co-worker Eleanor, who passed away in "Lost Without You."
(SPOILERS AHEAD)
Eleanor, it seems, had a pet potato, which Norman and Rita decide to adopt. Oliver isn't thrilled about the decision, but Shane thinks it's cute and allows them to form a practice family in their own quirky way.
Shane and Oliver, meanwhile, are preparing for another date, though Shane is unsure whether the two of them are even supposed to be together. Though she had always been a doubting Thomas, she now tells Oliver that she wonders if God is trying to tell them something, since obstacles keep being thrown in the way of their relationship progressing.
"Maybe He's saying this is crazy," she wonders. And not long after, she is called away by her ex-boyfriend Steve to take part in a secret and dangerous government mission. This time, Oliver is left waiting and wondering if Shane cares enough about him to return.
The slowness of Shane and Oliver's relationship becomes a joke to Oliver's dad Joe, who has started dating himself. He tells Oliver, "When I make a decision, I like to act…I don't want you to feel awkward if I move a little faster than you."
Slowness applies to Rita and Norman's relationship, too. When Norman tells Ramon, who is the new owner of the Mailbox Grille, that he and Rita have been together for a year, Ramon replies, "In my country, you'd be married with twins by now!"
Interestingly, Gabe's letter strikes a chord with all the Postables, but especially Norman. Gabe writes, "My only regret is waiting too long to tell you how I feel. I kept thinking I had tomorrow…I'm gonna do what you taught me to do. I'm gonna find my higher ground. I'm gonna be there every Sunday morning waiting for the rest of my life. And I promise if there's another bus to Denver and you get on it and find me, I'll never lose you again."
When the group wonders if Gabe has moved on after such a long time, Norman offers his own hard-won insight: "You don't just stop loving somebody, especially if you've been lonely your whole life. And then one day, you walk in and meet somebody who makes you laugh, sees all the good things about you, makes you feel special." He then looks at Rita and struggles to restrain his emotion. If there's one actor who will bring a tear to your eye in this story, it's Geoff Gustafson with his tender yet comedic portrayal of Norman.
So what happens? Do Shane and Oliver split up before they ever really get together? Does Gabe discover that Hattie didn't make it out of Katrina alive? Does Rita and Norman's potato start running with a bad crowd of spuds, thereby producing heartache for the aspiring parents?
You'll have to watch the movie for that information. But I will make a few more observations.
Martha Williamson does her usual great job of incorporating spiritual themes in the story without hitting you over the head with them. The lyrics to Gabe's songs, for instance, all have deeper meaning. And in a flashback scene, Gabe tells Hattie that he used to play music all the time. But when he lost his wife and child in a fire, he gave it up.
Hattie, a woman who admits to counting her blessings, tells Gabe, "You're gonna see them again some day. You know that. But for now, you've got to hand all that over to the Lord. And you've got to keep singing. That's what you were born to do."
It's Hattie's faith – and even her vision of reuniting with lost loved ones in heaven – that help return Gabe's joy and allow him to keep believing that he will find her again some day.
Even Shane gets spiritual when describing jazz and blues music to Oliver. The blues, she explains, are "rhythm and truth. It's pain set to music." Once again, the transcendent makes its way into someone's mind and heart in a way that resonates specifically with them.
Of course, the whole movie doesn't just deal with pain; it has its share of hope and humor, too, especially with the return of Ramon. And Rita, it's revealed, is quite the poker player and has been banned from various casinos because of her photographic memory.
In the end, "Signed, Sealed, Delivered: Higher Ground" tells a compelling new story of a lost love pursued unceasingly between Gabe and Hattie. It also advances all the Postables to new levels of understanding about each other. Part of that has to do with discerning God's will, which may not always be easy, but which brings great rewards. And we even discover that sometimes God can use something as unusual as adopting a potato to bring about a happy ending.
Watch "Signed, Sealed, Delivered: Higher Ground" on Hallmark Movies and Mysteries Sunday Feb. 19 at 9/8C.
(Photo property of Crown Media)

Stay in touch! Like The Christophers on Facebook: