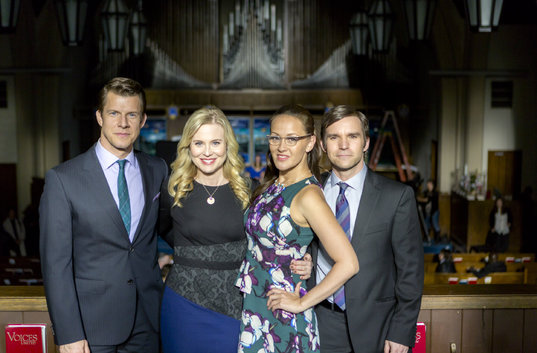 (Moderate spoilers ahead)
Do you believe in the Divine Delivery Theory?
That's what postal detective Shane McInerney calls her boss (and potential suitor) Oliver O'Toole's approach to the mail they receive in Colorado's Dead Letter Office. "We don't find the dead letters," she explains to Oliver's father Joe. "They find us. Just in time to be delivered."
Joe asks, "You believe every letter that finds you is on some supernatural schedule?"
Oliver responds, "Yes."
Shane adds, "Well, some of us believe – and some of us are…open to it."
That little exchange encapsulates one of the themes in "Lost Without You," the latest entry in the "Signed, Sealed, Delivered" movie series on Hallmark Movies and Mysteries, which airs Sunday Sept. 25 at 9/8C. The story explores faith versus skepticism and how the latter can slowly turn into the former if we pay attention to the signs around us that indicate there's actually an author of sorts guiding – or trying to guide – our lives if we're willing to trust Him and follow Him.
The "author" of this movie, however, doesn't stop there. Series creator Martha Williamson (of "Touched by an Angel" fame) digs even deeper in her teleplay, forcing her characters to take a serious look at their lives and whether they're taking advantage of all the blessings and opportunities that have come their way. Ironically, this appreciation of life is prompted by the specter of death.
The story is set in motion by two things: 1) The Postables (Oliver, Shane, Rita, Norman) learn that a beloved co-worker has unexpectedly died. 2) a young boy almost completely destroys an envelope he's supposed to mail for his uncle, a retired soldier who suffers from PTSD because of his service in Afghanistan. It makes its way to the Dead Letter Office, but the Postables can't decipher the address. When they read the enclosed letter, it sounds as if someone named Sandy is facing the end of life.
There's nothing like death to make you reflective. In fact, Oliver says, "A letter like this on a day like today makes our work seem like a calling…I'm going to pray for Sandy, whoever she is, that she can hold on until we reach her."
Eleanor's death even prompts Oliver's dad Joe to think back to the time his wife (and Oliver's mother) left the family and soon after died. Joe tells Oliver he felt lost and "went up in the mountains to watch the sunset, and I just sat there in the dark for hours. I tried to find a reason to believe that the sunrise was worth waiting for."
Oliver asks, "What did you find?"
Joe responds, "I decided that if I could just wake up every morning, you'd be there."
It's a touching tribute to the love and relationships that can serve as lifelines from our grief. (It also foreshadows another important sunrise that will happen later in the story.)
Interestingly, Oliver, who is a man of strong faith, never seems to view death as the end of a relationship, however painful the separation from a loved one might be. At Eleanor's memorial service, for instance, the choir sings "My Father's Love Will Lead Me Home."
And in his eulogy, Oliver states, "As unexpected as Eleanor's departure was, we can take comfort remembering her as a woman of strong faith that traveled through life with the blessed assurance that her passport was eternally valid,stamped and certified permanent for entrance into the kingdom of God, whenever that day should come. And friends, I know she would want us to take a moment today to really ask ourselves – Are we ready to take that journey? She always used to say to me, 'Death is nothing to be scared of, honey. But it is something to prepare for.'"
So there we have death referred to as going "home" and as a "departure," not as a final end. Martha Williamson firmly believes the Bible's words that the last enemy to be destroyed is death, and that comes out through Oliver.
Shane, on the other hand, struggles with doubt because of tragedies and losses in her past. During Oliver's eulogy, the camera cuts to her, and her face conveys the struggle going on in her own heart and soul about believing in this higher power, this higher reality.
Throughout the movie, Kristin Booth gives her finest performance since the Christopher Award-winning Christmas movie a couple of years ago, in terms of the depths of emotion which she calls to the fore. The same can be said of Eric Mabius as Oliver, who is now humble enough to be open to God's new direction for his life and his relationship with both Shane and his own father. While the past few SSD movies have touched on romantic missteps and misunderstandings between Shane and Oliver, "Lost Without You" delves into the meat of the relationship, grounding it in the emotional and spiritual principles it needs to thrive.
The normally quiet and reserved Norman, played by Geoff Gustafson, also develops a new aspect of his personality when he discovers people don't think he's "bold." In his own mind, he always has been, but he now realizes that he was more timid than he realized – and that timidity was holding him back from reaching his full potential.
While Crystal Lowe's Rita has blossomed into an ever-better version of herself with Norman's support in past SSD installments, Rita is the one supporting Norman in this movie as he grows into his best self. But for those who enjoy the endearing couple's more comedic moments, there are plenty of those too. My favorites are Rita's comments about wearing a gun under a choir robe along with the "hot sauce" incidents.
As I intimated earlier, "Lost Without You" carries the most emotional heft of an SSD movie since the 2014 Christmas edition. Martha Williamson has outdone herself with a mature script that moves all the characters forward while also conveying profound insights about life, death, faith, doubt, and the power of love to change us. (And on a personal note, I loved the use of Billy Joel's heart-wrenching "And So It Goes.")
"Signed, Sealed, Delivered: Lost Without You" premieres on Hallmark Movies and Mysteries on Sunday Sept. 25 at 9/8C. (Photo property of Hallmark/Crown Media)
Stay in touch! Like The Christophers on Facebook: