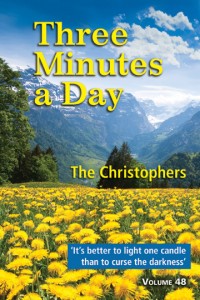 "It gives you meat along with the potatoes."
No, that's not a comment from a waiter describing a meal. Rather, it's a compliment I received from a man who enjoys our annual "Three Minutes a Day" book. He called our office a few months ago to say that the stories and reflections in the books provide him with entertainment, inspiration, and substance. Or "meat along with the potatoes."
That qualifies as one of the most clever compliments I've heard, and it was heartening to hear that all the work we put into "Three Minutes a Day" is producing good fruit.
Another great comment came in by mail last week from a female prisoner who receives our material through a prison ministry program in Florida. She wrote, "Dear Christophers, 2014 brings with it the blessing of being my last year in prison after 12 long years. I can't explain the comfort Three Minutes a Day has brought to me over this time. So with a humble and hope filled heart I am asking for my last free issue of Three Minutes a Day."
She can be assured that she will receive her copy of the book we spent most of the summer working on: our newest edition, Volume 48. Those copies include a story about a direct difference the book has made.
Earlier this year, we received a letter from J.F. DeLuca, who's been reading "Three Minutes a Day" for 40 years. He wrote, "Forty years ago, the conditions in the neighborhood where I live in the North End of Providence, Rhode Island, were deplorable…Youth were dropping out of school, storefronts were boarded up, senior citizens had no programs or activities available to them. People were saying, 'Someone should do something.' I then remembered the words of The Christophers: It's better to light one candle than to curse the darkness. I realized I might be that 'someone.'"
Mr. DeLuca continued, "I gathered four people to form a non-profit, which we named the DaVinci Center for Community Progress. We now serve more than 5,000 people with social services including adult education, daily meals for senior citizens, youth programs, etc. I received my initial inspiration from 'Three Minutes a Day' and I continue to get some great ideas for new programs from your publication. Keep up the great work. Who knows where the daily seeds you sow will take root?"
In light of all the problems in our world, it would be easy to throw up our hands and say, "I give up." But that's not what Mr. DeLuca did—and that's not what God wants us to do. And that's the reason Maryknoll Father James Keller founded The Christophers in 1945. He knew that stories can serve as encouraging reminders that we do have the power to change things for the better, through hope, faith, love and the grace of God.
Consider this story about the difference love can make: A womb infection caused Carolyn Isbister of Great Britain to go into premature labor at 24 weeks gestation. Her daughter Rachael was born weighing only 20 ounces. Doctors informed Isbister that Rachael would likely die within 20 minutes. The grief-stricken mother noticed that her daughter felt cold, so she laid the baby on her chest to warm her up. Then, the seemingly impossible happened. The warmth of Carolyn's body caused Rachael's heart to start beating correctly and enabled her to breathe on her own.
The doctors still believed Rachael would soon die, but the little girl had other plans. After a four-month stay in the hospital, she grew to normal baby weight and went home. One doctor said, "I have seen nothing like this in my 27 years of practice. That mother's love saved her baby."
If you enjoyed those stories, consider buying Volume 48 of "Three Minutes a Day." You can order by visiting here.