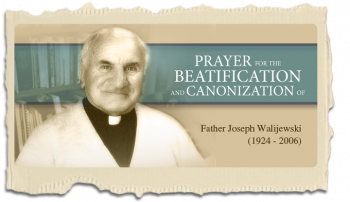 The following column was written by The Christophers' Jerry Costello:
Father Joseph Walijewski was a veteran of South American mission work, arriving there from Wisconsin in 1956 to start a parish in Bolivia. After a few years he returned home for a short time, but came back to Peru in 1971 and then founded the orphanage that will always be his legacy. He died in 2006, and after a packed funeral Mass was buried on a hill that rises behind the orphanage. All in all, it seemed like a tough life. But now they want to make him a saint, and you figure there must be more to the story of Father Joseph Walijewski than meets the eye. And you'd certainly be right.
For one thing, Father Joe–that's how he was universally known–was loved. "He gave us an education, food, went to Mass with us," said one orphanage graduate at the funeral. "He would talk to us about our future, that we had to be well educated, so many things. He showed us so much affection."
In the eyes of many, he's sanctified already, the formal process aside. "A saint has lived among us and a saint has died among us," said one priest who knew him well.
Father Joe didn't have to go to Latin America to learn about poverty; as the ninth child of immigrant parents growing up in Grand Rapids, Michigan, he knew it first-hand. Even as a boy he hawked newspapers to help the family make ends meet. Ordained in 1950 for the Diocese of LaCrosse, he soon discovered he had a flair for mission work. (Not so with languages, however, as his one-time students laughingly recalled. He never got outside the present tense in Spanish, and to those who had difficulty with his name he had a ready response. "Just call me Padre Whiskey," he said.)
When Father Joe went to Peru it was to the barrio of Villa El Salvador, where the fancy name masked a shantytown. One night, in a rough section of Lima, he saw something move in a pile of dirty newspapers, and it turned out to be a little boy and a girl preparing a place to sleep. That sight, according to an Associated Press story, set him on a dream: a place that abandoned children could call home.
The dream started to come true in 1985 when Father Joe met the visiting Pope John Paul II, who was so moved by the priest's story that he donated $50,000 to get the project under way. That's how Casa Hogar Juan Pablo II was born, beginning with two children. Today, with 64 students living in eight family units, the orphanage stands as Father Joe's legacy. "Many of the children have never known a home," he once told an interviewer. "We're trying to give them the feeling they have a family."
This year, on the Feast of St. Joseph, Bishop William P. Callahan of LaCrosse formally opened the canonization cause of Father Joseph Walijewski, seven years after his death at the age of 82. Friends remembered many things, then and now, but most of all how his eyes would light up when he talked about his kids.
"If he hadn't taken them on," one of them recalled, "a lot of them might not even be alive today. It was their home, and he was their father, and they were all brothers and sisters."